PREMIERE EPISODES OF THE NEW CBS ORIGINAL SERIES "THE EQUALIZER" AND "CLARICE" TO GET SPECIAL TWO-WEEK MULTI-PLATFORM PROMOTIONAL VIEWINGS
Pluto TV to Stream the Premiere Episodes of "The Equalizer" and "Clarice" For Free Following Their Broadcast Debuts on the CBS Television Network
Amazon Prime Video Channels to Offer First Episode of Both Series in Front of Paywall; YouTube to Run First Episodes for Free on the CBS YouTube Channel
Both Series Also Available Weekly Live and On-Demand on CBS All Access and CBS.com
"The Equalizer" to Premiere Immediately After Super Bowl LV, Sunday, Feb. 7 "Clarice" Premieres Thursday, Feb. 11, 10:00-11:00 PM, ET/PT on the CBS Television Network
Pluto TV, the leading streaming television service in the U.S., and a ViacomCBS company, will stream a special two-week sampling of the premiere episodes of new CBS Original dramas, THE EQUALIZER and CLARICE. Pluto TV will stream both episodes following their broadcast debuts on the CBS Television Network on Feb. 7 and 11, respectively, and will stream across several Pluto TV channels. The dates and times are available HERE.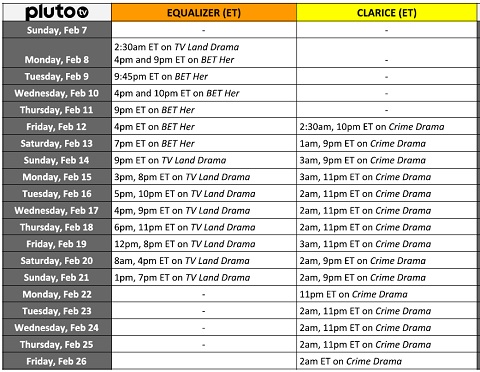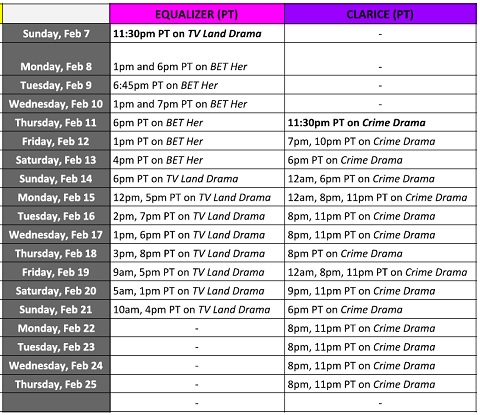 In addition, Prime Video Channels will put both shows in front of their paywall during the two week windows, and YouTube will offer the first episodes for free on the CBS YouTube channel. Both shows will be available immediately following the conclusion of their respective premieres in the Pacific time zone. Concurrently, fans will be able to watch both series live and on-demand throughout the season on both CBS All Access and CBS.com.
Following THE EQUALIZER's series premiere immediately after SUPER BOWL LV, Sunday, Feb. 7 on the CBS Television Network, the episode will run on all previously mentioned platforms until Sunday, Feb. 21. After CLARICE premieres on Thursday, Feb. 11 (10:00-11:00 PM, ET/PT) on the Network, the drama's first episode will begin streaming across the platforms immediately after, until midnight, Thursday, Feb. 25.
THE EQUALIZER is a reimagining of the classic series starring Academy Award(R) nominee and multi-hyphenate Queen Latifah ("Chicago," "Bessie") as Robyn McCall, an enigmatic woman with a mysterious background who uses her extensive skills as a former CIA operative to help those with nowhere else to turn. McCall presents to most as an average single mom who is quietly raising her teenage daughter. But to a trusted few, she is The Equalizer - an anonymous guardian angel and defender of the downtrodden, who's also dogged in her pursuit of personal redemption.
CLARICE, from acclaimed executive producers Alex Kurtzman and Jenny Lumet, and starring Rebecca Breeds ("Pretty Little Liars") in the title role, is a deep dive into the untold personal story of FBI Agent Clarice Starling as she returns to the field in 1993, one year after the events of "The Silence of the Lambs." Brilliant and vulnerable, Clarice's bravery gives her an inner light that draws monsters and madmen to her. However, her complex psychological makeup that comes from a challenging childhood empowers her to begin to find her voice while working in a man's world, as well as escape the family secrets that have haunted her throughout her life.
About CBS
CBS Entertainment is responsible for acquiring or developing and scheduling the entertainment programming presented on the CBS Television Network, which includes primetime comedy and drama series, reality-based programming, theatrical films, specials, children's programs, daytime dramas, game shows, talk shows and late night programs. The Network has the #1 drama, NCIS, and the #1 comedy, YOUNG SHELDON, as well as television's #1 primetime news program, 60 MINUTES; television's #1 late night show, THE LATE SHOW with STEPHEN COLBERT; and the #1 daytime drama, THE YOUNG AND THE RESTLESS.
About Pluto TV
Pluto TV, a ViacomCBS Company, is the leading free streaming television service, delivering hundreds of live and original channels and thousands of on-demand movies in partnership with major TV networks, movie studios, publishers, and digital media companies. Named by Fast Company as one of 2020's Most Innovative Companies, Pluto TV has a global audience of nearly 36 million monthly active users, with 28.4 million in the U.S. and an international footprint that spans three continents and 24 countries throughout the US, Europe and Latin America. Pluto TV is available on all mobile, web and connected TV streaming devices where millions tune in each month to watch premium news, TV shows, movies, sports, lifestyle, and trending digital series. Headquartered in Los Angeles, Pluto TV has offices across the United States, Europe and Latin America.