PARAMOUNT+ DOCUSERIES "FOR HEAVEN'S SAKE" TO DEBUT THURSDAY, MARCH 4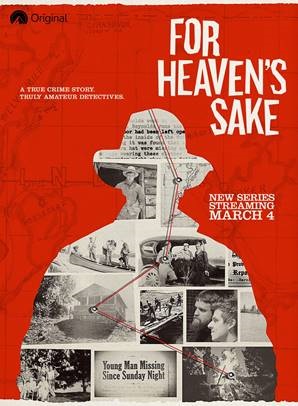 View the Series Trailer Here
All Episodes Will Be Available to Binge, Exclusively on Paramount+
NEW YORK, N.Y. - Feb. 26, 2021 - Paramount+, the highly anticipated streaming service from ViacomCBS, today announced that the original true crime documentary series FOR HEAVEN'S SAKE will premiere on Thursday, March 4, the same day the rebranded service launches. The official trailer and key art of FOR HEAVEN'S SAKE was also released. All eight episodes will be available to binge, exclusively on Paramount+.
Created by executive producers and stars Mike Mildon and Jackson Rowe ("Trophy Husbands"), FOR HEAVEN'S SAKE blends comedy and crime documentary formats for a unique take on uncovering the truth. The series will follow the search for Harold Heaven, who mysteriously disappeared from his remote cabin in Ontario, Canada, in the winter of 1934. Local police searched the nearby woods and dredged the adjacent lake, but Harold was never found nor heard from again. The case was unceremoniously closed as a likely suicide. 85 years later, his great-great-nephew, Mike, attempts to solve this coldest of cold cases, with the help of his extended family and true-crime-obsessed best friend, Jackson.
FOR HEAVEN'S SAKE is produced by Muse Entertainment in association with Funny Or Die, CBS Studios and CBC, Canada's national public broadcaster. In addition to Mildon and Rowe, Tony Yacenda and Dan Perrault ("American Vandal"), Joe Farrell (Funny Or Die), and Jonas Prupas and Courtney Dobbins (Muse Entertainment) also serve as executive producers. Tim Johnson ("Virginia 12th") directs.
About Paramount+:
ViacomCBS' existing subscription video-on-demand and live streaming service, CBS All Access, will be rebranded as Paramount+ on March 4, 2021 as part of the service's expansion to feature content from ViacomCBS' leading portfolio of broadcast, news, sports and entertainment brands. ViacomCBS will also bring Paramount+ to international markets with an initial debut in Australia, Latin America and the Nordics in 2021.