"WOMAN IN MOTION: NICHELLE NICHOLS, STAR TREK AND THE REMAKING OF NASA" COMING TO PARAMOUNT+ ON THURSDAY, JUNE 3
Premiere Date for the Upcoming Feature-Length Documentary Was Revealed by Mica Burton During Paramount+'s Virtual First Contact Day Panels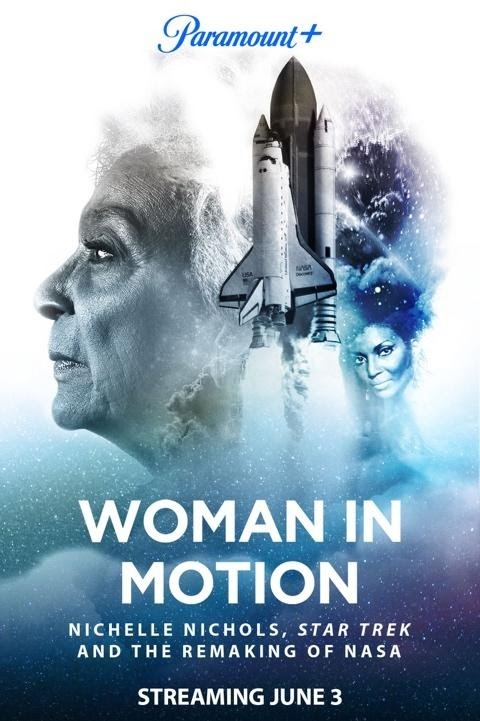 April 5, 2021 - Paramount+ today announced the feature-length documentary WOMAN IN MOTION: NICHELLE NICHOLS, STAR TREK AND THE REMAKING OF NASA, will be available to stream exclusively on the service starting on Thursday, June 3. WOMAN IN MOTION features the remarkable and inspiring true story of how renowned "Star Trek" actress Nichelle Nichols pioneered the NASA recruiting program to hire people of color and the first female astronauts for the space agency in the late 1970s and 1980s. The news was revealed by Mica Burton, moderator of the "Women In Motion" panel, during today's virtual global First Contact Day celebration. The official trailer for WOMAN IN MOTION was also shown during the panel.
The free First Contact Day virtual panels will be available to view on-demand on Paramount+'s YouTube Channel and on Paramount+ in the U.S., following their initial airing on StarTrek.com/FirstContact today from 12:00-2:45 PM, PT/3:00-5:45 PM, ET.
Directed by Todd Thompson ("The Highwaymen," "PRE FAB!"), WOMAN IN MOTION chronicles how Nichols transformed her sci-fi television stardom into a real-life science career when, in 1977, she embarked on a campaign to bring diversity to NASA. Nichols formed the company Women In Motion, Inc. and recruited more than 8,000 African American, Asian and Latino women and men for the agency. Nichols and her program continue to influence the younger generation of astronauts as well, including Mae Jemison, the first female African American astronaut in space. Despite an uphill battle against a bureaucracy that was hesitant to let her get involved, Nichols persevered and is credited by NASA for turning it into one of the most diverse independent agencies in the United States Federal Government.
In addition to Nichols, WOMAN IN MOTION features notable celebrities, activists, scientists and astronauts including Neil deGrasse Tyson, George Takei, Pharrell Williams, Martin Luther King III, Al Sharpton, Vivica A. Fox, Water Koenig, Rod Roddenberry, Michael Dorn, Guy Bluford, Charles Bolden, Ivor Dawson, Frederik Gregory and Benjamin Crump.
About Paramount+:
Paramount+, a direct-to-consumer digital subscription video on-demand and live streaming service from ViacomCBS, combines live sports, breaking news, and a mountain of entertainment. The premium streaming service features an expansive library of original series, hit shows and popular movies across every genre from world-renowned brands and production studios, including BET, CBS, Comedy Central, MTV, Nickelodeon, Paramount Pictures and the Smithsonian Channel. The service is also the streaming home to unmatched sports programming, including every CBS Sports event, from golf to football to basketball and more, plus exclusive streaming rights for major sports properties, including some of the world's biggest and most popular soccer leagues. Paramount+ also enables subscribers to stream local CBS stations live across the U.S. in addition to the ability to stream ViacomCBS Streaming's other live channels: CBSN for 24/7 news, CBS Sports HQ for sports news and analysis, and ET Live for entertainment coverage. For more information about Paramount+, please visit www.paramountplus.com and follow @ParamountPlus on social platforms.
About the Star Trek Universe on Paramount+:
The Star Trek Universe on Paramount+ includes current and upcoming seasons of the original series STAR TREK: DISCOVERY, STAR TREK: PICARD, the animated series STAR TREK: LOWER DECKS and the upcoming STAR TREK: STRANGE NEW WORLDS and STAR TREK: PRODIGY, the first "Star Trek" series aimed at younger audiences. The Star Trek Universe on Paramount+ also includes all 726 episodes from the six classic Star Trek series and a selection of Star Trek films. For additional info on and photography from Paramount+'s STAR TREK: DISCOVERY, STAR TREK: PICARD, STAR TREK: LOWER DECKS, STAR TREK: STRANGE NEW WORLDS, STAR TREK: PRODIGY and WOMAN IN MOTION, please click here.
Facebook: @StarTrekonPPlus, @StarTrek, @ParamountPlus Twitter: @StarTrekonPPlus, @StarTrek, @ParamountPlus Instagram: @StarTrekonPPlus, @StarTrek, @ParamountPlus #WomanInMotion #FirstContactDay