[04/08/21 - 10:00 AM]
Freeform's "The Bold Type" Returns for Its Fifth and Final Season on May 26
A signature hit for the network, the farewell episodes of the fan-favorite series will celebrate the trio's journey into becoming who they were each meant to be.
---
[via press release from Freeform]
FREEFORM'S 'THE BOLD TYPE' RETURNS FOR ITS FIFTH AND FINAL SEASON ON MAY 26
Final Season Premieres on May 26 at 10 p.m. EDT/PDT Available the Next Day on Hulu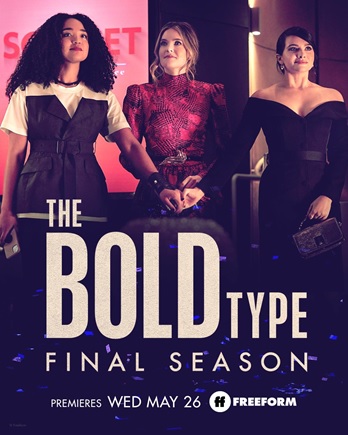 Freeform/Jonathan Wenk
Freeform's critically acclaimed series "The Bold Type" will premiere its fifth and final season on Wednesday, May 26, at 10 p.m. and will be available the next day on Hulu. A signature hit for the network, the farewell episodes of the fan-favorite series will celebrate the trio's journey into becoming who they were each meant to be. Nikohl Boosheri will recur as fan-favorite character Adena El-Amin, and Carson Kressley will guest star as himself in the season premiere.
Season four of "The Bold Type" left Kat, Jane and Sutton at their limits both personally and professionally at Scarlet Magazine. After five empowering seasons, our trio is on the brink of defining who they really are and how best to leave their mark on the world. Their futures are bright, and their love and support for each other will never change.
"The Bold Type" stars Katie Stevens, Aisha Dee, Meghann Fahy, Stephen Conrad Moore and Melora Hardin. The series is executive produced by Wendy Straker Hauser, Matt McGuinness, David Bernad, Joanna Coles, Brian Madden, Ruben Fleischer and Sandrine Gros d'Aillon. The series is produced by Universal Television, a division of Universal Studio Group, and The District.




[04/15/21 - 02:45 PM]
YouTube Originals Reveals Artist and Creator Zach "ZHC" Hsieh as New Host for Second Season of Hit Competition Series "Instant Influencer"
The next iteration of the eight-part series will follow a new format where 10 up-and-coming artists will compete for the coveted title and a $100,000 prize.


[04/15/21 - 01:37 PM]
Lori Arnold Exposes Her Life as a Drug-Dealing Queenpin in the Exclusive discovery+ Docuseries "Queen of Meth"
The explosive three-hour docuseries begins streaming on discovery+ on Friday, May 7.


[04/15/21 - 12:03 PM]
MTV Entertainment Studios Sets Premiere for Highly Anticipated Coming-of-Age Film "Pink Skies Ahead" from Stampede Ventures on Saturday, May 8th at 9:00PM ET/PT on MTV
Set in Los Angeles in 1998, it follows Winona (Jessica Barden) who, after dropping out of college and moving back home to live with her parents, is diagnosed with an anxiety disorder.


[04/15/21 - 12:02 PM]
FX Sets Premiere Date for Third and Final Season of "Mr Inbetween"
The nine-episode third season, which will be the series' final season, will premiere on Tuesday, May 25 at 10:00/9:00c.


[04/15/21 - 12:00 PM]
Hit Nature Franchise "Meerkat Manor: Rise of the Dynasty" Returns to BBC America Saturday, June 5 at 8PM
In addition, AMC+ will debut the first episode on Saturday, May 29 - one week ahead of its linear premiere.


[04/15/21 - 11:58 AM]
Philip Lawrence to Host "Come Dance with Me"
The CBS series features young dancers who invite one inspirational, and untrained, family member or other adult who has supported their dance dreams, to become their dance partner for a chance to strut their stuff for a grand prize.


[04/15/21 - 11:36 AM]
CBS Renews Five of Its Veteran Hit Dramas for Next Season
"NCIS," "Blue Bloods," "Magnum PI," "Bull" and "SWAT" have all been renewed.


[04/15/21 - 11:16 AM]
Hallmark Channel Kicks Off Production, On an All-New Fifth Season of Hit Series "Chesapeake Shores" Sets Premiere Date for August 15
This season, Robert Buckley joins the all-star ensemble cast led by Meghan Ory, Treat Williams and Diane Ladd.


[04/15/21 - 11:15 AM]
Craig Piligian Renews Long-Term Agreement as CEO and Chair of Pilgrim Media Group, Expands Responsibilities to Include Oversight of Lionsgate's Unscripted Television Business
Under the new agreement, Piligian has also been elevated to Chair of Pilgrim Media Group.


[04/15/21 - 11:09 AM]
Comedy Central's Emmy-Nominated "Crank Yankers" Is Back with a New Season Starting on Wednesday, May 5 at 10:30PM ET/PT
Guest voices this season include Desus & Mero, Tiffany Haddish, Trixie Mattel, Annie Murphy, Iliza Shlesinger, Tracy Morgan, Bobby Brown and Kathy Griffin.


[04/15/21 - 10:39 AM]
TV One Announces New and Returning Slate of Original Programming for 2021
The network celebrated a number of successes this year including a new slate of original programming that includes a mix of scripted and unscripted series dedicated to elevating Black stories.


[04/15/21 - 10:30 AM]
"A Late Show with Stephen Colbert" to Broadcast Live Following President Joe Biden's First Address to a Joint Session of Congress, Wednesday, April 28
Guests for this show will be announced at a later date.


[04/15/21 - 10:07 AM]
Apple Lands Documentary Feature Film "Fathom" Premiering on Apple TV+ on June 25
Directed and photographed by Drew Xanthopoulos, "Fathom" follows Dr. Ellen Garland and Dr. Michelle Fournet, two scientists focused on the study of humpback whale songs and social communication.


[04/15/21 - 10:05 AM]
MTV Sets Premiere Date for Highly Anticipated Return of "Siesta Key" on Wednesday, May 12 at 8PM ET/PT
The new slate of sizzling episodes focuses on Juliette and Kelsey hustling to launch their businesses, Brandon embarking on his unexpected journey into fatherhood, Chloe refocusing her energy, and Madisson's nuptials right on the horizon.


[04/15/21 - 10:01 AM]
Pete Davidson and Director Jason Orley Reunite for "I Slept with Joey Ramone"
Netflix and STXfilms have partnered to develop and produce a biopic chronicling the life of the king of punk.