[07/14/21 - 10:09 AM]
"Wu-Tang: An American Saga" Is Back! Second Season Will Premiere on September 8
Look for the first three episodes on September 8 and every Wu-Wednesday following.
---
[via press release from Hulu]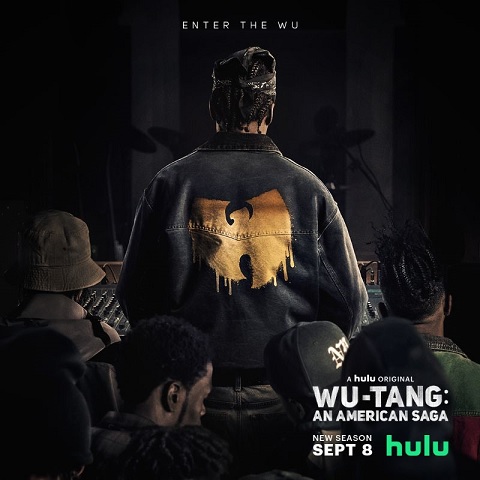 The second season of "Wu-Tang: An American Saga" will premiere with the first three episodes on September 8th and every Wu-Wednesday following.
Season Two Synopsis:
The Clan is disillusioned with life in the projects, and Bobby knows that success in the music industry could be their ticket to better lives. But getting the Clan members to drop everything for music isn't easy. The resentment between Dennis, Sha, Power and Divine still runs deep, while the other Clan members struggle dealing with intercity life. This time around, Bobby is dedicated to authenticity and though he knows he can lead his crew through the challenges of the music business, the Clan's fractures may prove too much to overcome.
Executive Producers: Alex Tse, The RZA, Method Man, Brian Grazer and Francie Calfo
CAST:
· BOBBY (RZA) / Ashton Sanders
· SHA / Shameik Moore
· DENNIS / Siddiq Sounderson
· DIVINE / Julian Elijah Martinez
· POWER / Marcus Callender
· SHURRIE / Zolee Griggs
· ASON / T.J. Atoms
· SHOTGUN / Dave East
· GARY / Johnell Young
· LINDA DIGGS / Erika Alexander
· REBEL / Uyoata Udi
· U-GOD / Damani Sease




[07/30/21 - 03:39 PM]
NBC Olympics' Thursday Primetime Coverage Delivers Highest-Rated Night of Tokyo Olympics
Since the beginning of the Tokyo Olympics, NBCUniversal coverage has reached more than 100 million TV viewers.


[07/30/21 - 10:16 AM]
Hulu's "The D'Amelio Show" to Premiere on Friday, September 3
From relative obscurity and a seemingly normal life, to overnight success and thrust into the Hollywood limelight overnight, the D'Amelios are faced with new challenges and opportunities they could not have imagined.


[07/30/21 - 09:33 AM]
Fan-Favorite Hulu Original Series "Love, Victor" Will Return for a Third Season
The series stars Michael Cimino, Rachel Hilson, Anthony Turpel, Bebe Wood, Mason Gooding, George Sear, Isabella Ferreira, Mateo Fernandez, James Martinez and Ana Ortiz.


[07/30/21 - 08:16 AM]
Video: "Brand New Cherry Flavor" Limited Series - Official Trailer - Netflix
A filmmaker heads to Hollywood in the early '90s to make her movie but tumbles down a hallucinatory rabbit hole of sex, magic, revenge - and kittens.


[07/29/21 - 05:01 PM]
Video: "D.P." - Official Teaser - Netflix
A young private's assignment to capture army deserters reveals the painful reality endured by each enlistee during his compulsory call of duty.


[07/29/21 - 11:01 AM]
The Country Music Association's "CMA Summer Jam" Airs Thursday, Sept. 2, on ABC
Artists featured include Jimmie Allen, Gabby Barrett, Dierks Bentley, Brothers Osborne, Luke Bryan, Luke Combs, Florida Georgia Line, Mickey Guyton, Miranda Lambert, Carly Pearce, Blake Shelton, Gwen Stefani, Cole Swindell, Thomas Rhett, Carrie Underwood, Lainey Wilson, and Dwight Yoakam.


[07/29/21 - 10:15 AM]
TNT's Top Cable Drama Series "Snowpiercer" Wraps Production on Season Three with Renewal Announcement for a Fourth Season
Produced by Tomorrow Studios, "Snowpiercer" seasons one and two are currently available to binge on the TNT app, with season three set to premiere on TNT early next year.


[07/29/21 - 10:09 AM]
Michelle Monaghan and Matt Bomer Will Star in "Echoes" - A Mystery Thriller from Netflix
The series is about identical twins who have secretly swapped lives since childhood, culminating in them living double lives as adults: they share two homes & two husbands, but everything unravels when one goes missing.


[07/29/21 - 10:01 AM]
Time to Head Back to the Beach for "Bachelor in Paradise," Premiering Monday, Aug. 16, at 8/7c on ABC
Laugh-master David Spade is the first guest host of the season and welcomes 13 lovely ladies and 10 gorgeous guys to Paradise.


[07/29/21 - 10:00 AM]
Paramount+ Announces a Stacked Team of New and Legacy Players Joining "The Game"
Adriyan Rae, Vaughn Hebron and Analisa Velez to star with legacy cast members Brittany Daniel and Pooch Hall making special appearances.


[07/29/21 - 09:27 AM]
Video: AMC Reveals New Teaser and New Images from Season 11 of "The Walking Dead"
Pamela Milton (Laila Robins) and Lance Hornsby (Josh Hamilton) are among the new character images.


[07/29/21 - 09:03 AM]
Video: WarnerMedia Kids & Family Debuts Trailer for Cartoonito Preschool Block on HBO Max and Cartoon Network
Families were also treated to a special look at upcoming Cartoonito shows "Little Ellen" and "Lucas the Spider" in two new clips revealed today.


[07/29/21 - 09:03 AM]
Video: Showtime Releases Trailer for Return of "Billions" Season Five
The series has been renewed for season six, which will premiere early next year.


[07/29/21 - 09:01 AM]
Video: "Archer" - Official Trailer - Season 12 - FXX
In season 12 of FXX's comedy Archer, "Sterling Archer" and gang face a new threat: a spy conglomerate known as IIA (International Intelligence Agency).


[07/29/21 - 09:00 AM]
DISH Adds HBO Max, HBO and Cinemax, Brings More Content to Viewers Nationwide
Tied to the launch and for a limited time, DISH is offering customers a 10-day free preview to access HBO and Cinemax.