[07/22/21 - 10:00 AM]
HBO Max Renews "That Damn Michael Che" for a Second Season
The series debuted in May of this year and stars Michael Che.
---
[via press release from WarnerMedia]
HBO Max Renews THAT DAMN MICHAEL CHE For A Second Season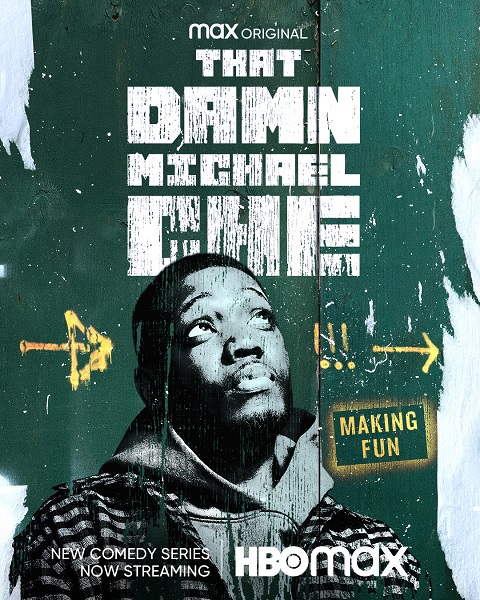 · HBO Max has renewed the Max Original comedy series THAT DAMN MICHAEL CHE for a second season. The series debuted in May of this year and stars Michael Che ("Saturday Night Live"). Season one is available to stream now.
· Sarah Aubrey, Head of Original Content, HBO Max: "Michael's comedic style is truly unique and his ability to convey provocative subject matter through a comedic lens is the reason why season one of THAT DAMN MICHAEL CHE was such a success. We look forward to working with him again on a second season."
· Season one of this groundbreaking new original comedy series uses sketches and vignettes to illustrate what it feels like to experience various everyday situations including racial profiling, unemployment, falling in love and more, from Michael's perspective.
· Decider calls the series "thought-provoking" while The Daily Beast notes, "The comedy and the intimacy of Che's personal experience creates a show that feels funnier, more resonant, and more current."
· THAT DAMN MICHAEL CHE is produced by Universal Television, a division of Universal Studio Group, Broadway Video and Irony Point with Michael Che, Lorne Michaels, Erin Doyle serving as executive producers.




[09/23/21 - 09:08 AM]
Video: Apple TV+ Reveals Trailers for Upcoming Original Series for Kids and Families, "Puppy Place" and "Get Rolling with Otis"
Based on Scholastic's best-selling book series written by Ellen Miles, "Puppy Place" chronicles the adventures of dog-loving siblings, Charles and Lizzie Peterson, and the puppy pals they foster in search of forever homes.


[09/23/21 - 09:03 AM]
Video: "Jacinta" Trailer - Official Trailer
An intimate portrait of mothers and daughters, the effects of trauma and a young woman's fight for her future.


[09/23/21 - 09:01 AM]
Video: "The Outsiders?" - Official Trailer
From director and photographer Simon Frederick, comes the next installment in his portrait documentaries, untold stories of young Black visionaries shaping our future.


[09/23/21 - 09:00 AM]
Additional Stars of Stage and Screen Announced to Appear on "The Tony Awards(R) Present: Broadway's Back!," Live from the Winter Garden Theatre in New York City, Sunday, Sept. 26 on CBS and Paramount+
Previously announced artists appearing on the show include Annaleigh Ashford, Kristin Chenoweth, André De Shields, Jake Gyllenhaal, Christopher Jackson, Audra McDonald, Idina Menzel, Ruthie Ann Miles, Lin-Manuel Miranda, Bebe Neuwirth, Leslie Odom Jr., Kelli O'Hara, Ben Platt, Jeremy Pope, Chita Rivera, Daphne Rubin-Vega and BD Wong.


[09/23/21 - 08:04 AM]
Video: Apple's "Acapulco," A New Spanish-and English-Language Series Starring Eugenio Derbez, Debuts Trailer Ahead of Global Premiere on October 8
"Acapulco" tells the story of twenty-something Máximo Gallardo (Enrique Arrizon), whose dream comes true when he gets the job of a lifetime as a cabana boy at the hottest resort in Acapulco.


[09/23/21 - 08:03 AM]
Video: It's Time to Fright the Frights in the New "Muppets Haunted Mansion" Trailer, Streaming Exclusively on Disney+ October 8
Starring in the special alongside fan-favorite Muppets, are Will Arnett (as The Ghost Host), Yvette Nicole Brown (as The Hearse Driver), Darren Criss (as The Caretaker), and Taraji P. Henson (as The Bride).


[09/23/21 - 08:00 AM]
Video: Amazon Prime Video Releases Official Trailer for "I Know What You Did Last Summer"
One year after the fatal car accident that haunted their graduation night, a group of teenagers find themselves bound together by a dark secret and stalked by a brutal killer.


[09/23/21 - 07:47 AM]
"Dune," "The Many Saints of Newark," The Third Season of "Succession," and the Final Season of "Insecure" Arrive on HBO Max This October
Also on tap are the second season of romantic comedy anthology series "Love Life," the third season of "Selena + Chef," the three-part mini-series event "Aquaman: King of Atlantis," and the second season of the unscripted series "We're Here."


[09/23/21 - 07:02 AM]
"Tiger King 2" Leads Pack of Upcoming Netflix Documentaries Exploring Crimes, Cons, and Scams
Also due on the streamer: "The Puppet Master: Hunting the Ultimate Conman," "The Tinder Swindler," "Trust No One: The Hunt for the Crypto King" and "Bad Vegan."


[09/23/21 - 06:31 AM]
Video: "Karma's World" Trailer - Netflix Futures
"Karma's World" follows Karma Grant, an aspiring musical artist and rapper with big talent and an even bigger heart.


[09/23/21 - 06:00 AM]
Video: "The Electrical Life of Louis Wain" - Official Trailer - Prime Video
The extraordinary true story of eccentric British artist Louis Wain (Benedict Cumberbatch), whose playful, sometimes even psychedelic pictures helped to transform the public's perception of cats forever.


[09/23/21 - 03:01 AM]
Video: "A World Without" - Official Teaser - Netflix
In a country where dating is outlawed, three teenage girls in search of happiness decide to join a reclusive community led by a charismatic leader.


[09/23/21 - 12:01 AM]
Video: "The Unlikely Murderer" - Official Teaser - Netflix
An assassinated prime minister. A police investigation that lead no-where. What happened that night in Stockholm? And who is Stig Engström, the man that was named as the probable shooter?


[09/22/21 - 10:01 PM]
Netflix All Set to Welcome a New Superhero, "Minnal Murali" This Christmas Eve
Set in the '90s, "Minnal Murali," is the origin story of Jaison, an ordinary man-turned-superhero (Murali), who is struck by a bolt of lightning which bestows him with special powers.


[09/22/21 - 02:08 PM]
Beloved Best-Selling, Pulitzer Prize-Winning Novel "All the Light We Cannot See" to Become an Epic Netflix Limited Series
The four-part limited series tells the story of Marie-Laure, a teenager who is blind, and Werner, a German soldier, whose paths collide in occupied France as both try to survive the devastation of World War II.