CBS NEWS LAUNCHES "CBS MORNINGS" ON SEPT. 7
"CBS Mornings" Unveils New Team, New Studio and New Format to Inform and Inspire Audiences
Gayle King, Tony Dokoupil and Nate Burleson to co-host "CBS Mornings" Monday through Friday; Jeff Glor, Dana Jacobson and Michelle Miller to co-host "CBS Saturday Morning"; Jane Pauley to anchor "CBS Sunday Morning"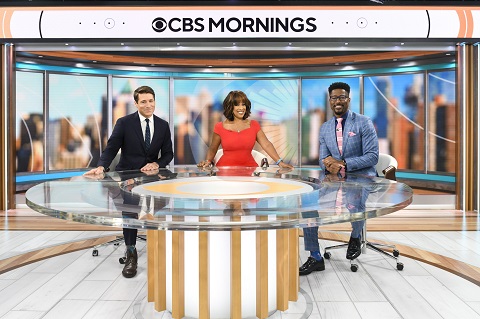 CBS News will launch CBS MORNINGS, a reimagined morning news program, on Tuesday, Sept. 7 from its new, state-of-the-art studio in Times Square, it was announced today by Neeraj Khemlani, President and Co-head of CBS News and Stations. The program offers a fresh new look and format that will leave viewers more informed, more prepared and more uplifted as they start their day.
CBS MORNINGS brings together the experience, energy and range of Gayle King, Tony Dokoupil, and its newest member of the team, Emmy Award-winning sports personality Nate Burleson, to a dynamic broadcast that not only dives deep into the breaking news of the day, but also showcases the kind of unforgettable feature stories that have made CBS SUNDAY MORNING beloved for generations. CBS News' fresh combination of impactful journalism and rich storytelling will tie its morning franchises - CBS MORNINGS, CBS SATURDAY MORNING and CBS SUNDAY MORNING - together across the week. The three morning broadcasts will share a similar look and editorial breadth.
"All CBS News morning broadcasts will now be part of the same family, with a focus on original reporting and exquisite storytelling, connected by the sound of the iconic trumpet music and an ethos of optimism that carries all the way through to the sunshine logo itself," said Khemlani. "We're adding a little bit of CBS SUNDAY MORNING - every morning - on CBS MORNINGS."
CBS MORNINGS Monday through Friday builds on the strong foundation of hard news and smart conversation set by CBS News in the mornings during the 7:00 AM hour, while expanding its feature reporting during the 8:00 AM hour with live interviews as well as in-depth pieces, covering topics from news, sports, climate, and technology to race, health, parenting and personal finance. It will also feature signature arts and culture pieces from Anthony Mason. And, of course, Vlad Duthiers will continue to be a regular feature, bringing his joy to the new studio through his "What to Watch" segment.
The morning franchise continues to deliver the hard news expertise of its weekday team, which recently delivered exclusive interviews with the Ukrainian president in the trenches on the border with Russia; Executive Assistant #1 (who accused Governor Cuomo of sexual harassment); and Mark Zuckerberg on the future of work, and expanding the kind of feature reporting that you usually see on the weekends - from profiles of chefs, musicians and authors to whimsical trips to hydrangea festivals and meaningful conversations with Hollywood stars.
"The two hours the CBS MORNINGS team has every weekday is a gift. We get the chance to inform the audience with the most up-to-date information a person needs to start their day, as well as tell deeper stories that someone would want to watch at 7:00 AM or 7:00 PM," said Shawna Thomas, executive producer of CBS MORNINGS. "CBS MORNINGS won't shy away from complicated topics or uplifting moments. Come September, the energy of our new anchor team will bring all of this together to help viewers understand and engage with their world."
Co-hosts Jeff Glor, Dana Jacobson and Michelle Miller begin broadcasting CBS SATURDAY MORNING from the new Times Square studio on Saturday, Sept. 18. The growing Saturday morning program offers two hours of original reporting, breaking news and profiles of leading figures in culture and the arts.
"This is an exciting new chapter for CBS SATURDAY MORNING. We are looking forward to taking the broadcast to the next level with a new, fresh look," said Brian Applegate. executive producer of CBS SATURDAY MORNING. "We're going to keep giving the audience that unique mix of hard news and immersive feature reporting they've come to expect, along with our signature 'Saturday Sessions' music interviews and performances. Our broadcast will soar in the new, expansive space."
Jane Pauley continues as anchor of CBS SUNDAY MORNING, a five-time winner of the Daytime Emmy Award for Outstanding Morning show and the #1 Sunday morning news program for 20 years. CBS SUNDAY MORNING broadcasts from 9:00-10:30 AM, ET.
"CBS SUNDAY MORNING has set the standard for feature reporting and storytelling since its inception," said Rand Morrison, executive producer of CBS SUNDAY MORNING. "The combination of surprising and original content, exclusive interviews from world leaders to celebrities, and adventurous reporting from far-away destinations - or unknown parts of our communities closer to home - has proven appeal to morning viewers."
The weekday and Saturday broadcasts will originate from a new, state-of-the art studio inside the ViacomCBS world headquarters in the heart of Times Square. The second-floor space encompasses more than 3000 square feet, providing for multiple interview areas and production capabilities (Read more here: https://bit.ly/2WE6Ja1). The new studio includes touch-screen technology, augmented reality, monitors throughout the room, and LED walls that bring it all to life. CBS Senior Vice President of News Operations Rick Jefferson, Creative Director Renee Cullen in collaboration with Jack Morton Worldwide and their teams designed and developed the innovative, multi-functional, and modern studio.
About our hosts
CBS MORNINGS:
Gayle King, who joined CBS News in 2011, has become one of the preeminent journalists and top interviewers of our time, earning international headlines for interviews with such newsmakers as Jeff Bezos, Elon Musk, Billie Eilish, Bruce Springsteen, R. Kelly, Dave Chapelle, Dylan Farrow, former President Barack Obama and Michelle Obama. King conducted the final interviews with Representative John Lewis and Cicely Tyson before their passing. She has handled a number of high-profile assignments and anchored multiple primetime specials. King has also led conversations with the families of victims of racial injustice, and had the first interview with Breonna Taylor's partner, who was with her when she was killed by police. King has received numerous awards for her extensive work as a journalist, including three Emmys, and in 2019 she was inducted into the Broadcasting and Cable Hall of Fame and selected for Time magazine's "TIME 100" list of the most influential people in the world. Read more here.
Tony Dokoupil joined CBS News as a correspondent in 2016 and became a co-host of CBS THIS MORNING in 2019. Dokoupil has interviewed a variety of major newsmakers, artists, and entertainers, among them First Lady Hillary Clinton, comedy legend Steve Martin, and music superstar Dolly Parton. He has anchored CBS THIS MORNING live from various news-breaking locations across the country, including from Capitol Hill after the Jan. 6 assault on the Capitol, in the middle of Hurricanes Laura and Dorian, from several battleground states during the 2020 presidential election as part of his "At America's Crossroads" series, at the Kennedy Space Center for coverage of 50th anniversary of the Apollo 11 mission, and inside the Empire State Building, previewing the re-vamped Observation Deck on the 102nd floor. Dokoupil has also led headline-making reporting on vaping, including a broadcast exclusive interview with Juul CEO Kevin Burns. Read more here.
Nate Burleson was named co-host on August 11. Burleson is also an Emmy Award-winning studio analyst for the CBS Sports NFL pre-game show THE NFL TODAY, and makes select appearances on Nickelodeon. Prior to joining CBS News, Burleson served as a host on "Good Morning Football" on the NFL Network for five years. In a 2020 documentary for the NFL Network, Burleson shined a light on Frederick "Fritz" Pollard, the first African American to play and coach professional football. From 2019 to 2021, he was an entertainment correspondent for "Extra" where he rostered a number of high-profile celebrity interviews. Burleson's television career began in 2014 with the NFL Network after retiring from 11 years in the NFL as a wide receiver for the Seattle Seahawks, Minnesota Vikings and Detroit Lions. Read more here.
CBS SATURDAY MORNING:
Jeff Glor began co-hosting on CBS Saturday mornings in 2019 and is a CBS News special correspondent. An Emmy Award-winning journalist, Glor has traveled around the world for CBS News since joining the network in 2007, including extended trips to Iraq and China. He has filed reports from every state in the U.S., including from the scene of numerous hurricanes, wildfires, and mass shootings. Glor helped lead the Network's coverage of the 2018 midterm elections, as well as two summits between President Donald Trump and Kim Jong-un of North Korea, in Singapore and Vietnam, and conducted the only broadcast network interviews of Trump before and after the Helsinki Summit with Russian President Vladimir Putin. Since joining CBS SATURDAY MORNING, he has expanded on the extended reports that have become a hallmark of the broadcast. He has interviewed dozens of authors, including international bestsellers Erik Larson, Ken Follett, Susan Ivanovich and Jeff Kinney. Those profiles have become a popular staple of the show, and continue to be a platform to look at some of the most important issues of today and in history. Read more here.
Michelle Miller began co-hosting on CBS Saturday mornings in 2018 and has a long-storied career with CBS News since she joined in 2004. Miller has reported on stories of national and international importance. From presidential elections to the climate crisis, her area of coverage is wide-ranging, but her reporting around social justice has been particularly groundbreaking. From her coverage of the killings of George Floyd, Trayvon Martin and Michael Brown, the Emanuel 9 Massacre in Charleston, to sexual assault allegations against Bill Cosby, Russell Simmons and Harvey Weinstein, Miller has been at the forefront of CBS News' coverage of the protest movement involving these issues. Miller's reporting has earned her several prestigious journalism awards, including an Emmy for her series of reports on the National Guard's Youth Challenge Academy, and an Edward R. Murrow Award for her coverage of a day care center stand-off in New Orleans, and she was part of the Alfred I. duPont - Columbia Award-winning team for coverage of the Sandy Hook Elementary School shooting. Read more here.
Dana Jacobson began co-hosting on CBS Saturday mornings in 2018. Since joining CBS News in 2015, Jacobson has conducted numerous news-making interviews, including exclusive profiles with Tiger Woods and Kobe Bryant. Additionally, she has had a number of high-profile assignments, including anchoring coverage of the Missouri Duck Boat accident in 2018, reporting on the sexual abuse cases uncovered at Ohio State University and the University of Michigan, and receiving special access to report from the USS Harry S. Truman, to report on sailors reuniting with their families after months at sea. Dana joined CBS as a correspondent for CBS Sports in 2013 following a career at ESPN where she was an anchor of "Sports Center" among other roles. Read more here.
CBS SUNDAY MORNING:
Jane Pauley is anchor of the award-winning CBS SUNDAY MORNING, a role she began in September 2016. Pauley is the recipient of multiple Emmys, the Walter Cronkite Award for Excellence in Journalism, the Edward R. Murrow Award for outstanding achievement and the Gracie Allen Award from the Foundation of American Women in Radio & Television. Pauley is a member of the Broadcast and Cable Hall of Fame. Pauley joined CBS SUNDAY MORNING in 2014 as a contributor and substitute anchor. Highlights of Pauley's work at CBS SUNDAY MORNING include a profile of Hillary Rodham Clinton; an interview with the late Supreme Court Justice Ruth Bader Ginsberg; a fast motorcycle ride with rock star John Mellencamp; the only TV interview with David Letterman about his retirement from late night television; and a joint interview with then Vice President-elect Kamala Harris and her husband Doug Emhoff. Read more here.
About CBS News and Stations:
CBS News and Stations is the news and information division of CBS, providing the highest-quality journalism in today's digital age. The division combines the resources of CBS News, the 24/7 streaming news service CBSN, 10 CBSN Local platforms, cbsnews.com and 28 CBS-owned television stations in 17 major U.S. markets, maximizing the power of CBS' newsgathering and production operations to serve audiences across all national, digital, local and global platforms. CBS News and Stations is home to the nation's #1 news program 60 MINUTES; CBSN, the first 24/7 digital streaming news network; and the award-winning broadcasts CBS MORNINGS, CBS SATURDAY MORNING, the CBS EVENING NEWS WITH NORAH O'DONNELL, CBS SUNDAY MORNING, CBS WEEKEND EVENING NEWS, 48 HOURS and FACE THE NATION. CBS News and Stations also produces the award-winning 60 MINUTES+ for Paramount+. CBS News and Stations provides news and information for the CBS Television Network, CBSNews.com, CBSN, CBS News Radio and podcasts, CBS Mobile, Paramount+ and other digital platforms. CBS News and Stations is dedicated to providing the highest-quality journalism under standards it pioneered and continues to set in today's digital age. CBS News earns more prestigious journalism awards than any other broadcast network.