[09/02/21 - 06:10 AM]
Disney+ Animated Film "Diary of a Wimpy Kid" to Stream December 3, 2021
Greg Heffley is a scrawny but ambitious kid with an active imagination and big plans to be rich and famous - he just has to survive middle school first.
---
[via press release from Disney+]
DISNEY+ ANIMATED FILM "DIARY OF A WIMPY KID" TO STREAM DECEMBER 3, 2021
Teaser Poster for the All-New Animated Adventure Available Now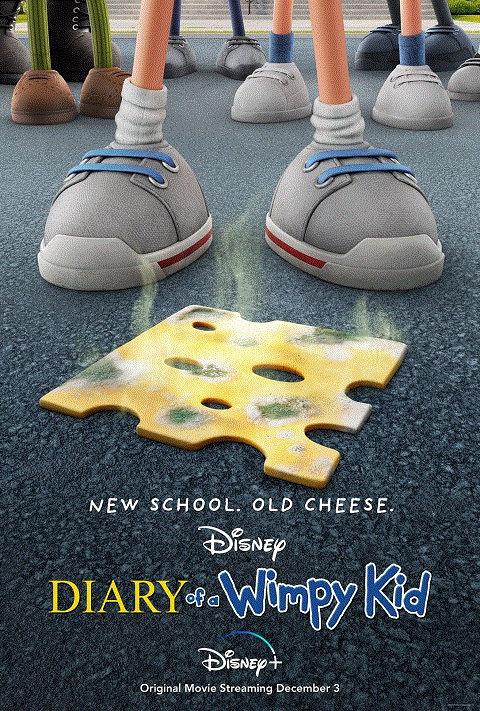 Today, Disney+ released the teaser poster for the all-new animated adventure "Diary of a Wimpy Kid," which begins streaming this holiday season. Be sure to check it out and share with your readers. "Diary of a Wimpy Kid" premieres exclusively on Disney+ December 3, 2021.
The first book in Jeff Kinney's worldwide bestselling series comes to Disney+ in the all-new animated adventure "Diary of a Wimpy Kid." Greg Heffley is a scrawny but ambitious kid with an active imagination and big plans to be rich and famous - he just has to survive middle school first. To make matters worse, Greg's lovable best friend Rowley seems to coast through life and succeed at everything without even trying! As details of his hilarious - and often disastrous - attempts to fit in fill the pages of his journal, Greg learns to appreciate true friends and the satisfaction that comes from standing up for what is right. Directed by Swinton Scott ("Futurama") and written and produced by Jeff Kinney, "Diary of a Wimpy Kid" features the voices of Brady Noon ("The Mighty Ducks: Game Changers"), Ethan William Childress ("mixed-ish") and Chris Diamantopoulos ("Mickey Mouse").
Jeff Kinney is one of the world's bestselling authors; "Diary of a Wimpy Kid" books have sold more than 250 million copies globally in just 14 years. Kinney, who serves as both screenwriter and producer, says, "This film feels like the book come to life, and it's exciting to see Greg Heffley and his family and friends in their fully-animated glory. It is the Wimpy World in a way no one has seen before. Working on this movie, I feel like we have been sitting on a wonderful secret. I can't wait to finally share it with the world!"
Twitter: @DisneyPlus / @wimpykidmovie Instagram: @DisneyPlus / @wimpykidmovie Facebook: @DisneyPlus / @wimpykidmovie Hashtag: #DisneyPlus / #WimpyKid
About Disney+
Disney+ is the dedicated streaming home for movies and shows from Disney, Pixar, Marvel, Star Wars, and National Geographic, along with The Simpsons and much more. In select international markets, it also includes the new general entertainment content brand, Star. The flagship direct-to-consumer streaming service from The Walt Disney Company, Disney+ is part of the Disney Media & Entertainment Distribution segment. The service offers commercial-free streaming alongside an ever-growing collection of exclusive originals, including feature-length films, documentaries, live-action and animated series, and short-form content. With unprecedented access to Disney's long history of incredible film and television entertainment, Disney+ is also the exclusive streaming home for the newest releases from The Walt Disney Studios. Disney+ is available as a standalone streaming service or as part of The Disney Bundle that gives subscribers access to Disney+, Hulu, and ESPN+. For more, visit disneyplus.com, or find the Disney+ app on most mobile and connected TV devices.




[09/15/21 - 12:20 PM]
FX and Hulu Set Premiere Date for Next Film from "The New York Times Presents" - "Move Fast & Vape Things"
In the eighth film, two Stanford graduate students had an inspired idea and an idealistic mission: create an e-cigarette that would help millions of people stop smoking.


[09/15/21 - 11:16 AM]
Food Network's Molly Yeh Brings Her Midwest Charm to Waco, Texas Where She Explores Home Renovation Inspiration and the Best Local Bites in "Molly Yeh's Magnolia Adventure," Featuring an Appearance by Joanna Gaines
The one-hour special premieres Sunday, October 24 at 11am ET/PT on Food Network and streams the same day on discovery+.


[09/15/21 - 11:00 AM]
Video: "Eli Roth's History of Horror" Season 3 Official Teaser - Returns October 1 on AMC
The premiere episode will be available early on Saturday, September 25 on AMC+.


[09/15/21 - 10:15 AM]
Peacock and BuzzFeed Invite You to a Delectable Spectacle with "Snoop and Martha's Very Tasty Halloween"
The competition special is hosted by Snoop Dogg and Martha Stewart, featuring talented bakers who face off in a delectable Halloween showdown.


[09/15/21 - 09:52 AM]
"The Outpost" Comes to an Epic Conclusion October 7
Watch the final four episodes of Talon's journey.


[09/15/21 - 09:44 AM]
A Taboo Affair, The Queen of Mean, Trailblazing TV Stars and the Real Stories of Law Enforcement Make Up October 2021 Premieres
"October premieres focus on the real lives intertwined in the stories of Mary Kay Letourneau and Leona Helmsley who captivated and shocked people for very different reasons," said Steve Cheskin, SVP of Programming at Reelz.


[09/15/21 - 09:36 AM]
Netflix Announces New Limited Drama Series "Devil in Ohio," A Suspenseful Thriller Starring Emily Deschanel
When hospital psychiatrist Dr. Suzanne Mathis shelters a mysterious cult escapee, her world is turned upside down as the strange girl's arrival threatens to tear her own family apart.


[09/15/21 - 09:31 AM]
YouTube Originals Orders "Laudato Si'" from Oscar Award-Winning Off the Fence Productions
Set to debut on YouTube in early 2022, "Laudato Si' is based on Pope Francis's second encyclical and provides an urgent call to action on protecting our planet and each other.


[09/15/21 - 09:30 AM]
More Stars Added to the Lineup for the "73rd Emmy(R) Awards," Sunday, Sept. 19 on CBS
Artists added to the star-studded lineup include Annaleigh Ashford, Awkwafina, Misty Copeland, Michael Douglas, Ava DuVernay, Taraji P. Henson, Gayle King, LL COOL J, Dolly Parton, Jada Pinkett-Smith, Ellen Pompeo, Yara Shahidi, Rita Wilson and Catherine Zeta-Jones.


[09/15/21 - 09:03 AM]
Helen Mirren to Host "Harry Potter: Hogwarts Tournament of Houses"
This special four-part event will unveil Wizarding World fans willing to put their Harry Potter knowledge to the test for the ultimate honor to be named House Cup champion.


[09/15/21 - 09:01 AM]
Video: "Power Book II: Ghost" - Season 2 Teaser - Starz
Does the ends justify the means? "Power Book II: Ghost" is back November 21 on Starz.


[09/15/21 - 09:00 AM]
Meet the 12 New Challengers Competing on the Third Season of "Tough as Nails," Premiering Wednesday, Oct. 6
The cast includes a fire captain, crop duster, lineman, and ironworker, among others.


[09/15/21 - 08:30 AM]
Horror Icon Elvira Makes Long-Awaited Return to the Small Screen with "Elvira's 40th Anniversary, Very Scary, Very Special Special" Debuting September 25 on Shudder
"It's always tough turning 40, but what better way to mark the occasion than a one-night stand with Shudder, the spookiest of streamers? It's going to be the ultimate Hallow-anniversa-ween bash, and you don't want to miss it," said Elvira.


[09/15/21 - 08:00 AM]
Video: Amazon Prime Video Debuts Official Teaser Trailer for "I Know What You Did Last Summer"
The first four episodes will premiere Friday, October 15, with new episodes airing each Friday following, leading up to the season finale on November 12.


[09/15/21 - 07:10 AM]
Apple's Bilingual Comedy Series "Acapulco," Starring Eugenio Derbez, to Make Global Debut Friday, October 8 on Apple TV+
"Acapulco" tells the story of twenty-something Máximo Gallardo (Enrique Arrizon), whose dream comes true when he gets the job of a lifetime as a cabana boy at the hottest resort in Acapulco.