FAMILY SUPERHERO FILM "SECRET HEADQUARTERS," STARRING OWEN WILSON, TO PREMIERE EXCLUSIVELY ON PARAMOUNT+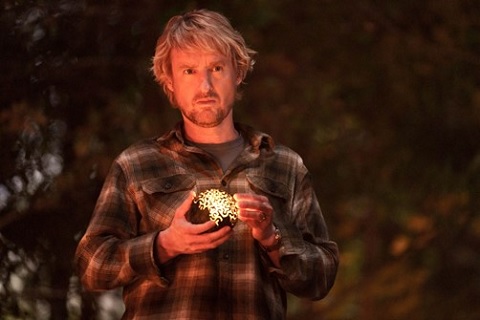 Photo Credit: Hopper Stone, SMPSP / Paramount+/Paramount Pictures
The Paramount+ Original Movie Is Produced by Paramount Pictures and Jerry Bruckheimer Films
June 1, 2022 - Paramount+ today announced that its upcoming secret superhero original film SECRET HEADQUARTERS, starring Owen Wilson, will exclusively premiere on the service this August in the U.S. and Canada, and in select international territories where Paramount+ is available.
Produced by Paramount Pictures and Jerry Bruckheimer Films, the heartwarming and action-packed family superhero film also stars Walker Scobell ("The Adam Project"), Jesse Williams ("Grey's Anatomy"), Keith L. Williams ("Good Boys"), Momona Tamada ("The Baby-Sitters Club"), Abby James Witherspoon ("Hot Pursuit") and Michael Peña ("NARCOS: Mexico").
"We have seen tremendous success with our high-quality kids and family content, and are excited to add this special superhero movie to our growing slate of Paramount+ original films," said Tanya Giles, chief programming officer, Paramount Streaming. "SECRET HEADQUARTERS is the perfect action-packed summer film for the whole family, making it a perfect fit for Paramount+ and our mountain of entertainment geared toward the whole household."
While hanging out after school, Charlie and his friends discover the headquarters of the world's most powerful superhero hidden beneath his home. When villains attack, they must team up to defend the headquarters and save the world.
SECRET HEADQUARTERS is directed by Henry Joost ("Project Power," "Nerve," "Catfish") and Ariel Schulman ("Project Power," "Nerve," "Catfish"), with story by Christopher Yost and screenplay by Christopher Yost and Josh Koenigsberg & Henry Joost & Ariel Schulman. The film is produced by Jerry Bruckheimer and Chad Oman, and executive-produced by Scott Lumpkin and Orlee-Rose Strauss.
About Paramount+
Paramount+, a direct-to-consumer digital subscription video on-demand and live streaming service, combines live sports, breaking news and a mountain of entertainment. The premium streaming service features an expansive library of original series, hit shows and popular movies across every genre from world-renowned brands and production studios, including BET, CBS, Comedy Central, MTV, Nickelodeon, Paramount Pictures, and the Smithsonian Channel. The service is also the streaming home to unmatched sports programming, including every CBS Sports event, from golf to football to basketball and more, plus exclusive streaming rights for major sports properties, including some of the world's biggest and most popular soccer leagues. Paramount+ also enables subscribers to stream local CBS stations live across the U.S. in addition to the ability to stream CBSN for 24/7 news, CBS Sports HQ for sports news and analysis, and ET Live for entertainment coverage. For more information about Paramount+, please visit www.paramountplus.com and follow @ParamountPlus on social platforms.
About Paramount Pictures
Paramount Pictures Corporation (PPC), a global producer and distributor of filmed entertainment, is a unit of Paramount (NASDAQ: PARA, PARAA), a leading global media and entertainment company that creates premium content and experiences for audiences worldwide. Paramount Pictures controls a collection of some of the most powerful brands in filmed entertainment, including Paramount Pictures, Paramount Animation, and Paramount Players. PPC operations also include Paramount Home Entertainment, Paramount Pictures International, Paramount Licensing Inc., and Paramount Studio Group.
#ParamountPlus Facebook/Twitter/Instagram: @ParamountPlus