[06/05/22 - 08:01 PM]
"First Love" Full Cast and Premiere Date Announcement
"First Love" will premiere globally on Netflix on November 24.
---
[via press release from Netflix]
"First Love" Full Cast and premiere date announcement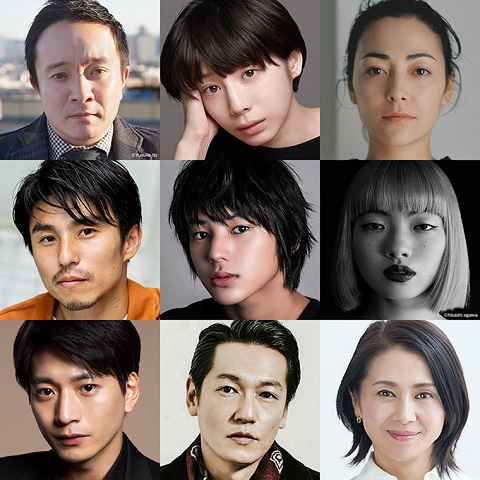 Netflix today announced the full cast of nine for its new series 'First Love', directed and written by Yuri Kanchiku, starring Hikari Mitsushima and Takeru Satoh, and inspired by songs written and composed by J-Pop sensation Hikaru Utada. The series tells a spectacular love story that spans over more than 20 years. 'First Love' will premiere globally on Netflix on November 24, 2022.
Hikari Mitsushima, Takeru Satoh together with Hikaru Utada's music, is a miraculous combination and the ultimate love story.
The cast includes leading as well as up-and-coming talent from Japan, including Kaho, Minami, Akiyoshi Nakao, Araki Towa, Aoi Yamada, Osamu Mukai, Arata Iura and Kyoko Koizumi.
Additionally Netflix will also show Utada Hikaru's Studio Live Performance "Hikaru Utada Live Sessions from Air Studios" starting on June 9, ahead of the premiere of 'First Love' in November.




[07/05/22 - 02:30 PM]
New ABC News Studios Original "The Fatal Flaw: A Special Edition of 20/20" Uses Miniature Dollhouses of Crime Scenes to Recount Chilling Murders and the Small Clues That Helped Identify Killers
New episodes of "The Fatal Flaw: A Special Edition of 20/20" will air weekly on Thursdays in July at 10:00/9:00c.


[07/05/22 - 12:10 PM]
Disney and ABC Present "Beauty and the Beast: A 30th Celebration," A One-Night Only Reimagination of the Classic Film, Airing Thursday, Dec. 15
The talented cast, whose performances will be seamlessly woven through the original feature film, will be announced at a later date.


[07/05/22 - 12:01 PM]
"Big Brother" Announces 16 New Houseguests to Move Into the "BB Motel" Live During the 24th Season Premiere Event
This season's cast includes an attorney, a Vegas performer, a hypnotherapist, a private chef, a chemical processing engineer, an interior designer and a personal stylist, among others.


[07/05/22 - 11:00 AM]
The CW Network Sets 2022 Fall Premiere Dates
The network's new fall season kicks off with the third season premiere of "DC's Stargirl" on Wednesday, August 31.


[07/05/22 - 09:30 AM]
Video: Time to Face the Future - "Paper Girls" Delivers Official Trailer and Key Art
As previously announced, the series will premiere all eight episodes exclusively on Prime Video on Friday, July 29 in more than 240 countries and territories worldwide.


[07/02/22 - 02:55 PM]
Video: "Reasonable Doubt" - First Look with Kerry Washington - Onyx Collective - Hulu
Executive producer and director Kerry Washington gives us a first look at Onyx Collective's new legal drama "Reasonable Doubt," premiering Tuesday, September 27, only on Hulu.


[07/01/22 - 11:22 PM]
Development Update: Friday, July 1
Updates include: Paramount+ shutters third season of "Why Women Kill"; HBO cancels "The Time Traveler's Wife"; and Parisa Fakhri to recur on FX's "What We Do in the Shadows."


[07/01/22 - 09:32 PM]
Video: "JoJo's Bizarre Adventure STONE OCEAN" - Official Trailer 3 - Netflix Anime
The legacy of the Joestar family continues with Jolyne as she and her companions take on new Stand users behind the bars of Green Dolphin Street Prison.


[07/01/22 - 09:31 PM]
Video: "Record of Ragnarok II" - Official Teaser - Netflix Anime
This anime, based on the popular manga serialized in Monthly Comic Zenon and which has sold over 10 million copies, enters its second phase!


[07/01/22 - 02:30 PM]
Raphael Saadiq Tapped as Executive Music Producer of "Marvel's Moon Girl and Devil Dinosaur"
Based on Marvel's hit comic books, the Disney Branded Television series is slated to premiere in 2023 on Disney Channel and Disney+.


[07/01/22 - 01:55 PM]
HBO Max Renews Adult Animated Series "Ten Year Old Tom" for a Second Season
The series is created, produced, directed and written by Steve Dildarian.


[07/01/22 - 12:00 PM]
Syfy's "Resident Alien" Season 2 Is Back!
Season two resumes Wednesday, August 10 at 10:00/9:00c on the cable channel.


[07/01/22 - 10:04 AM]
Peacock Adds David Arquette and Elizabeth Marvel to Recurring Cast of Highly Anticipated Drama Series, "Mrs. Davis," from Tara Hernandez and Damon Lindelof
Betty Gilpin and Jake McDorman to star alongside Andy McQueen, Ben Chaplin and Margo Martindale in the series.


[07/01/22 - 08:01 AM]
"60 Days In" Returns for a New Season Followed by New Series "Inmate to Roommate" on Thursday, August 18 on A&E
New groundbreaking documentary series, "Inmate to Roommate," follows recently released inmates as they re-enter society and move in with everyday people who are welcoming them into their homes.


[07/01/22 - 07:02 AM]
"Star Trek: Prodigy" Beams to Nickelodeon Friday, July 8
Episodes will continue to debut Fridays on Nickelodeon through August 5.