SAVE THE DATE
Stranger Things Day 2022
November 6, 1983. The day Will Byers went missing, and the day it all began. Stranger Things Day is a celebration with our core fanbase, to honor the very beginning of where it all started! This year is our 5th annual holiday and we are bringing all things Stranger to our fans both IRL and digitally online.
Screenings: For this year's Stranger Things Day, theaters across North America are hosting screenings of Volume 2 of Season 4 on Sunday, Nov. 6, 2022. Every screening will have trivia, giveaways and other surprises for superfans. They will be held in cities including Los Angeles, New York, Miami, Atlanta, Houston, Dallas, Philadelphia, Chicago, Phoenix, San Francisco, Austin, Texas, Denver, Detroit, Cleveland, Washington, DC, Seattle, Las Vegas, Jacksonville, Florida, and Toronto. Get your tickets now at StrangerThingsDayScreenings.com!
Also Get Excited For: The first ever Immersive Watch Party on Roblox for the episode that started it all - S1, Ep 1! Special guests! Activations at the Stranger Things: the Experience and The Official Store. The latest and greatest when it comes to Stranger gear! And last but not least, watch out for news in the world of Stranger!
Stay tuned for additional information and more updates on all things Stranger Things Day as the week goes on, follow along with the Stranger Things social media accounts on Twitter @Stranger_Things, Instagram @StrangerThingsTV and Facebook @StrangerThingsTV.
¡spɹǝu 'ʇno puɐ ɹǝʌo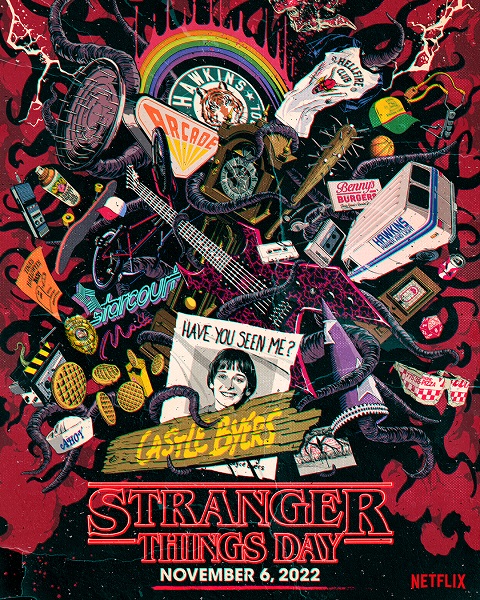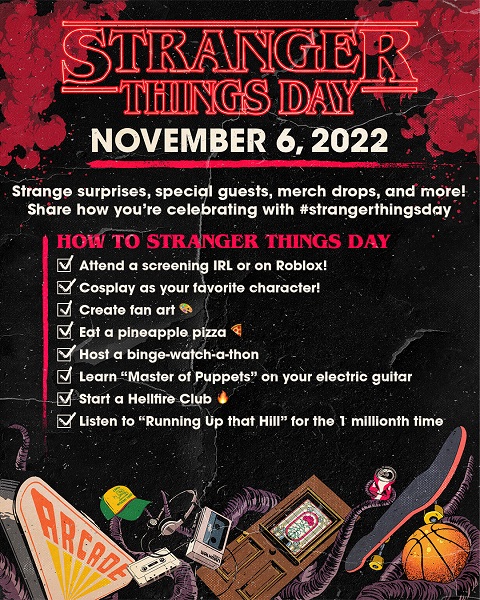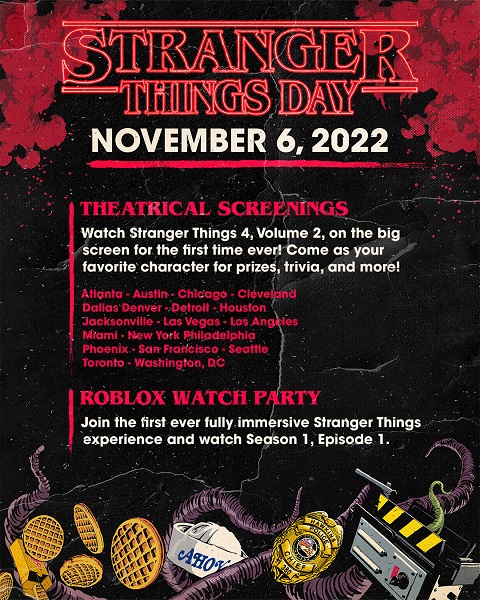 ABOUT STRANGER THINGS
Since its release in 2016, the global phenomenon Stranger Things has garnered over 73 award wins and 211 award nominations, including those from the Emmys, Golden Globes, Grammys, SAG, DGA, PGA, WGA, BAFTA, a Peabody Award, AFI Program of the Year, the People's Choice Awards, MTV Movie & TV Awards, and many others. The four-time Emmy Award Nominee for Best Drama is one of Netflix's most-watched titles, with Season 4 amassing 1.35 Billion view hours ranking as the Most Popular English-language series on Netflix. Stranger Things was created by The Duffer Brothers and is produced by Upside Down Pictures & 21 Laps Entertainment. The Duffer Brothers serve as executive producers, writers and directors on the series. Shawn Levy and Dan Cohen of 21 Laps Entertainment and Curtis Gwinn are also executive producers.