"MARY & GEORGE" STARRING ACADEMY AWARD WINNER JULIANNE MOORE AND NICHOLAS GALITZINE JOINS STARZ'S LINEUP OF PROVOCATIVE PERIOD DRAMAS
STARZ WILL SERVE AS THE U.S. AND CANADA BROADCAST HOME OF THE DANGEROUSLY DARING LIMITED EVENT SERIES ABOUT A SCHEMING AND SEDUCTIVE SOCIAL-CLIMBING MOTHER & SON DUO, SET TO DEBUT IN 2024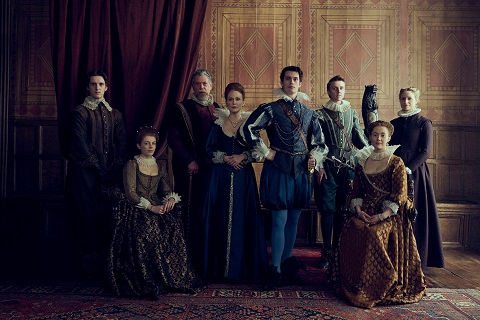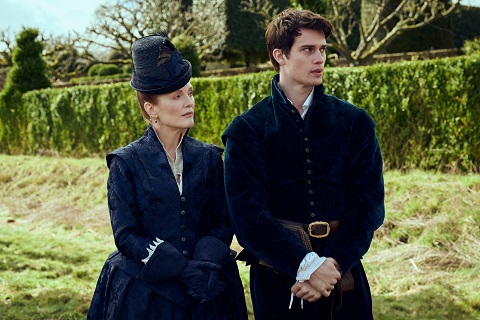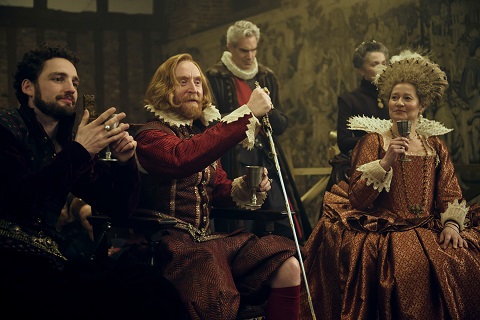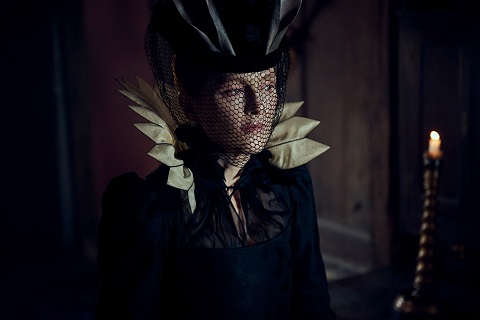 Santa Monica, Calif. - November 16, 2023 - STARZ has acquired the U.S. and Canada rights to "Mary & George", an audacious historical psychodrama starring Academy Award-winner Julianne Moore (Still Alice) and Nicholas Galitzine (Red, White & Royal Blue), about a treacherous mother and son who schemed, seduced and killed to conquer the Court of England and the bed of King James I. Based on a scandalous true story, the seven-part limited series is created by acclaimed playwright D.C. Moore ("Killing Eve," Temple) and is produced by Hera Pictures (The End We Start From, Temple) in association with Sky Studios. "Mary & George" is set to debut in 2024 as a STARZ original in the U.S. and Canada.
"'Mary & George' is the perfect complement to STARZ's provocative slate and we're thrilled to partner with Sky Studios to bring this extraordinary series to U.S. audiences," said Alison Hoffman, President of Domestic Networks for STARZ. "We can't wait for the world to discover the untold story of Mary Villiers, who mastered the art of sexual and political conquests in a male-dominated society. And to have Julianne leading this remarkable cast is a dream."
Julianne Moore plays Mary Villiers, Countess of Buckingham, who in 17th century England molded her beautiful son, George, to seduce King James I and become his all-powerful lover. Through outrageous scheming, the pair rose from humble beginnings to become one of the richest, most titled and influential players the English court had ever seen, and the King's most trusted advisors. Nicholas Galitzine plays her son, George Villiers, a naïve romantic who alongside his ruthless mother was prepared to stop at nothing to get to the top. Tony Curran ("Mayflies") stars as King James I, the target of Mary & George's seductive scheming.
The ensemble cast includes Nicola Walker (The Split, Unforgotten), Niamh Algar (The Wonder, Malpractice), Trine Dyrholm (The Legacy, Queen Of Hearts), Sean Gilder (Sherwood, Slow Horses), Adrian Rawlins (Living, Chernobyl), Mark O'Halloran (The Miracle Club, The Virtues), Laurie Davidson (Masters of the Air, Guilty Party), Samuel Blenkin (Atlanta, The Witcher: Blood Origin), Jacob McCarthy (SAS: Rogue Heroes, The Tragedy of Macbeth), Tom Victor (Consent), Alice Grant (Anthem at Almeida Theatre), Amelia Gething (Emily, The Amelia Gething Complex), Mirren Mack (The Nest, The Witcher: Blood Origin), Rina Mahoney (Happy Valley, Cobra) and Simon Russell Beale (The Death of Stalin, The Outfit).
"Mary & George" is produced by Hera Pictures in association with Sky Studios.The series is written by D.C. Moore (Killing Eve, Temple), inspired by Benjamin Woolley's nonfiction book The King's Assassin. Liza Marshall is executive producer for Hera Pictures alongside D.C. Moore, Oliver Hermanus and Julianne Moore. Hermanus (Living, Moffie) also helms the series as lead director. Sam Hoyle serves as executive producer for Sky Studios.
The deal was brokered by Sky Studios. NBCUniversal Global Distribution handles international sales on behalf of Sky Studios.
About STARZ
STARZ (www.starz.com), a Lionsgate company, is a leading media streaming platform committed to delivering premium content that amplifies narratives by, about and for women and underrepresented audiences. STARZ is home to the highly rated and first-of-its-kind STARZ app that offers the ability to stream or download STARZ premium content, as well as the flagship domestic STARZ(R) service, including STARZ ENCORE, 17 premium pay TV channels, and the associated on-demand and online services. STARZ is available across digital OTT platforms and multichannel video distributors, including cable operators, satellite television providers, and telecommunications companies. In February 2021, STARZ launched #TakeTheLead, a multi-faceted and innovative inclusion initiative expanding its existing efforts to improve representation on screen, behind the camera and throughout the company.
About Sky Studios
Sky Studios is the home of Sky Original Drama and Comedy. We develop, commission and produce unmissable programming for Sky's customers across Europe. Our teams partner with the best indies and talent globally, to drive creative excellence and tell original stories that are loved by audiences the world over. Our Sky Originals include Emmy-nominated hit, Gangs of London, BAFTA-winning comedy, Brassic, Mary & George, starring Julianne Moore, The Day of the Jackal, with Eddie Redmayne and Lashana Lynch, M. Son of the Century, directed by Joe Wright and Small Town, Big Story, created by Chris O'Dowd.
Alongside Sky Original Comedy and Drama, Sky Studios is home to an in-house Factual development and production team, and some of the world's most exciting production companies including Blast! Films, True North and Love Productions.
We also operate Sky Studios Elstree, the UK's newest film and TV studio with 13 sound stages, representing a significant investment in the UK and European creative economy.
About Hera Pictures
Founded in 2017 by former Channel 4 Head of Drama Liza Marshall, Hera Pictures is a fully independent production company established to produce bold, high-end, authored drama for a global audience. The company's first series, TEMPLE, an eight-part drama starring Mark Strong, was Sky 1's most successful drama of 2019 and chosen as one of the top TV shows of 2020 by The New York Times. The second season launched to critical acclaim in Autumn 2021. 2020 saw the launch of the critically acclaimed two-part ITV true crime drama HONOUR, starring Keeley Hawes and written by Gwyneth Hughes. Based on the case of murdered 20-year-old Banaz Mahmod, the drama was a chilling reminder of how society failed to protect a young woman from harm. Pre-production has begun on upcoming BBC Three/iplayer series WHAT IT FEELS LIKE FOR A GIRL, adapted by Paris Lees from her anarchic memoir of the same name, and a soon to be announced true crime drama will be in production summer 2024. On the film side, Hera's adaptation of Megan Hunter's THE END WE START FROM premiered at TIFF and the LFF to glowing reviews and 9 BIFA nominations. The film stars Jodie Comer and is adapted by writer Alice Birch (NORMAL PEOPLE) and directed by Mahalia Belo (THE LONG SONG, ELLEN). Hera is also producing a film adaptation of Maggie O'Farrell's multi award-winning novel HAMNET, Academy Award winning Chloe Zhao (NOMADLAND) is attached to direct.
Liza Marshall was previously Head of Drama at Channel 4 (BOY A, MISFITS, RED RIDING TRILOGY, TOP BOY), before going on to establish and run Scott Free London for Ridley Scott (TABOO, BEFORE I GO TO SLEEP, LIFE IN A DAY). Prior to this, she was a producer at the BBC (THE LONG FIRM, THE SINS, EROICA). Marshall produced Season One of RIVIERA for Sky Atlantic, as well as BAFTA-nominated THE STATE from Peter Kosminsky for Channel 4.