THE JOURNEY TO JUSTICE
COMPELLING LIMITED SERIES, "LOVE AFTER LOCKUP: INNOCENT AFTER LOCKUP," PREMIERES DECEMBER 15 AT 10:30PM ON WE TV
Sneak Peak and Photos Now Available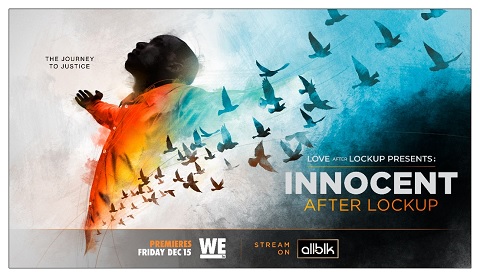 New York, NY - November 17, 2023 - WE tv, AMC Networks' destination for compelling unscripted television, today announced new limited series Love After Lockup: Innocent After Lockup, which follows exonerees falsely accused and convicted of crimes they did not commit.
This elevated, three-episode special will premiere on Friday, December 15 at 10:30pm exclusively on WE tv. Every episode follows a different falsely accused exoneree who spent between 15 - 22 years in a maximum-security penitentiary and were subsequently proven innocent. The exonerees are currently at various stages of suing the state or federal government for financial compensation for their time unjustly spent behind bars.
In the United States between 1989 - 2021, there were over 2,800 documented exonerations: an average of 32 per year. With the increased focus on unjust convictions and advancement of scientific procedures, in 2022 there were 238 exonerations, a mind-boggling 644% increase. Love After Lockup: Innocent After Lockup personalizes those heartbreaking statistics of wrongful incarceration in America by telling the remarkable personal journeys of three exonerees who fought for over a decade to vindicate themselves and are now caught in another lengthy fight to receive recompense for lost years.
At the center of each story, alongside the wrongfully accused, we will hear from their families, including the wives and girlfriends whose love sustained their partner through the darkest hours, the reintegration into society, and their present battle for some form of justice.
Love After Lockup: Innocent After Lockup makes real the ephemeral concepts of love, loyalty, and lost lives in the battle for justice against a damaged system; and asks the question "what is justice when all you have known is injustice?"
Exonerees
Taron Hill, Age 35
Raleigh, NC
Taron was wrongfully convicted of a double homicide in 2004 at age 18, spent 16.5 years in prison and was exonerated in 2021. As of December 2023, Taron has not received a settlement from the state of New Jersey and continues to seek compensation.
Calvin Buari, Age 51
Houston, TX
Arrested 1993 in the Bronx, Calvin, age 21, was sentenced in 1995 to 50 years to life for double homicide. He spent 22 years in prison before being exonerated in March 2018, after three new witnesses came forward and stated Calvin was not the shooter. After his exoneration, Calvin sued New York State for the wrongful conviction and received $8 million of which he netted just under $5 million. He received the final $2.7 million of his settlement in February 2022.
Ru-El Sailor, Age 42
Cleveland, Ohio
At the age of 23, Ru-El was sentenced to 28 years to life for a murder that he did not commit. No physical or DNA evidence was present, and with the help of his wife, Amy, he was exonerated 15 years later. Ru-El's co-defendant Cordell Hubbard confessed to the murder and is serving a life sentence. As of December 2023, Ru-El has received compensation from the state and continues to seek compensation from the City of Cleveland.
Love After Lockup: Innocent After Lockup is produced by Sharp Entertainment, a part of Sony Pictures Television. Executive producers are Matt Sharp, Dan Adler, Alan Madison, Vanessa Butler, and Lisa Singer Haese. Angela Molloy, SVP Development & Original Production, Unscripted and Lisa Marie Angelo, Director Development & Original Production, Unscripted, executive produce for WE tv.
###
About WE tv
With compelling, can't miss unscripted shows, WE tv's programming is fueled by personalities and relationships filled with purpose and passion. WE tv welcomes everyone and creates an inclusive experience across all platforms: on TV, online, on demand, and social media, embracing how today's digitally savvy, socially engaged audiences connect through content, using it as a catalyst to drive conversation and build community. Further building on this mission, current WE tv originals are now available to stream on WE tv's sister platform, ALLBLK. WE tv is owned and operated by AMC Networks Inc., and its sister networks include AMC, BBC America, IFC, SundanceTV and streamers Acorn TV, ALLBLK, AMC+, Shudder and Sundance Now.
About SHARP Entertainment
Sharp Entertainment, a part of Sony Pictures Television, is one of the biggest creative powerhouses in unscripted television production today. Led by producer Matt Sharp since 2003, Sharp is one of the industry's leading production enterprises worldwide delivering thousands of hours of programming and unparalleled ratings achievement across multiple networks. Sharp's mega-hit franchise, TLC's "90 Day Fiancé," is a top-performer on all of cable along with spinoffs including "90 Day Fiancé: Happily Ever After," "90 Day Fiancé: Before the 90 Days," and "90 Day Fiancé: The Other Way." Sharp is also behind WE TV's buzzy docu-series "Love After Lockup," as well as top-rated "Man v. Food" for the Cooking Channel. Other notable Sharp series include "Extreme Couponing" for TLC, "Doomsday Preppers" for National Geographic, and the long-running hit "The Fabulous Life" for VH1, among many others."