Designated Survivor Premiere Soars to 20.5 Million Viewers and a 6.1 AD18-49 Rtg in Multiplatform + 35 Days
Based on the just-released Multiplatform + 35 Days of playback ratings for the premiere episode of Designated Survivor, the ABC freshman drama soared over its Live + Same Day numbers by +104% to 20.5 million viewers and by +173% to a 6.1 rating in Adults 18-49.
· Live + 7 Day: ABC's "Designated Survivor" has been setting all-time Nielsen TV playback records, ranking as the season's top gainer in the Live + 7 Day Total Viewers and Adults 18-49. On average the show adds +7.3 million viewers after 7 days of playback and +2.0 Adult 18-49 rating points (+118%). In fact, "Designated Survivor" spiked by over +7.0 million viewers on each of its first three telecasts, claiming TV's three largest-ever Total Viewer L+7 increases on any network.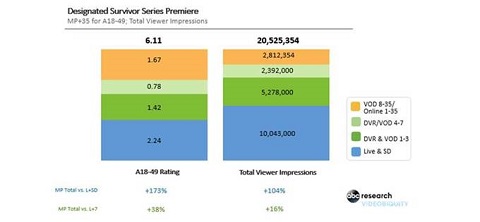 Source: ABC Multiplatform Ratings, A18-49 & P2+ Average Audience, 16-17 premiere week, TV based on Nielsen average audience ratings | Online from Uplynk/Hulu/FreeWheel | VOD Days 8+ from Rentrak | Demos & coviewing based on Nielsen, Comscore Video Metrix, and proprietary studies | Includes ad-supported and non-ad-supported viewing through 35 days. Live + 7 Day TV ratings based on regular, original telecasts only for 09/19/16-10/30/16.