Top 10 Week of Mar 21: 'Bridgerton' Is Back and 'The Adam Project' Enters the Most Popular List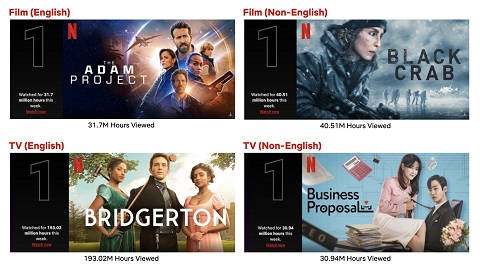 Dearest Gentle Reader,
This week the English TV list is all about the Shondaverse. With three appearances on the list, Shonda Rhimes knows how to capture an audience. Lady Whistledown kept viewers swooning all weekend as Season 2 of Bridgerton returned with 193.02M hours viewed, making it the most viewed Netflix English language TV title in its premiere weekend. Created by Chris Van Dusen, the series was #1 in 92 countries. Fans also returned to the Ton with Season 1, which jumped back onto the Top 10 list at #3 with 32.28M hours viewed. Meanwhile, Inventing Anna continued its streak on the list with 28.99M hours viewed.
On the English Films side, The Adam Project held the #1 spot with 31.7M hours viewed. The time traveling adventure also made its way into the Most Popular list at #7 with 209.50M hours viewed. With Red Notice (#1) and 6 Underground (#8), this marks the third Ryan Reynolds film to enter the list - audiences can't seem to get enough Reynolds with 6 Underground jumping back into the Top 10 for the first time since November. What's more, Shawn Levy became the first producer and director with both a TV, Stranger Things, and a film, The Adam Project, in the Top 10 most popular lists. Additionally, Rescued by Ruby (17.03M hours viewed) and Windfall (15.49M hours viewed) continued to hold steady.
For the second week, Black Crab stayed atop the non-English Films list with 40.51M hours viewed. The film, starring Noomi Rapace, entered the Most Popular List at #5 with 76.43M hours viewed and was in the Top 10 list in 93 countries. French thriller Restless, starring Franck Gastambide and directed by Régis Blondeaualso also cracked the Most Popular list at #8 with 59.06M hours viewed. New entrants provided viewers with an escape. Turkish drama In Good Hands debuted with 28.93M hours viewed while Japanese romance Love Like the Falling Petals had 2.21M hours viewed.
In the #1 spot on the non-English TV list was Business Proposal with 30.94M hours viewed. Polish horror series Cracow Monsters had 13.26M hours viewed. Rounding out the Top 10 was Mexican drama Pedal to Metal with 8.15M hours viewed.
To download Top 10 assets, visit Top10.netflix.com.