Top 10 Week of December 5: 'Wednesday' Crosses 1 Billion Hours Viewed; 'Harry & Meghan' Is Biggest Documentary Debut; 'Troll' Ascends to the Top of the Most Popular List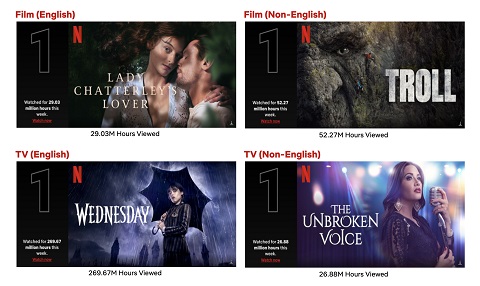 Two snaps for the now Golden Globe-nominated Wednesday, which danced, danced, danced up the English TV List and even had Lady Gaga joining in on the fun.In its third week, the comedy mystery starring Jenna Ortega has crossed 1 billion hours viewed with a total of 1.02 billion total hours viewed, becoming only the third title to cross this milestone within its first 28 days joining Stranger Things 4 and Squid Game. The cultural phenomenon also climbed into the #2 spot on the English TV Most Popular List. Since its debut, more than 150M households have seen the series (1.02B divided by 6.8 hours). The smash hit also held the #1 spot with 269.67M hours viewed this week and is #1 in 90 countries.
Volume I of the unprecedented and in-depth documentary series Harry & Meghan debuted with 81.55M hours viewed, the highest view hours of any documentary title in a premiere week. The series from Oscar-nominated director Liz Garbus appeared in the Top 10 TV list in 85 countries, including #1 in the United Kingdom. After just four days, over 28M households have seen the first three episodes (81.55M divided by 2.9 hours), and Volume II premieres this Thursday.
Meanwhile, Part 1 of the second and final season of Firefly Lane left viewers wanting more. Based on the novel of the same name, the series had 50.35M hours viewed. Fans also revisited Season 1, which entered the list with 20.94M hours viewed. 1899 had 27.53M hours viewed. Season 5 of The Crown held its standing with 18.9M hours viewed. Season 4 of Too Hot to Handle returned to the list with a sizzling debut with 20.43M hours viewed. Hosted by Megan Stalter and Hari Kondabolu, reality cooking series Snack vs. Chef had 13.87M hours viewed. Dead To Me had 11.9M hours viewed and Season 4 of Manifest closed out the list with 10.54M hours viewed.
With an additional 52.3M hours viewed this week, Norwegian action-adventure Troll skyrocketed to the top of the Non-English Films Most Popular List with 128.13M total hours viewed - up from the eighth spot, and also appeared in the Top 10 in 93 countries. Returning films included Italian action-adventure, My Name is Vendetta with 23.6M hours viewed, Hong Kong dystopian thriller Warriors of Future with 11.6M hours viewed, Spanish drama A Man of Action with 11.6M hours viewed and Brazilian rom-com Christmas Full of Grace with 8.6M hours viewed. Spanish mystery God's Crooked Lines (17.1M hours viewed), Polish romantic comedy Delivered By Christmas (8.1M hours viewed) and Argentinian romantic comedy The Marriage App (6.1M hours viewed)all entered the list.
Starring Emma Corrin and Jack O'Connell, Lady Chatterley's Lover jumped to the #1 spot on the English Films List with 29.03M hours viewed. In a stunning reimagining of the childhood classic, Guillermo del Toro's Pinocchio took fans on a whimsical and emotional journey, landing in the #2 spot with 28.08M hours viewed. Scrooge: A Christmas Carol (13.05M hours viewed), The Swimmers (11.72M hours viewed), The Noel Diary (11.58M hours viewed) and Slumberland (10.38M hours viewed) returned to the list. The Boss Baby: Christmas Bonus brought holiday cheer to families with 10.4M hours viewed.
Colombian dramas The Unbroken Voice (26.88M hours viewed) and Til Money Do Us Part (20.88M hours viewed)remained in the first and second spots on the Non-English TV List. Korean drama Under the Queen's Umbrella, Spanish teen drama Elite, Korean thriller Money Heist: Korea Joint Economic Area and Japanese drama First Love kept fans entertained. Italian rom-com I Hate Christmas, Turkish drama Hot Skull and Korean anime Lookism debuted on the list.
To download Top 10 assets, visit Top10.netflix.com.