Top 10 Week of April 10: 'The Night Agent' Jumps to #6 on the Most Popular List; 'Beef' Climbs Into the #2 Spot on English TV List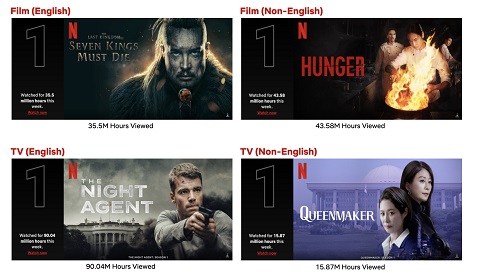 The suspense is building as two thrillers chase the top of the English TV list: The Night Agent held on to #1, with BEEF racing into the #2 spot in its second week.
The Night Agent pulled in 90.04M hours viewed for the week and climbed to the #6 spot on the Most Popular List with 605.62M total hours viewed since its premiere. To date, the series has had more than 73M views (605.62M hours viewed divided by 8.19 runtime hours). BEEF drew 70.38M hours viewed - more than double the prior week - and reached the Top 10 in 87 countries as reviews call the series invigorating, riveting and astounding. Viewers tuned in to see who did (or didn't) walk down the aisle in the finale of Love is Blind Season 4, which had 41.33M hours viewed. New to the list is limited series Obsession (40.89M hours viewed) and American Manhunt: The Boston Marathon Bombing (23.37M hours viewed).
The saga lives on as The Last Kingdom: Seven Kings Must Die topped the English Films List with 35.5M hours viewed. An extension of the popular series, the gritty drama appeared in the Top 10 in 92 countries. Chupa, with 27.29M hours viewed, Murder Mystery, with 6.69M hours viewed and Murder Mystery 2 with 16.93M hours viewed all returned to the list, with the latter surpassing 93M views since its premiere (141.19M hours viewed divided by 1.52 runtime hours)
On the Non-English Films side, Thai drama Hunger tops the list with 43.58M hours viewed. Other returning favorites include Korean action-adventure Kill Boksoon, Turkish drama Oh Belinda, Hindi-language thriller Chor Nikal Ke Bhaga, and German Academy Award winner All Quiet on the Western Front. New entrants include Mexican comedy Queens on the Run, with 11.36M hours viewed and Spanish horror Phenomena, with 4.87M hours viewed.
Fans continued to enjoy Korean titles, putting drama Queenmaker at the top of the Non-English TV List with 15.87M hours viewed, along with The Glory, Divorce Attorney Shin, Crash Course in Romance and Alchemy of Souls, Part 1. Returning to the list are French series Thicker Than Water, Taiwanese thriller Copycat Killer and Turkish thriller Who Were We Running From?
To download Top 10 assets, visit Top10.netflix.com.