Top 10 Week of Sept. 18: 'Sex Education' Debuts at #1; 'Love At First Sight' and 'Dear Child' Continue First Place Reigns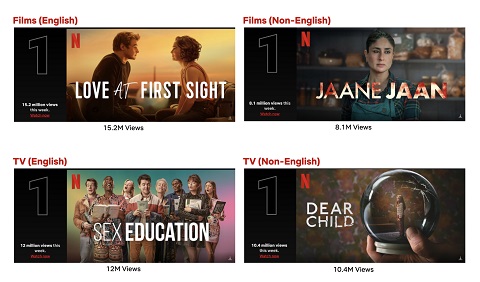 The fourth and final season of Sex Education climaxed in its first week and landed atop the English TV List with 12M views. Docuseries Murdaugh Murders: A Southern Scandal returned to the list with Season 2 debuting at #2 (7.6M views) while Season 1 re-entered the list landing in the #10 spot (2.4M views). Other new titles this week included Season 5 of reality dating series Love Is Blind debuting at #7 (3M views) and comedy special Kountry Wayne: A Woman's Prayer entering the list at #8 (2.6M views). Fans flocked to their favorites with ONE PIECE taking the #3 (6.2M views) spot, Season 5 of comfort series Virgin River coming in at #4 (4.9M views), Season 1 of docuseries Inside The World's Toughest Prisons landing at #5 (4M views) and Season 2 of Surviving Summer grabbing the #6 spot (3.4M views) all returning to the list.
Haley Lu Richardson and Ben Hardy's rom-com Love At First Sight had its sights set on #1 for the second week in a row on the English Films List with 15.2M views, making it the most watched title this week. Perfect-for-the-family kids action flick Spy Kids: Armageddon debuted at #2 (6.7M views) while Nigerian thriller The Black Book opened at #4 (5.6M views). Adam Sandler's family comedy You Are So Not Invited to My Bat Mitzvah spent its fifth week on the list at #10 (2.5M views).
The top three spots on the Non-English TV List were occupied by returning favorites - like German limited psycho-thriller series Dear Child at #1 (10.4M views), Spanish limited thriller series Burning Body at #2 (3.7M views) and Mexican limited drama series Thursday's Windows at #3 (3.7M views). Korean titles dominated the list with western drama Song of the Bandits debuting at #6 (1.7M views), romantic comedy Destined with You coming in at #5 (1.7M views), and romantic drama A Time Called You at #7 (1.6M views). Rounding out the list were Season 2 of Japanese anime series Kengan Ashura debuting at #4 (2.3M views), French limited drama series Class Act at #8 (1.5M views), Season 3 of Norwegian fantasy series Ragnarok at #9 (1.2M views), and Polish drama series Infamy at #10 (1.1M views).
The new Indian thriller movie Jaane Jaan, starring Kareena Kapoor, debuted atop the Non-English Film List with 8.1M views, along with new Spanish drama How to Deal With a Heartbreak, which debuted at #7 (1.1M views). Returning favorites dominated the remainder of the list with Danish period romance Ehrengard: The Art of Seduction coming in at #2 (3.8M views), Japanese family comedy Once Upon a Crime taking the #3 spot (3.5M views), followed by Spanish documentary Rosa Peral's Tapes at #4 (2M views), Polish hip-hop action thriller Freestyle at #5 (1.8M views), Chilean dark comedy El Conde at #6 (1.4M views), and Mexican drama The Great Seduction at #10 (0.8M views).
To download Top 10 assets, visit Top10.netflix.com.