Top 10 Week of Oct. 16: 'Old Dads' Debuts at #1; 'The Fall of the House of Usher' Rises to #1; 'Dear Child' Enters Most Popular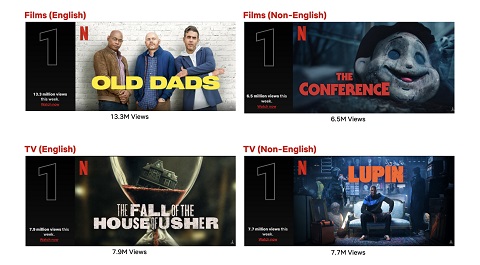 The bar for dad jokes has been significantly raised now that Old Dads, Bill Burr's directorial debut in which he stars alongside Bobby Cannavale and Bokeem Woodbine, debuted atop the English Films List with 13.3M views, making it the most viewed title of the week. The Devil on Trial, the new documentary revisiting the only demonic possession ever to be taken to trial, had an impressive first week, debuting in second place with 8M views. Homicide whodunnit Reptile came in at #4 (7M views), while Chloe Domont's workplace thriller Fair Play landed at #6 (3.8M views). Elsewhere on the list, No Hard Feelings starring Jennifer Lawrence came in at #7 (3.8M views).
The Fall of the House of Usher, the new horror series from Mike Flanagan, Poe-sitioned itself atop the English TV List with 7.9M views. Limited docuseries Beckham continued to shine in second place with 6.9M views. New entrants this week included limited drama series Bodies (UK) at #3 (5.5M views) and Season 7 of the adult animated series Big Mouth at #7 (1.6M views). Returning favorites rounded out the list with Season 4 of Sex Education (UK) coming in at #5 (2.6M views), Season 5 of Love Is Blind at #6 (1.8M views) and ONE PIECE at #8, in its eighth week on the list (1.4M views).
For the third week in a row, all three parts of crime heist series Lupin (France) secured spots on the Non-English TV List. Part 3 once again stole the top spot, coming in at #1 with 7.7M views, while Parts 1 and 2 nabbed the fourth (3.2M views) and fifth spots (3M views), respectively. Season 7 of the steamy high school drama series Elite (Spain) debuted at #6 (3M views), while romance drama Doona! (Korea) premiered at #7 (2.8M views). Psycho-thriller limited series Dear Child (Germany) entered the Most Popular Non-English TV List at #10 with 47.1M views to date in only seven weeks upon its release.
Horror film The Conference (Sweden) climbed its way to the top of the Non-English Films List with 6.5M views. Returning favorites dominated the remainder of the list with dystopian survival thriller Nowhere (Spain) coming in at #2 (5M views), action thriller Ballerina (Korea) taking the #3 spot (4.2M views) and the dramas Forgotten Love (Poland) and Ìjọ̀gbọ̀n (Nigeria) landing at #5 (3.6M views) and #6 (2.9M views), respectively.
To download Top 10 assets, visit Top10.netflix.com.