Top 10 Week of Oct. 23: 'Elite,' 'Burning Betrayal' and 'Bodies' Claim the Top Spots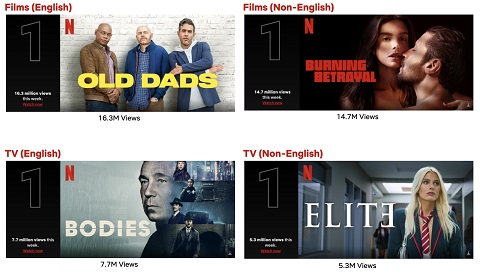 Bill Burr's directorial debut, the comedy Old Dads, topped the English Films List for the second week in a row with 16.3M views, taking its total views to 29.6M in just ten days. Fans were sold on Pain Hustlers, sending the new film which stars Emily Blunt and Chris Evans to the second spot in its debut week with 14.1M views. Jennifer Lawrence starrer No Hard Feelings took third place with 13.1M views. In its fifth week on the list, Grant Singer's Reptile, starring Benicio Del Toro, took seventh place with 3.5M views.
Genre-defying limited drama mystery series Bodies (UK) time traveled to the top of the English TV List with 7.7M views. Making their list debuts were the true crime documentary Get Gotti in second place with 7.3M views and the natural history documentary Life on Our Planet, narrated by Morgan Freeman, in third with 5.5M views. Returning favorites dominated the remainder of the list. Mike Flanagan's horror series The Fall of the House of Usher took fourth place in its third week (4.2M views), limited docuseries Beckham scored fifth place in its fourth week (4M views) and Season 4 of Sex Education (UK) came in eighth place in its sixth week (1.7M views).
It was a strong week for new releases on the Non-English Films List. Steamy Brazilian thriller Burning Betrayal, the adaptation of Sue Hecker's novel best-selling novel O Lado Bom de Ser Traída, claimed the #1 spot with 14.7M views, Spanish horror Sister Death took #2 (6.2M views) and bittersweet Dutch drama Crypto Boy came in at #8 (2.2M views).
Class is officially back in session with Season 7 of the steamy high school drama series Elite taking the top spot on the Non-English TV List with 5.3M views. For the fourth week in a row, all three parts of crime heist series Lupin (France) secured spots on the list: Part 3 came in second with 4.7M views, and Parts 1 and 2 took sixth and seventh, respectively with 2M views each.
To download Top 10 assets, visit Top10.netflix.com.