[07/18/17 - 08:07 AM]
Video: Netflix Debuts Trailer and Key Art for New Series "Atypical"
Sam, an 18-year-old on the autism spectrum, upends his family when he begins his journey of self-discovery for independence, love and acceptance in the new Netflix comedy series with heart.
---
[via press release from Netflix]
Netflix Debuts Trailer and Key Art For New Series 'ATYPICAL'
Sam -- an 18-year-old on the autism spectrum - upends his family when he begins his journey of self-discovery for independence, love and acceptance in the new Netflix comedy series with heart, Atypical.
Get a glimpse into the funny, heartfelt and heartbreaking moments of the Gardner family HERE in the official trailer for the new series which launches on Netflix Friday, August 11.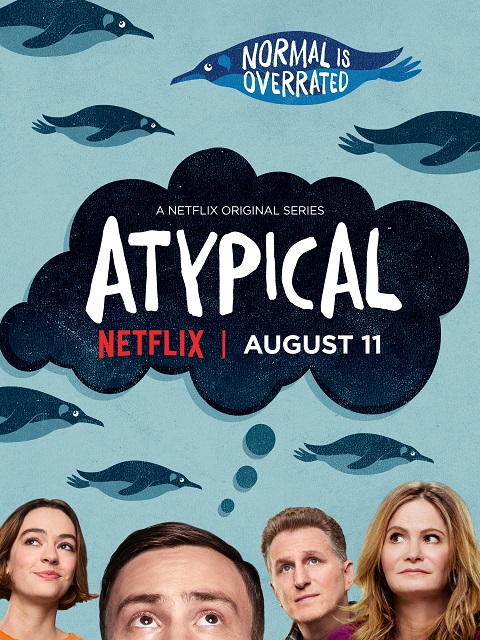 For more on Atypical visit netflix.com/atypical
Atypical is a coming of age story from the point-of-view of Sam (played by Keir Gilchrist), an 18-year-old on the autistic spectrum searching for love and independence. While Sam is on his funny and emotional journey of self-discovery, the rest of his family must grapple with change in their own lives while exploring the question: what does it really mean to be "normal"? Jennifer Jason Leigh stars as Sam's mother, Elsa, who is on a life-changing path as her son gains more independence. Michael Rapaport plays Sam's father, Doug, who desires to better connect with and understand his son. Brigette Lundy-Paine plays Sam's scrappy sister, Casey, and Amy Okuda plays his therapist, Julia.
With eight, half-hour episodes filmed in Los Angeles, Atypical was created and written by Robia Rashid and Academy-Award winning producer Seth Gordon. Together, Rashid and Gordon serve as executive producers alongside Mary Rohlich, with Jennifer Jason Leigh as producer. Michelle Dean, who received her PhD from UCLA and worked at the UCLA Center for Autism and Research and Treatment before joining the faculty of CSU Channel Island, was also brought into the production to help guide an accurate depiction of autism spectrum disorder. The series is produced by Sony Pictures Television for Netflix.



[09/20/17 - 09:01 AM]
Video: "The Meyerowitz Stories (New and Selected)" - Official Trailer - Netflix
Adam Sandler, Ben Stiller, Dustin Hoffman, Elizabeth Marvel, Grace Van Patten and Emma Thompson star in Noah Baumbach's latest film.


[09/20/17 - 07:31 AM]
Video: "Marvel's The Punisher" - Official Trailer - Netflix
They killed Frank Castle's family to get to him. Now, the Punisher exacts his revenge.


[09/19/17 - 10:12 AM]
Video: Behind the Scenes of "Star Trek: Discovery" with the Series' Cast and Creators
The newest edition of the "Star Trek" franchise is set to premiere this Sunday, September 24.


[09/15/17 - 06:54 AM]
Video: Oh Mylanta, We're 30?! The "Fuller House" Season Three Trailer Is Here!
The series returns to Netflix on Friday, September 22.


[09/14/17 - 04:18 PM]
Video: Cinemax - "Tales from the Tour Bus" Trailer - Debuts September 22
Mike Judge co-created, narrates and serves as an executive producer on the series, which recounts the raucous adventures of these musicians, as told by those who knew them best.


[09/14/17 - 12:08 PM]
Video: Showtime(R) Unveils Poster Art and Behind-the-Scenes Look at Its New Comedy "White Famous"
The series will now premiere its first two episodes back-to-back on Sunday, October 15 at 10:00/9:00c.


[09/14/17 - 09:32 AM]
Video: Starz Releases Official Trailer for New Original Documentary "Nude" to Premiere October 29th at 10 PM ET/PT
The feature-length documentary explores perceptions of nudity in art by chronicling the creative process of fashion photographer David Bellemere.


[09/14/17 - 09:15 AM]
Video: Watch First Season Two "Search Party" Trailer; Series Returns November 19
The TBS series stars Alia Shawkat, Meredith Hagner, John Early, John Reynolds and Brandon Micheal Hall.


[09/14/17 - 06:07 AM]
Video: Netflix - "Kingdom of Us" - Trailer & Key Art Debut
The Netflix original documentary will premiere at the BFI London Film Festival on October 7 ahead of its global launch on Netflix on October 13.


[09/13/17 - 12:14 PM]
Video: Rob Schneider Returns in "Real Rob"
This season's guest stars include Adam Sandler, Eugenio Derbez, Michael Madsen, Danny Trejo, Angela Kinsey, Haylie Duff, Chris Kattan, Bobby Lee, Monica Huarte, Karyme Lozano and James Hong.


[09/13/17 - 09:41 AM]
Video: Crackle Releases Original Key Art and Trailer for Halloween Special "SuperMansion: Drag Me to Halloween" Streaming Thursday, October 5th
In the all-new stop-motion animated Crackle original special, the League of Freedom experiences all the fun and adventures of Halloween.


[09/12/17 - 10:19 AM]
Video: Netflix Debuts the Trailer for "The Death and Life of Marsha P. Johnson"
Having played a pivotal role in the previous year's Stonewall Riots, in 1970, Johnson and fellow trans icon Sylvia Rivera formed the world's first trans-rights organization, STAR (Street Transvestites Action Revolutionaries).


[09/12/17 - 09:30 AM]
Video: First Look at the "Star Trek: Discovery" Main Title Scoring Session
The series invites fans to go behind the scenes for a first look at the main title scoring session for the series, featuring a 60-piece orchestra conducted by Emmy(R)-winning composer Jeff Russo.


[09/12/17 - 08:46 AM]
Video: WE tv's "Marriage Boot Camp Reality Stars" Debuts New Supertease - Season 9 Premieres October 13!
The season will feature a brand new house of dysfunctional couples including Kailyn Lowry and Javi Marroquin, Juelia Kinney and JJ Lane, Bobby Panahi and Asifa Mirza, Peter Gunz and Amina Buddafly and Mehgan James and DeAndre Perry.


[09/12/17 - 07:13 AM]
Video: Everything Is Embarrassing in the Official Trailer for "Big Mouth"
The 10-episode, half-hour edgy adult animated comedy launches Friday, September 29 exclusively on Netflix.