[01/02/19 - 09:00 AM]
Video: Trailer & Key Art Debut - Netflix's "Sex Education" - A Contemporary British Love Letter to American High School TV Shows
Asa Butterfield, Gillian Anderson, Emma Mackey and Ncuti Gatwa star in the latest original series, due on January 11.
---
[via press release from Netflix]
Netflix presents a funny, heartwarming and cringeworthy (in a good way!) look at the universally awkward coming-of-age experience full of good times, wild times, tough times, and the time of your life.
Sex Education launches globally on January 11th telling the story of Otis, a teenage boy being raised by his sex-therapist mother Jean played by Gillian Anderson. The eight-episode dramedy takes on conversations about sex, identity, love and the ups and downs of young adult life in a frank and truthful way and proves "Experience is Overrated!"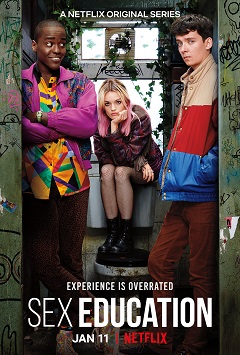 ABOUT SEX EDUCATION
Otis Milburn (Asa Butterfield) is an inexperienced, socially awkward high school student who lives with his mother, Jean (Gillian Anderson), a sex therapist. Surrounded by manuals, videos and tediously open conversations about sex, Otis is a reluctant expert on the subject. When his home life is revealed at school, Otis realizes that he can use his specialist knowledge to gain status. He teams up with Maeve (Emma Mackey), a whip-smart bad-girl, and his best friend Eric (Ncuti Gatwa) and together they set up an underground sex therapy clinic to deal with their fellow students' weird and wonderful problems. Through his analysis of teenage sexuality, Otis realises he may need some therapy of his own.
Sex Education is created and written by Laurie Nunn and executive produced by Jamie Campbell and Ben Taylor, and co-executive produced by Sian Robins-Grace. The series is a production of Eleven for Netflix, and was directed by Ben Taylor ("Catastrophe") and Kate Herron.
For more information, please visit the Media Center and the official Sex Education social pages: Twitter: @sexeducation Facebook: @S3xEducation Instagram: @sexeducation
www.netflix.com/sexeducation



[01/17/19 - 09:09 AM]
Video: IFC Releases First Trailer for the Highly-Anticipated Return of the Emmy(R)-Nominated "Documentary Now!"
This season's all-star line-up of guest stars includes Cate Blanchett, Michael Keaton, Owen Wilson, Michael C. Hall, John Mulaney, Taran Killam, Renee Elise Goldsberry, Bobby Moynihan, Natasha Lyonne, Paula Pell, Richard Kind, James Urbaniak and more.


[01/17/19 - 08:01 AM]
Video: New Trailer for Steven Soderbergh's "High Flying Bird" Starring Andre Holland and Zazie Beetz
The film will debut Friday, February 8 exclusively on Netflix.


[01/16/19 - 01:48 PM]
Video: "Happy!" - Season 2 Official Trailer - Syfy
The next insane season premieres Wednesday, March 27 on the cable channel.


[01/16/19 - 10:44 AM]
Video: "Better Things" - Season 3: Official Trailer - FX
As previously announced, the series returns Thursday, February 28 at 10:00/9:00c.


[01/16/19 - 10:01 AM]
Video: WGN America Unveils February 27 Premiere Date and First Trailer for Crime Drama "Gone"
Chris Noth, Leven Rambin and Danny Pino star in the 12-part limited series.


[01/16/19 - 08:03 AM]
Video: "Unbreakable Kimmy Schmidt" Final Episodes - Official Trailer - Netflix
Look for the show's swan song on Friday, January 25.


[01/15/19 - 07:31 AM]
Video: Trailer Debut - "Black Earth Rising" Launches January 25 on Netflix
The limited series is a contemporary thriller that follows the journey of Kate Ashby (Michaela Coel), a Rwandan orphaned by the genocide, raised in London by an adoptive mother and trying to discover the truth of her past.


[01/14/19 - 09:42 AM]
Video: Trailer Debut - "Conversations with a Killer: The Ted Bundy Tapes" Launches January 24
The series features exclusive, never-before-heard audio interviews with Ted Bundy from death row.


[01/14/19 - 08:06 AM]
Video: "Fyre Fraud" Now Streaming on Hulu
The film features an exclusive interview with Billy McFarland, the convicted con-man behind the festival.


[01/14/19 - 08:05 AM]
Video: Netflix Debuts Trailer & Key Art for "Paddleton"
Ray Romano and Mark Duplass star in the film, due on February 22.


[01/13/19 - 06:00 PM]
Video: "Game of Thrones" Returns April 14
HBO aired a new tease tonight, which announced the debut date for the show's six-episode, eighth and final season.


[01/10/19 - 10:11 AM]
Video: Trailer - "Fyre: The Greatest Party That Never Happened"
The Netflix documentary launches Friday, January 18.


[01/10/19 - 08:46 AM]
Video: Trailer Released for Sony Crackle's "The Oath" Season 2
The series returns with eight all-new episodes on Thursday, February 21 with a sneak peek on Amazon devices through the Sony Crackle app starting Monday, February 11.


[01/10/19 - 08:00 AM]
Video: Netflix Debuts the Official Trailer for Marvel's "The Punisher" Season Two
The highly-anticipated sees Frank Castle hitting the road as he tries to move on from his past.


[01/10/19 - 07:04 AM]
Video: All Art Is Dangerous - "Velvet Buzzsaw" Trailer Debut
Jake Gyllenhaal, Rene Russo, Zawe Ashton, Natalia Dyer, John Malkovich, Daveed Diggs, Toni Collette and Tom Sturridge star in the Netflix film.