[01/07/19 - 08:00 AM]
Video: New Trailer for Jonas Akerlund's "Polar" Starring Mads Mikkelsen and Vanessa Hudgens
"Polar" will debut Friday, January 25 exclusively on Netflix.
---
[via press release from Netflix]
POLAR
A NETFLIX FILM
Launching Exclusively on Netflix on Friday, January 25, 2019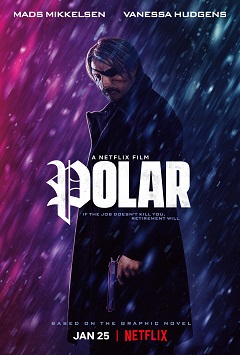 Synopsis
The world's top assassin, Duncan Vizla, aka The Black Kaiser, is settling into retirement when his former employer marks him as a liability to the firm. Against his will, he finds himself back in the game going head to head with an army of younger, faster, ruthless killers who will stop at nothing to have him silenced.
Directed by Jonas Åkerlund, Polar is written by Jayson Rothwell and produced by Jeremy Bolt, Robert Kulzer and Hartley Gorenstein. The cast of Polar includes Mads Mikkelsen, Vanessa Hudgens, Katheryn Winnick, Matt Lucas, Ruby O. Fee, Fei Ren, Anthony Grant, Josh Cruddas, Robert Maillet, Julian Richings, Johnny Knoxville and Richard Dreyfuss. Polar is based on upon the Dark Horse graphic novel "Polar: Came from the Cold" by Victor Santos.
Polar will debut Friday, January 25th exclusively on Netflix.
Visit netflix.com/polar
@NetflixFilm



[01/17/19 - 09:09 AM]
Video: IFC Releases First Trailer for the Highly-Anticipated Return of the Emmy(R)-Nominated "Documentary Now!"
This season's all-star line-up of guest stars includes Cate Blanchett, Michael Keaton, Owen Wilson, Michael C. Hall, John Mulaney, Taran Killam, Renee Elise Goldsberry, Bobby Moynihan, Natasha Lyonne, Paula Pell, Richard Kind, James Urbaniak and more.


[01/17/19 - 08:01 AM]
Video: New Trailer for Steven Soderbergh's "High Flying Bird" Starring Andre Holland and Zazie Beetz
The film will debut Friday, February 8 exclusively on Netflix.


[01/16/19 - 01:48 PM]
Video: "Happy!" - Season 2 Official Trailer - Syfy
The next insane season premieres Wednesday, March 27 on the cable channel.


[01/16/19 - 10:44 AM]
Video: "Better Things" - Season 3: Official Trailer - FX
As previously announced, the series returns Thursday, February 28 at 10:00/9:00c.


[01/16/19 - 10:01 AM]
Video: WGN America Unveils February 27 Premiere Date and First Trailer for Crime Drama "Gone"
Chris Noth, Leven Rambin and Danny Pino star in the 12-part limited series.


[01/16/19 - 08:03 AM]
Video: "Unbreakable Kimmy Schmidt" Final Episodes - Official Trailer - Netflix
Look for the show's swan song on Friday, January 25.


[01/15/19 - 07:31 AM]
Video: Trailer Debut - "Black Earth Rising" Launches January 25 on Netflix
The limited series is a contemporary thriller that follows the journey of Kate Ashby (Michaela Coel), a Rwandan orphaned by the genocide, raised in London by an adoptive mother and trying to discover the truth of her past.


[01/14/19 - 09:42 AM]
Video: Trailer Debut - "Conversations with a Killer: The Ted Bundy Tapes" Launches January 24
The series features exclusive, never-before-heard audio interviews with Ted Bundy from death row.


[01/14/19 - 08:06 AM]
Video: "Fyre Fraud" Now Streaming on Hulu
The film features an exclusive interview with Billy McFarland, the convicted con-man behind the festival.


[01/14/19 - 08:05 AM]
Video: Netflix Debuts Trailer & Key Art for "Paddleton"
Ray Romano and Mark Duplass star in the film, due on February 22.


[01/13/19 - 06:00 PM]
Video: "Game of Thrones" Returns April 14
HBO aired a new tease tonight, which announced the debut date for the show's six-episode, eighth and final season.


[01/10/19 - 10:11 AM]
Video: Trailer - "Fyre: The Greatest Party That Never Happened"
The Netflix documentary launches Friday, January 18.


[01/10/19 - 08:46 AM]
Video: Trailer Released for Sony Crackle's "The Oath" Season 2
The series returns with eight all-new episodes on Thursday, February 21 with a sneak peek on Amazon devices through the Sony Crackle app starting Monday, February 11.


[01/10/19 - 08:00 AM]
Video: Netflix Debuts the Official Trailer for Marvel's "The Punisher" Season Two
The highly-anticipated sees Frank Castle hitting the road as he tries to move on from his past.


[01/10/19 - 07:04 AM]
Video: All Art Is Dangerous - "Velvet Buzzsaw" Trailer Debut
Jake Gyllenhaal, Rene Russo, Zawe Ashton, Natalia Dyer, John Malkovich, Daveed Diggs, Toni Collette and Tom Sturridge star in the Netflix film.