[01/10/19 - 10:11 AM]
Video: Trailer - "Fyre: The Greatest Party That Never Happened"
The Netflix documentary launches Friday, January 18.
---
[via press release from Netflix]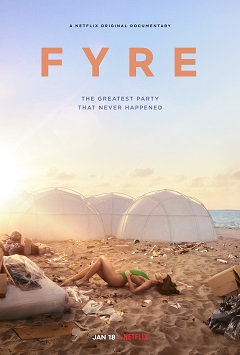 SYNOPSIS:
An exclusive behind the scenes look at the infamous unraveling of the Fyre music festival. Created by Billy McFarland and rapper Ja Rule, Fyre was promoted as a luxury music festival on a private island in the Bahamas featuring bikini-clad supermodels, A-List musical performances and posh amenities. Guests arrived to discover the reality was far from the promises.
Chris Smith, the director behind the Emmy Award Nominated documentary Jim & Andy: The Great Beyond, gives a first-hand look into disastrous crash of Fyre as told by the organizers themselves. Produced by: Library Films, Jerry Media, Matte Projects and VICE Studios.
FYRE launches globally on Netflix on January 18
netflix.com/fyre



[01/23/19 - 09:01 AM]
Video: Comedy Central Releases Final Trailer for "Broad City's" Final Season
Plus: "Broad City" is also partnering with online bidding site Screenbid to auction off rare props, wardrobes, set decorations and other iconic items from the show.


[01/22/19 - 03:07 AM]
Video: "Suburra" Season 2 - Official Trailer - Netflix
The series returns to the streaming service with new episodes on Friday, February 22.


[01/21/19 - 03:07 AM]
Video: Discover the Trailer of the Next French Original Netflix Film - "Paris Is Us"
Dreams and reality collide as a young woman navigates a tumultuous relationship amid rising social tensions, protests and tragedies in Paris.


[01/18/19 - 10:50 AM]
Video: Trailer - Hulu Original Comedy "PEN15"
All 10 episodes will premiere Friday, February 8, only on Hulu.


[01/18/19 - 10:30 AM]
Video: Showtime Debuts Official Poster and New Video for Upcoming Late-Night Series "Desus & Mero"
The network's first ever weekly late-night talk show will premiere on Thursday, February 21 at 11:00/10:00c and air on Thursday nights from New York City.


[01/18/19 - 09:16 AM]
Video: New Trailer Released - truTV Season 2 of "At Home with Amy Sedaris"
This season, Sedaris welcomes an impressive list of guest stars, including: Rose Byrne, Matthew Broderick, Justin Theroux, Susan Sarandon, Gillian Jacobs, Juliette Lewis, Ellie Kemper, Fred Armisen, Michael Shannon and more!


[01/17/19 - 09:09 AM]
Video: IFC Releases First Trailer for the Highly-Anticipated Return of the Emmy(R)-Nominated "Documentary Now!"
This season's all-star line-up of guest stars includes Cate Blanchett, Michael Keaton, Owen Wilson, Michael C. Hall, John Mulaney, Taran Killam, Renee Elise Goldsberry, Bobby Moynihan, Natasha Lyonne, Paula Pell, Richard Kind, James Urbaniak and more.


[01/17/19 - 08:01 AM]
Video: New Trailer for Steven Soderbergh's "High Flying Bird" Starring Andre Holland and Zazie Beetz
The film will debut Friday, February 8 exclusively on Netflix.


[01/16/19 - 01:48 PM]
Video: "Happy!" - Season 2 Official Trailer - Syfy
The next insane season premieres Wednesday, March 27 on the cable channel.


[01/16/19 - 10:44 AM]
Video: "Better Things" - Season 3: Official Trailer - FX
As previously announced, the series returns Thursday, February 28 at 10:00/9:00c.


[01/16/19 - 10:01 AM]
Video: WGN America Unveils February 27 Premiere Date and First Trailer for Crime Drama "Gone"
Chris Noth, Leven Rambin and Danny Pino star in the 12-part limited series.


[01/16/19 - 08:03 AM]
Video: "Unbreakable Kimmy Schmidt" Final Episodes - Official Trailer - Netflix
Look for the show's swan song on Friday, January 25.


[01/15/19 - 07:31 AM]
Video: Trailer Debut - "Black Earth Rising" Launches January 25 on Netflix
The limited series is a contemporary thriller that follows the journey of Kate Ashby (Michaela Coel), a Rwandan orphaned by the genocide, raised in London by an adoptive mother and trying to discover the truth of her past.


[01/14/19 - 09:42 AM]
Video: Trailer Debut - "Conversations with a Killer: The Ted Bundy Tapes" Launches January 24
The series features exclusive, never-before-heard audio interviews with Ted Bundy from death row.


[01/14/19 - 08:06 AM]
Video: "Fyre Fraud" Now Streaming on Hulu
The film features an exclusive interview with Billy McFarland, the convicted con-man behind the festival.