AMC+ RELEASES TRAILER AND KEY ART FOR NEW STOP-MOTION ANIMATION SERIES "ULTRA CITY SMITHS" AHEAD OF JULY 22 PREMIERE
All-Star Cast of Voice Actors Includes Kristen Bell, Dax Shepard, Jimmi Simpson, John C. Reilly, Bebe Neuwirth, Alia Shawkat, Kurtwood Smith and more!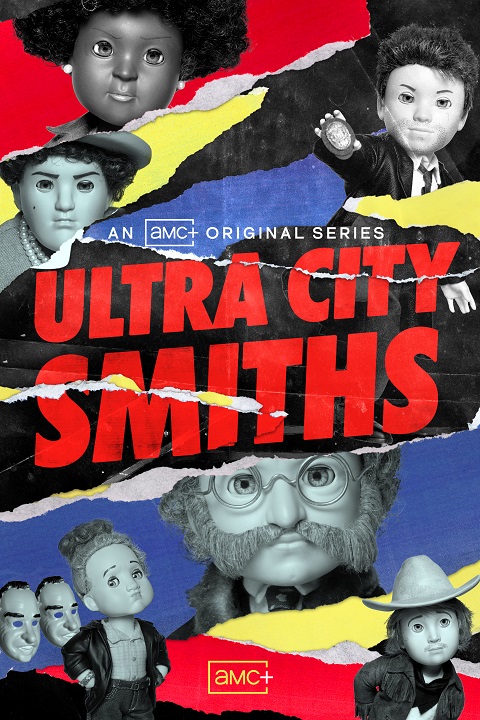 AMC+ released today the highly anticipated trailer and key art from the upcoming new half-hour, stop-motion, animated baby doll series, Ultra City Smiths premiering Thursday, July 22 on AMC+. Created by Steve Conrad (Patriot, Perpetual Grace), who serves as showrunner, and Stoopid Buddy Stoodios (Robot Chicken, Crossing Swords), the Ultra City Smiths story unfolds via the stop-motion animation of baby dolls repurposed as a grown-up cast of characters.
ABOUT "ULTRA CITY SMITHS"
The first two episodes of the series will premiere on AMC+ on Thursday, July 22 with subsequent episodes dropping weekly, every Thursday. The six-episode first season will air on AMC this fall.
From AMC Studios and created by Steve Conrad (Patriot, Perpetual Grace) and Stoopid Buddy Stoodios (Robot Chicken, Crossing Swords) Ultra City Smiths unfolds via the stop-motion animation of baby dolls repurposed as a grown-up cast of characters. The six-episode series hinges on an investigation into the mysterious disappearance of fictional metropolis Ultra City's most famous magnate (Smith). Two intrepid detectives (Simpson and Randolph) follow the case, rallying to fight against their city's dangerous corruption, at a high cost to themselves and their families, all in pursuit of a gentler place to call home.
The all-star ensemble cast of voice actors includes Kristen Bell (Queenpins, The Woman in the House) as Donella Pecker, Dax Shepard (Parenthood, The Ranch) as Congressman Chris Pecker, Alia Shawkat (Search Party, Duck Butter) as Little Grace, Tim Meadows (Schooled, No Activity) as Deputy Mayor Jeff Thumb, Terry O'Quinn (Lost, Patriot) as Captain Krieger, Debra Winger (Terms of Endearment, Shadowlands) as Trish McSapphire, Luis Guzmán (Shameless, Traffic) as Rodrigo Smalls, Julian Barratt (Truth Keepers, Killing Eve) as The Most Dangerous Man in the World, Sunita Mani (Evil Eye, Save Yourselves!) as Detective Jaya Mukherjee, Tom Waits (The Ballad of Buster Scruggs, The Dead Don't Die) as The Narrator, Jimmi Simpson (Westworld, Black Mirror) as Detective David Mills, Da'Vine Joy Randolph (Dolemite Is My Name, The United States vs Billie Holiday) as Detective Gail Johnson, John C. Reilly (Moonbase 8, Ralph Breaks the Internet) as Donovan Smith, Bebe Neuwirth (Chicago, Cheers) as Lady Andrea The Giant, Jason Mantzoukas (Big Mouth, Infinite) as Tim the TMZ reporter, Damon Herriman (Once Upon A Time In Hollywood, Underground Railroad) as Street Hustler Boy, Melissa Villaseñor (Saturday Night Live, Toy Story 4) as Sister Mary Margaret, Kurtwood Smith (That 70's Show, Robocop) as Carpenter K. Smith, Tim Heidecker (Moonbase 8, Tim & Eric Awesome Show, Great Job!) as Mayor Kevin de Maximum, Chris Conrad (Patriot, Perpetual Grace, LTD) as Nico Onasis, Hana Mae Lee (Patriot, The Babysitter: Killer Queen) as Christina.
Conrad serves as showrunner. Stoopid Buddy Stoodios' Seth Green, John Harvatine IV, Matthew Senreich, Eric Towner and Chris Waters serves as executive producers along with Jennifer Scher, Jeff Dieter and Thomas J. Glynn.
AMC Studios Content Distribution is managing worldwide sales of the series.
Character Descriptions:
CARPENTER K. SMITH (Kurtwood Smith) - Ultra City's Last Bright Hope. Aspiring to make the city a gentler place via his bid for Mayor and his extraordinary wealth. But now no one can find him.
CHRIS PECKER (Dax Shepard) - Husband of Donella Pecker. Buffoon, Opportunist, Congressman. Has a deep affinity for artistic self-nudes.
DAVID MILLS (Jimmi Simpson) - Rookie detective and partner of Gail Johnson. New transplant from a small town tasked with tracking down the missing Carpenter K. Smith. Host of multiple demons.
DONELLA PECKER (Kristen Bell) - Competent and compassionate government official. Hopes to help Ultra City become a safer place, but first she must deal with her childish husband, Congressman Chris Pecker.
DONOVAN SMITH (John C. Reilly) - Spoiled and flamboyant son of Carpenter K. Smith. Disco King of the Night. Utilizes his father's wealth for pursuits such as employing day laborers to search for Big Foot so that they can be friends.
GAIL JOHNSON (Da'Vine Joy Randolph) - Veteran detective and partner of David Mills. Decorated, calm, no-nonsense. Married to her job to the possible detriment of her family life.
LADY ANDREA THE GIANT (Bebe Neuwirth) - Former Women's Heavyweight Wrestling Champion of the World. Dedicated mother who will do anything to protect her child, even if it means wrestling a series of chimps.
LITTLE GRACE (Alia Shawkat) - The daughter of Lady Andrea the Giant. Unwittingly embroiled with the wrong people. Must contend with the harshness of this town and solve her predicament against all odds.
RODRIGO SMALLS (Luis Guzman) - Neighborhood crime lord. Disco owner. Soon-to-be father. Never hurt a 14 year old girl before, but may have to make an example out of Little Grace due to a mistaken transgression.
SISTER MARY MARGARET (Melissa Villaseñor) - Catholic nun whose charity runs the local men's shelter. Not what meets the eye.
STREET HUSTLER BOY (Damon Herriman) - Male prostitute aging out of work. Desperate to find a way to rehabilitate his partner's ailing health.
TRISH MCSAPPHIRE (Debra Winger) - Academy Award winning actress.
###
About AMC+:
AMC+ is the company's new premium streaming bundle featuring an extensive lineup of popular and critically acclaimed original programming from AMC, BBC America, IFC, and SundanceTV and full access to targeted streaming services Shudder, Sundance Now and IFC Films Unlimited, which feature content such as A Discovery of Witches, Creepshow, Riviera and Boyhood. Currently available to Amazon Prime Video Channels, Apple TV channels, Roku Channels, Comcast Xfinity, DirecTV, DISH, Sling TV and YouTube TV customers, AMC+ features a continually refreshed library of commercial-free content, including fan favorites Mad Men, Rectify, Orphan Black, Hell on Wheels, NOS4A2 and series from The Walking Dead Universe, among many others. The service also offers a growing slate of original and exclusive series including Gangs of London, The Salisbury Poisonings, Cold Courage, Spy City and forthcoming dramas Too Close and Kin.