Watch Adult Swim's Epic Virtual Panels Featured at San Diego Comic-Con@Home Exclusive Looks at Fan Favorites and New Series
New Trailer & Poster for Blade Runner: Black Lotus Revealed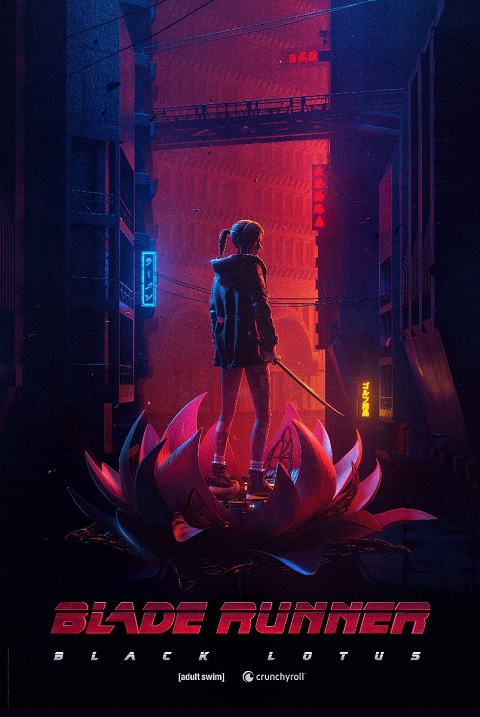 Adult Swim, the leader in adult animation and the #1 destination for young adults, revealed today first looks into the upcoming anime series, Blade Runner: Black Lotus and new family comedy Teenage Euthanasia, before diving deeper into fan favorites Tuca & Bertie and Rick and Morty as part of the virtual San Diego Comic-Con@Home experience. Fans are invited to watch the Tuca & Bertie panel and check out exclusive content on Adult Swim's YouTube channel, available here. All panels are currently available to view on San Diego Comic-Con's website and will be posted to Adult Swim's YouTube channel later today.
During the Blade Runner: Black Lotus panel, Adult Swim and Crunchyroll shared an exclusive look at the first-ever trailer and never-before-seen key art. Moderated by Jason DeMarco (co-creator of Toonami/senior vice-president and creative director for Adult Swim), viewers heard from the creative team and voice talent as they discussed the new anime series originating from the legendary Blade Runner franchise.
GRAMMY Award-winning singer-songwriter Alessia Cara, whose original song "Feel You Now" is featured in the new Blade Runner: Black Lotus trailer, will also have music featured in the highly-anticipated series.
Check out the thrilling trailer below:
Soaring on Adult Swim this summer, fans joined moderator Adam Conover for a star-studded conversation with Lisa Hanawalt (creator and executive producer) and special guests Raphael Bob-Waksberg (executive producer) and Nicole Byer (voice of Plant Teen 2, The Chill Bird) as they revealed a sneak peek of the next episode of Tuca & Bertie. Check out the hilarious panel below:
Things went interdimensional as fans relived the best of Rick and Morty season five alongside Dan Harmon (co-creator and executive producer), Scott Marder (showrunner and executive producer), Chris Parnell (voice of Jerry), Sarah Chalke (voice of Beth), Spencer Grammer (voice of Summer), Brandon Johnson (moderator), and special guests. New episodes of Rick and Morty premiere Sundays at 11 p.m. ET/PT.
Lastly, Adult Swim shared a behind-the-scenes look at Teenage Euthanasia, a brand-new animated coming-of-all-ages comedy series that touches on death, family, and accidental resurrection. Moderated by Tim Heidecker, the panel features Alyson Levy (co-creator), Alissa Nutting (co-creator), Scott Adsit (co-director and co-executive producer), Maria Bamford (voice of Trophy Fantasy), Jo Firestone (voice of Euthanasia "Annie" Fantasy and Bebe Neuwirth (voice of Baba). Teenage Euthanasia is currently in production and is set to premiere this fall.
Adult Swim (AdultSwim.com), launched in 2001, is WarnerMedia's #1 brand for young adults offering original and acquired animated and live-action series. Airing nightly from 8 p.m. to 6 a.m. (ET/PT) on its linear channel, and also available through HBO Max, Adult Swim is basic cable's #1 network with persons 18-34 and 18-49, and is seen in 94 million U.S. homes, reaching over 40 million viewers via HBO Max.
Warner Bros. Global Kids, Young Adults and Classics (GKYAC) brings together Cartoon Network, Adult Swim, Boomerang and Turner Classic Movies (TCM), as well as Cartoon Network Studios and Warner Bros. Animation. Among the iconic franchises, series and characters under the GKYAC banner are Looney Tunes, DC's animated Super Heroes, Rick and Morty, Craig of the Creek, the classic Hanna-Barbera library, Tom and Jerry, Scooby-Doo, Warner Bros.' unrivalled film library, and many more.
GKYAC's mission is to be the premiere global provider of kids, family, young adults, and classics content and brands. The group's programming supplies unique and compelling content for HBO MAX, WarnerMedia's direct-to-consumer platform. Uniting these award-winning networks and innovative brands helps maximize opportunities and growth potential, both as standalone businesses and as content generators, to drive and support its franchises, cross-studio initiatives as well as ratings.
Warner Bros. GKYAC's content is currently distributed in 192 countries around the world and the division's networks are in 500 million homes, delivered through more than 65 channels in 31 languages.