[11/01/10 - 11:38 AM]
Renee Felice Smith Joins the Cast of "NCIS: Los Angeles" as a Series Regular
Smith will continue on as NCIS Intelligence Analyst Nell Jones.
---
[via press release from CBS]
THIS JUST IN...
...from CBS Entertainment
RENÉE FELICE SMITH JOINS THE CAST OF "NCIS: LOS ANGELES" AS A SERIES REGULAR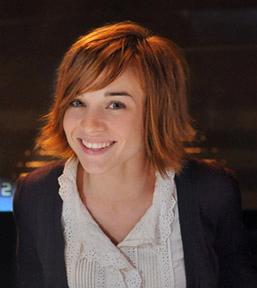 LOS ANGELES, Nov. 1, 2010 - Renée Felice Smith joins NCIS: LOS ANGELES as a series regular, after playing the recurring role of NCIS Intelligence Analyst Nell Jones this season. Straight from college, Nell quickly won the team's respect with her spot on intelligence assessments and her shrewd insights. Smith can be seen as Nell in the next original episode of NCIS: LOS ANGELES Tuesday, Nov. 9 (9:00-10:00 PM, ET/PT) on the CBS Television Network.
"Renée is an exciting and fun addition to the cast," said Executive Producer Shane Brennan. "Like the character she plays, Renée is adorable, fearless and an absolute joy to work with. We're delighted to have her on the NCIS: LOS ANGELES team."
NCIS: LOS ANGELES is produced by CBS Television Studios. Shane Brennan, R. Scott Gemmill and John P. Kousakis are the executive producers.
On the Web: http://www.cbs.com/primetime/ncis_los_angeles/




[12/10/16 - 08:24 AM]
Friday's Broadcast Ratings: CBS Dramas Top Tight Demo Race
The Eye edges out the competition among adults 18-49.


[12/09/16 - 08:15 PM]
Don Cheadle, Laura Dern and Anna Kendrick to Announce the Nominees of the 74th Annual Golden Globe(R) Awards on December 12, 2016
They will be joined by the previously announced Miss Golden Globe trio, Sophia, Sistine and Scarlet Stallone; Hollywood Foreign Press Association President, Lorenzo Soria; and Executive VP of Television at dick clark productions, Barry Adelman.


[12/09/16 - 06:01 PM]
Video: Watch the Red Band Trailer for New Comedy "The Mick," Which Has Its Special Premiere Sunday, Jan. 1 on FOX!
The series will make its time period premiere with an all-new episode Tuesday, January 3.


[12/09/16 - 12:59 PM]
"Sherlock: The Final Problem", Starring Benedict Cumberbatch and Martin Freeman Comes to U.S. Cinemas Exclusively for Two Nights on January 16 and January 18
Audiences will experience laughter, tears, shocks and surprises in this thrilling, not-to-miss season finale, as well as 15 minutes of exclusive extras.


[12/09/16 - 10:01 AM]
Video: Netflix Releases Trailer for Sand Storm, Written and Directed by Elite Zexner
Israel's official submission for the 2017 Foreign Language Film Academy Award(R) will launch on Netflix Friday, December 15.


[12/09/16 - 09:54 AM]
American Heroes Channel to Pay Tribute to Late Senator John Glenn with Special Programming Stack
Starting Monday, December 12, AHC will encore episodes of "When We Left Earth: The NASA Mission," which showcase our nation's quest to conquer the last frontier - outer space.


[12/09/16 - 09:50 AM]
"Mariah's World" Series Premiere Event Delivers 2.2MM A18-49 and Nearly 4MM Total Viewers Across E! and Bravo on Sunday Night
E! further spins the numbers for Sunday, December 4.


[12/09/16 - 09:00 AM]
Louis C.K.'s Groundbreaking, Emmy(R)-Nominated Series "Horace and Pete" Lands on Hulu
After becoming available for purchase on Louis C.K.'s website and garnering critical acclaim, all 10 episodes of the groundbreaking series officially make their streaming debut today.


[12/09/16 - 08:29 AM]
Thursday's Broadcast Ratings: NBC Tops Charts with "Thursday Night Football"
The Peacock cruises to victory among total viewers and adults 18-49.


[12/09/16 - 07:38 AM]
Video: BBC America's "Doctor Who" Christmas Special Trailer Released Today
The Doctor, played by Peter Capaldi, teams up with an investigative journalist, played by Charity Wakefield and a superhero to save New York from a deadly alien threat.


[12/09/16 - 07:17 AM]
Comedy Central Unveils Winter Programming Schedule
Newcomers include "The Comedy Jam," "Detroiters," "Jeff & Some Aliens" and "The High Court."


[12/09/16 - 01:38 AM]
"Strike Back" Returns to Sky 1 - New Team, New Section, New Enemies
Disavowed and disbanded, the Section programme is restored in order to track down a notorious terrorist following a brutal prison break.


[12/08/16 - 05:43 PM]
Discovery to Pay Tribute to Space Pioneer John Glenn - Special Broadcast Airing Sunday
Look for an encore presentation of "When We Left Earth: The NASA Missions" this Sunday, December 11 at 9 AM ET/PT.


[12/08/16 - 04:36 PM]
President Barack Obama to Appear on "The Daily Show with Trevor Noah" on Monday, December 12 at 11:00 p.m. ET/PT
President Obama's first appearance on "The Daily Show with Trevor Noah" will be simulcast across Comedy Central, MTV and BET.


[12/08/16 - 02:32 PM]
Merry Mythmas from Science Channel
Science Channel will marathon every episode ever of "MythBusters" beginning Friday, December 23.