[11/01/10 - 11:38 AM]
Renee Felice Smith Joins the Cast of "NCIS: Los Angeles" as a Series Regular
Smith will continue on as NCIS Intelligence Analyst Nell Jones.
---
[via press release from CBS]
THIS JUST IN...
...from CBS Entertainment
RENÉE FELICE SMITH JOINS THE CAST OF "NCIS: LOS ANGELES" AS A SERIES REGULAR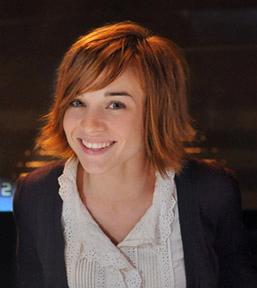 LOS ANGELES, Nov. 1, 2010 - Renée Felice Smith joins NCIS: LOS ANGELES as a series regular, after playing the recurring role of NCIS Intelligence Analyst Nell Jones this season. Straight from college, Nell quickly won the team's respect with her spot on intelligence assessments and her shrewd insights. Smith can be seen as Nell in the next original episode of NCIS: LOS ANGELES Tuesday, Nov. 9 (9:00-10:00 PM, ET/PT) on the CBS Television Network.
"Renée is an exciting and fun addition to the cast," said Executive Producer Shane Brennan. "Like the character she plays, Renée is adorable, fearless and an absolute joy to work with. We're delighted to have her on the NCIS: LOS ANGELES team."
NCIS: LOS ANGELES is produced by CBS Television Studios. Shane Brennan, R. Scott Gemmill and John P. Kousakis are the executive producers.
On the Web: http://www.cbs.com/primetime/ncis_los_angeles/




[10/30/14 - 02:50 PM]
"The Meredith Vieira Show" Renewed for Second Season on NBC Owned Television Stations
"'The Meredith Vieira Show' has the full commitment and support of NBCUniversal and we could not be happier to bring it back for a second season," said Ed Swindler.


[10/30/14 - 02:17 PM]
52 Million Viewers Tune-In to World Series Game 7
FOX Sports spins the numbers for Wednesday, October 29.


[10/30/14 - 12:53 PM]
"Who Wants to Be a Millionaire" Shakes Things Up This November with an Exciting Lineup of Theme Weeks
"Millionaire: Whiz Kids," "Celebrity Week," "Millionaire: Daytime Talk Show Week" and "Millionaire: Guinness World Records(R) Edition" are all on tap.


[10/30/14 - 11:35 AM]
GSN's "Idiotest" Settles the Ongoing Election Night Debate as Democrats and Republicans Battle It Out to Determine Who Is Smarter
The themed episode airs Tuesday, November 4 at 9:00/8:00c on the cable channel.


[10/30/14 - 11:20 AM]
"The Tonight Show" Defeats Letterman, Kimmel in All Key Ratings Categories for Week of Oct. 20-24
NBC spins the late-night numbers for the week of October 20-24.


[10/30/14 - 11:18 AM]
"Hawaii Five-0" Celebrates 100 Episodes by Revealing Hidden Nods to the Original Series Placed Within the Show Over the Past Five Years
Said anniversary installment airs next Friday, November 7 at 9:00/8:00c on CBS.


[10/30/14 - 11:03 AM]
E! Entertainment Extends "The Soup" Host Joel Mchale Through 2016
Additionally, McHale's production company, Free Period Productions, will continue its production development deal, in which he will give the network first look rights to ideas for non-scripted series.


[10/30/14 - 11:01 AM]
Oprah Winfrey Surprises Iyanla Vanzant with Epic Home Makeover in OWN Special to Air Saturday, November 29
"Oprah Prime: Iyanla I'll Fix Your House" airs on Saturday, November 29 at 8:00/7:00c.


[10/30/14 - 11:00 AM]
FOX Sweeps Into November - All-New Episodes of Fan-Favorite Dramas, Comedies, Events and Unscripted Series
The network details its programming highlights for the next month (SPOILERS!).


[10/30/14 - 10:44 AM]
"Banksy Does New York," A User-Generated Chronicle of the Famed Street Artist's 31 Days in New York City, Debuts Nov. 17, Exclusively on HBO
Capturing this month of madness, the film incorporates user-generated content, from YouTube videos to Instagram photos, from New Yorkers and Banksy hunters alike.


[10/30/14 - 10:37 AM]
Ovation's Hit Original Series "Song by Song" Continues Tuesday, December 9 with the Premiere of "Song by Song: Lindsey Stirling"
The documentary music series will focus on the wildly successful, classically trained electronic violinist, dancer and composer, who has become an internet phenomenon.


[10/30/14 - 10:00 AM]
Amy Adams, Ben Affleck, Benedict Cumberbatch, Robert Downey, Jr., Jonah Hill, Keira Knightley and Kristen Stewart to Appear on the "Hollywood Film Awards(R)" Nov. 14 Live on CBS
They join previously announced guests Gerard Butler, Robert Duvall, Michael Keaton, Julianne Moore, Jack O'Connell, Chris Pratt, Channing Tatum, Reese Witherspoon and Shailene Woodley.


[10/30/14 - 09:52 AM]
National Geographic Channel Will Go Under the Covers on the Science of Sleep in Television Event "Sleepless in America" Premiering Sunday, Nov. 30, at 8 PM ET/PT
The film spotlights our nation's sleep-loss epidemic, revealing the serious consequences of not sleeping enough and explaining how we became a society that fails to prioritize sleep.


[10/30/14 - 09:40 AM]
"The Eric Andre Show" Returns for a Third Season on Thursday, November 6th at 12:15 a.m. (ET/PT) on Adult Swim
Eric and his apathetic co-host Hannibal Buress are here to subject A-list stars to a hellish and inescapable nightmare talk show experience.


[10/30/14 - 09:16 AM]
NBC Posts Record-Setting Soccer Weekend with Most-Watched Premier League & MLS Matches
NBC spins the numbers for the weekend of October 25-26.