[07/17/13 - 12:20 PM]
"Supernatural" Goes Super Hero: Check Out Jared & Jensen in Comic-Con Capes!
The series returns to Hall H at Comic Con on Sunday, July 21.
---
[via press release from Warner Bros. Television]
WHO ARE THOSE CAPED DEMON-HUNTERS?
SUPERNATURAL'S JARED PADALECKI AND JENSEN ACKLES GET IN TOUCH WITH THEIR INNER SUPER HEROES IN PREPARATION FOR COMIC-CON 2013 WITH THE SIGNATURE WARNER BROS. CAPED BACKPACK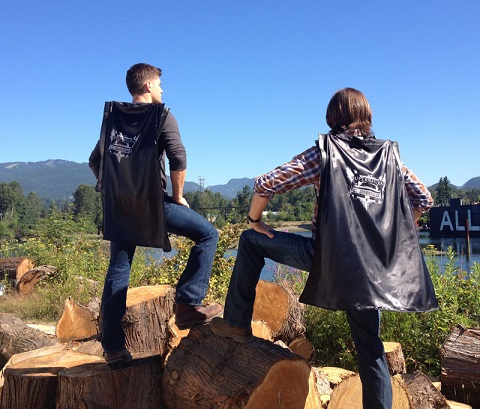 BURBANK, Calif. (July 17, 2013) - Men in ... Capes? In preparation for Comic-Con 2013, Supernatural's Jared Padalecki and Jensen Ackles got in touch with the super hero within by modeling Warner Bros. signature caped Comic-Con backpacks. With production on the ninth season of the hit series just beginning and an appearance at 2013 Comic-Con International: San Diego this Sunday, series stars Padalecki and Ackles took a moment to show off the Supernatural bag and more importantly, to road-test its fashion cape accessory!
· Supernatural returns to Hall H at Comic Con on Sunday, July 21, from 10:00-11:00 AM with a special video presentation as well as a cast/producer Q&A. Recurring guest star Mark A. Sheppard joins series stars Padalecki, Ackles and Misha Collins alongside executive producers Jeremy Carver and Robert Singer. Additionally, the cast and executive producers will be signing for fans at the Warner Bros. booth (#4545) afterward at 12:45-1:30 PM.
· Supernatural returns for its ninth season on October 15, 2013, airing on a new day this fall: Tuesdays at 9/8c on The CW.
For continuing info on the Studio's plans at Comic-Con, please visit www.thewb.com/comiccon and follow us on Twitter at @TheWBdotcom (hashtag #WBSDCC).




[08/24/16 - 03:32 PM]
Lifetime Greenlights Britney Spears Biopic
Production begins this September in Vancouver for a 2017 premiere on Lifetime.


[08/24/16 - 02:31 PM]
"Live with Kelly" Kicks Off 2016-17 Season on September 5, 2016
As the exciting search for Kelly's new on-air partner continues, a diverse group of personalities will join her on the show.


[08/24/16 - 01:15 PM]
Renowned Abolitionist Harriet Tubman Leads the Way in Season Two of WGN America's Trailblazing Series, "Underground" from Sony Pictures Television
Aisha Hinds has been cast as a recurring guest star in the pioneering role of Harriet Tubman.


[08/24/16 - 12:23 PM]
NASCAR and Nickelodeon Wave Green Flag for Third Season of "Hammer Down"
Premiering Friday, September 23 at 9:30/8:30c on Nicktoons, the third season of "NASCAR Hammer Down" features eight, 15-minute episodes.


[08/24/16 - 12:15 PM]
Investigation Discovery to Showcase Criminal Trial of Jason McCrary in Sixth and Final Installment of Serialized Docu-Series "The Vanishing Women"
Look for the season finale of Monday, August 29 at 10:00/9:00c.


[08/24/16 - 11:20 AM]
National Geographic Channel Announces Commemorative Programming Event to Honor 15th Anniversary of Sept. 11
Look for the world premiere of a new compilation special, "9/11: The Longest War."


[08/24/16 - 11:19 AM]
"Catching Kelce Preview Special" Airs Following New Episode of "WAGS" This Sunday, August 28
"Catching Kelce" will then premiere on Wednesday, October 5 at 9:00/8:00c.


[08/24/16 - 10:39 AM]
Video: Discovery Releases First Teaser for "Taking Fire"
The five-part series will now premiere Tuesday, September 13 at 10:00/9:00c.


[08/24/16 - 10:03 AM]
Spike's "Lip Sync Battle" Goes Live for the First Time Ever
The highly-anticipated season 3 of "Lip Sync Battle" premieres on Wednesday, October 12 at 9:00/8:00c.


[08/24/16 - 09:52 AM]
Music Superstar Ciara Completes Celebrity Judges Panel for the 96th Miss America Competition Live Broadcast
Ciara will join entrepreneur Mark Cuban, Olympic gold medalist Gabby Douglas, actress Sara Foster, musician and actress Laura Marano, singer-songwriter Cole Swindell and former Miss America Sharlene Wells Hawkes as celebrity judges.


[08/24/16 - 09:46 AM]
GSN's Horror-Themed Game "Hellevator" Returns for Its Second Season with a Special Four-Week Network Event Beginning Friday, October 7 at 9 PM
The series is produced by Matador and Blumhouse Productions, in association with Lionsgate.


[08/24/16 - 09:30 AM]
Video: New Teaser and World Premiere Time Revealed for BBC America's "Dirk Gently's Holistic Detective Agency"
In addition, the network has announced a series of programming stunts, including an original "Star Trek" anniversary celebration, to premiere in the build up to the new series launch.


[08/24/16 - 09:19 AM]
Comedy Central Greenlights Series from James Davis
Davis, host of "Swag-A-Saurus with James Davis," Comedy Central's most watched Snapchat original series, grew up "hood-adjacent" and brings his unique, urban point-of-view to the new weekly series set to premiere in January 2017.


[08/24/16 - 09:16 AM]
Chart-Topping Breakout Artists Alessia Cara, Jidenna and Lukas Graham To Perform at the 2016 "MTV VMA Pre-Show" Live from the Red Carpet at MSG on Sunday, August 28 at 8:00 P.M. ET/PT
Additionally, global hit-making producer, recording artist and social media mogul, DJ Khaled, will host the hour-long pre-show alongside MTV2's "Uncommon Sense" star, Charlamagne Tha God, and hip hop artist, Lizzo, from MTV's upcoming live music series, "Wonderland."


[08/24/16 - 09:13 AM]
Tuesday's Broadcast Ratings: "Got Talent," "Better Late Than Never" Top Charts
NBC leads the evening among total viewers and adults 18-49.