[07/17/13 - 12:20 PM]
"Supernatural" Goes Super Hero: Check Out Jared & Jensen in Comic-Con Capes!
The series returns to Hall H at Comic Con on Sunday, July 21.
---
[via press release from Warner Bros. Television]
WHO ARE THOSE CAPED DEMON-HUNTERS?
SUPERNATURAL'S JARED PADALECKI AND JENSEN ACKLES GET IN TOUCH WITH THEIR INNER SUPER HEROES IN PREPARATION FOR COMIC-CON 2013 WITH THE SIGNATURE WARNER BROS. CAPED BACKPACK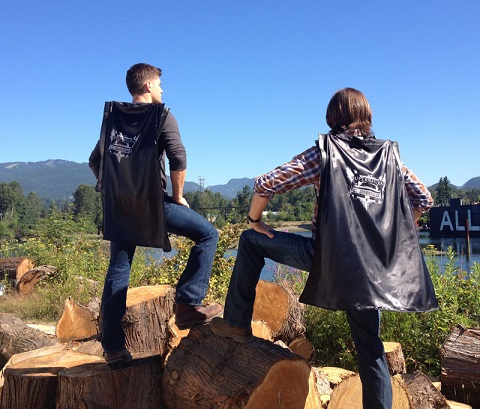 BURBANK, Calif. (July 17, 2013) - Men in ... Capes? In preparation for Comic-Con 2013, Supernatural's Jared Padalecki and Jensen Ackles got in touch with the super hero within by modeling Warner Bros. signature caped Comic-Con backpacks. With production on the ninth season of the hit series just beginning and an appearance at 2013 Comic-Con International: San Diego this Sunday, series stars Padalecki and Ackles took a moment to show off the Supernatural bag and more importantly, to road-test its fashion cape accessory!
· Supernatural returns to Hall H at Comic Con on Sunday, July 21, from 10:00-11:00 AM with a special video presentation as well as a cast/producer Q&A. Recurring guest star Mark A. Sheppard joins series stars Padalecki, Ackles and Misha Collins alongside executive producers Jeremy Carver and Robert Singer. Additionally, the cast and executive producers will be signing for fans at the Warner Bros. booth (#4545) afterward at 12:45-1:30 PM.
· Supernatural returns for its ninth season on October 15, 2013, airing on a new day this fall: Tuesdays at 9/8c on The CW.
For continuing info on the Studio's plans at Comic-Con, please visit www.thewb.com/comiccon and follow us on Twitter at @TheWBdotcom (hashtag #WBSDCC).




[05/26/18 - 12:13 PM]
ESPN's Most-Watched NBA Conference Finals Game 6 Since 2012
ESPN spins the numbers for Friday, May 25.


[05/26/18 - 08:20 AM]
Friday's Broadcast Ratings: CBS Tops Viewers, Shares Demo Crown
The Eye splits the adults 18-49 honors with NBC and ABC.


[05/25/18 - 11:09 PM]
Development Update: Friday, May 25
Updates include: Amazon CEO Jeff Bezos announces fourth season pickup of "The Expanse"; Barbara Boxer to "Run" for FX; and Mick Betancourt joins Syfy's "Deadly Class" as co-showrunner.


[05/25/18 - 12:57 PM]
E!'s "Total Bellas" Delivers Series High in P18-34 and W18-34 for Season Three Premiere
E! further spins the numbers for Sunday, May 20.


[05/25/18 - 08:24 AM]
Thursday's Broadcast Ratings: ABC Tops Demos with "The Last Days of Michael Jackson" Special
The two-hour special powers the Alphabet to an adults 18-49 victory last night.


[05/25/18 - 08:01 AM]
Alyson Hannigan, Connie Ray, Todd Stashwick, Taylor Ortega, Ciara Wilson And Erika Tham Join The Cast Of The Live-Action "Kim Possible" Disney Channel Original Movie
Hannigan will play the role of brain surgeon Dr. Ann Possible (aka Mom Possible) and Ray will play grandmother Nana Possible.


[05/25/18 - 07:40 AM]
Keith Olbermann to Expand Multi-Faceted ESPN Role
Olbermann will combine select studio assignments with on-site opportunities, including calling the radio play-by-play with analyst Jim Bowden for Astros at Yankees on Memorial Day, Monday, May 28, at 1 p.m. ET on ESPN Radio.


[05/25/18 - 05:51 AM]
Red Nose Day Raises Over $42 Million to End Child Poverty, Top Talent Turns It on for NBC's Night of Themed Programming & Live Special
The campaign has now raised over $42 million for children who need it most in America and around the world - totaling more than $145 million in the campaign's first four years in the U.S.


[05/24/18 - 11:08 PM]
Development Update: Thursday, May 24
Updates include: Lesley Ann Warren, Max Ehrich cast in Lifetime's "American Princess"; P.J. Byrne books return trip to "Big Little Lies"; and Janine Sherman Barrois, Michelle Nader ink overall deals with Warner Bros. Television.


[05/24/18 - 03:42 PM]
MTV Heats Up Summer with the Return of "Floribama Shore"
The 14-episode run will feature original cast members Jeremiah Buoni, Codi Butts, Kortni Gilson, Aimee Hall, Kirk Medas, Nilsa Prowant, Candace Rice and Gus Smyrnios.


[05/24/18 - 02:40 PM]
ABC Moves Up to No. 2 in 2017-18 for Its Most Competitive Season in 10 Years
ABC further spins the numbers for the season to date.


[05/24/18 - 02:36 PM]
Shining, Gleaming, Streaming, Flaxen, Waxen "Hair Live!" Is NBC's Next Musical Event
Craig Zadan and Neil Meron, who have executive produced each of NBC's live musicals since "The Sound of Music" revived this innovative programming genre, will executive produce the telecast.


[05/24/18 - 01:12 PM]
Netflix Re-Teaming with Dee Rees for "The Last Thing He Wanted"
The story is based on the 1996 novel by Joan Didion and centers on hardscrabble journalist Elena McMahon who finds herself on dangerous ground as the Iran Contra Affair's arms for drugs plot reaches its tipping point.


[05/24/18 - 12:31 PM]
NBC Entertainment Podcast Network Debuts with Fan Favorites "American Ninja Warrior" and "The Good Place"
Hosted by "The Good Place" guest-star Marc Evan Jackson, "The Good Place - The Podcast" debuts Friday, June 1.


[05/24/18 - 12:30 PM]
"Young & Hungry" Returns for "The Last Bite" with a Two Episode Season Premiere, on Wednesday, June 20
The final season sees Gabi and Josh happily together and in love, but now navigating their new status as a full-fledged couple.