[07/23/13 - 10:33 AM]
"The Carrie Diaries" First Image Released: Lindsey Gort as Samantha Jones
The series returns for season two on October 25, airing Fridays at 8:00/7:00c on The CW.
---
[via press release from Warner Bros. Television]
"THE CARRIE DIARIES" First Image Released: Lindsey Gort as Samantha Jones
Please find attached the first image of Lindsey Gort in the new series regular role of Samantha Jones in THE CARRIE DIARIES.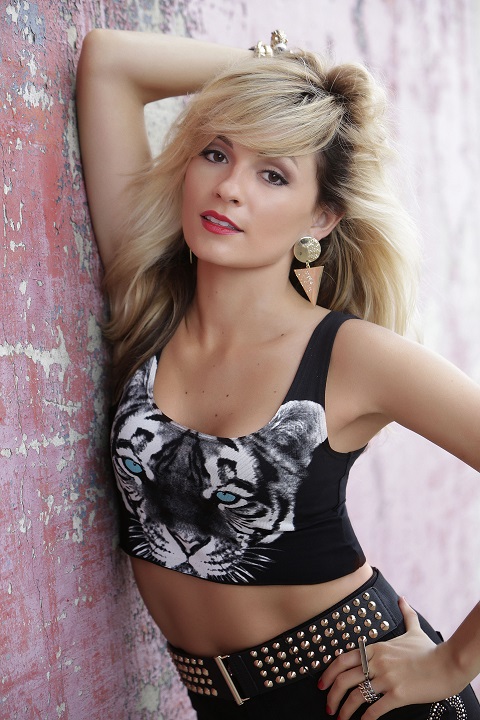 · THE CARRIE DIARIES executive producer Amy B. Harris said: "In another nerve-wracking search to create the amazing characters we all came to know and love on Sex and the City, we went out in search this year for a young Samantha Jones. Lindsey Gort walked into the room and owned the part. Funny and sexy with a whiff of vulnerability and an amazing dash of outrageousness, Lindsey is our exciting choice to play the young Samantha Jones."
· Character description: Through a surprising connection, our young Carrie Bradshaw (series star AnnaSophiaRobb) will meet one of the most important people in her life this season in a role made iconic by Kim Cattrall: Samantha Jones, a ballsy, beautiful and sexy young woman from the panhandle of Florida who has made her way - and already a name for herself - in the rock 'n' roll scene of 1980s NYC.
THE CARRIE DIARIES returns for season two on October 25, 2013, airing Fridays at 8/7c on The CW.
(Photo Caption: THE CARRIE DIARIES - Pictured: Lindsey Gort as Samantha Jones - Image Number: CD201a_0511r.jpg - Photo: Patrick Harbron/The CW - (C) 2013 The CW Network, LLC and Warner Bros. Entertainment Inc. All Rights Reserved.)




[05/26/16 - 02:37 PM]
"Comedy Bang! Bang!" Gets "Weird" with a One-Week Free Preview of This Season's Premiere Episode
IFC is previewing the first episode of this upcoming season free on IFC.com, through the IFC mobile app, On Demand and wherever the internet lives one week before it premieres on IFC on Friday, June 3.


[05/26/16 - 02:32 PM]
"Brett Gelman's Dinner in America" Special Premieres Friday, July 1st at Midnight (ET/PT) on Adult Swim
The premise is simple: A roundtable discussion in which Brett attempts to engage four distinguished actors - Loretta Devine, Shareeka Epps, Joe Morton and Mack Wilds - in an open forum on racism.


[05/26/16 - 01:43 PM]
AMC.com Releases the Director's Commentary on the "Preacher" Pilot
Series executive producers and directors Seth Rogen and Evan Goldberg give viewers an exclusive inside look at the premiere episode.


[05/26/16 - 12:41 PM]
Video: Showtime(R) Drops the New Trailer for Its Music Series "Roadies," The First Original Series from Oscar(R) Winner Cameron Crowe
The series gives an insider's look at the reckless, romantic, funny and often poignant lives of a committed group of roadies who live for music and the de facto family they've formed along the way.


[05/26/16 - 12:07 PM]
Michael Bloom Joins TBS & TNT as Senior Vice President of Unscripted Series and Specials
Most recently, Bloom was instrumental in forging the architecture for ELeague, the new eSports co-venture between Turner and WME | IMG.


[05/26/16 - 12:03 PM]
Kobe Bryant Named "Athlete of the Decade" by Spike TV
Spike TV proudly honors the Lakers' iconic superstar with its first ever "Athlete of the Decade" award to be presented at the network's 10th Annual "Guys Choice" event.


[05/26/16 - 12:02 PM]
WGN America's "Outsiders" Star David Morse Throws Out First Pitch at the Pittsburgh Pirates vs. Arizona Diamondbacks Game, In Celebration of the Start of Production on the Hit Series' Season Two
Morse's first pitch comes on the heels of Pittsburgh Mayor William Peduto declaring Wednesday, May 18 "Outsiders Day," with a proclamation ceremony at City Hall.


[05/26/16 - 12:01 PM]
NBC Olympics to Provide 4K Ultra HD Coverage of Rio Olympics to Distribution Partners
The coverage will be made available on one-day delay and will include 4K UHD footage from the Opening and Closing Ceremonies, swimming, track and field, basketball, the men's soccer final, and judo, as well as Rio scenics.


[05/26/16 - 12:00 PM]
HBO Confirms Fall Debuts for "Westworld," "Divorce," "Insecure," "High Maintenance"
Set at the intersection of the near future and the reimagined past, "Westworld" explores a world in which every human appetite, no matter how noble or depraved, can be indulged.


[05/26/16 - 11:15 AM]
Three-Time Emmy(R) Award Nominee Terrence "J" Jenkins to Co-Host "2016 Miss USA(R)" Airing Live from the New T-Mobile Arena in Las Vegas Sunday, June 5, on FOX
Fans should stay tuned for more exciting announcements about the competition.


[05/26/16 - 10:35 AM]
Jamie Lynn Spears Steps Back Into the Spotlight in New TLC Special "When the Lights Go Out"
The one-hour special premieres Sunday, June 26 at 10:00/9:00c on the cable channel.


[05/26/16 - 10:24 AM]
Logo Unveils Summer Slate with New Specials, Returning Series and Groundbreaking Documentaries
Kelly Ripa & Mark Consuelos launch the all-new summer block on Monday, May 30 as the executive producers of "Secret Guide To Fabulous: Summer," hosted by curators of taste John Gidding, Ronnie Woo, Theodore Leaf and Rob Younkers.


[05/26/16 - 10:02 AM]
Miley Cyrus, Larry David, Jimmy Fallon and Tom Hanks Join Comedy Icons Maya Rudolph and Martin Short for Premiere Episode of "Maya & Marty"
The summer series debuts this Tuesday, May 31 at 10:00/9:00c on NBC.


[05/26/16 - 10:00 AM]
Esquire Network Gets Revved Up with New Series "Wrench Against the Machine" Debuting Fall 2016
Each hour-long episode will feature new teams and new motorcycle build challenges as contestants will be tasked with building everything from café racers to choppers, bobbers and beyond.


[05/26/16 - 10:00 AM]
"Star vs. The Forces of Evil," the Annie Award-Nominated Series Starring Eden Sher, Launches Its Second Season Monday, July 11 on Disney XD
Guest stars for season two include Al Yankovic, Mayim Bialik, Melissa Rauch, Zosia Mamet, Nick Lachey, Patrick Stump and Carl Weathers.