[07/23/13 - 10:33 AM]
"The Carrie Diaries" First Image Released: Lindsey Gort as Samantha Jones
The series returns for season two on October 25, airing Fridays at 8:00/7:00c on The CW.
---
[via press release from Warner Bros. Television]
"THE CARRIE DIARIES" First Image Released: Lindsey Gort as Samantha Jones
Please find attached the first image of Lindsey Gort in the new series regular role of Samantha Jones in THE CARRIE DIARIES.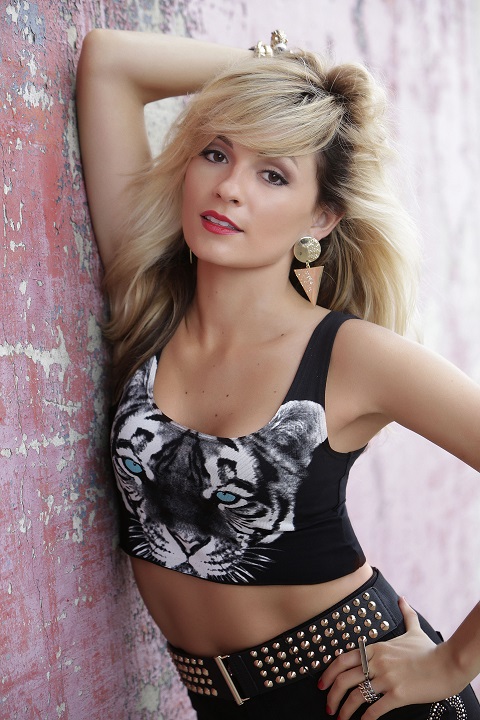 · THE CARRIE DIARIES executive producer Amy B. Harris said: "In another nerve-wracking search to create the amazing characters we all came to know and love on Sex and the City, we went out in search this year for a young Samantha Jones. Lindsey Gort walked into the room and owned the part. Funny and sexy with a whiff of vulnerability and an amazing dash of outrageousness, Lindsey is our exciting choice to play the young Samantha Jones."
· Character description: Through a surprising connection, our young Carrie Bradshaw (series star AnnaSophiaRobb) will meet one of the most important people in her life this season in a role made iconic by Kim Cattrall: Samantha Jones, a ballsy, beautiful and sexy young woman from the panhandle of Florida who has made her way - and already a name for herself - in the rock 'n' roll scene of 1980s NYC.
THE CARRIE DIARIES returns for season two on October 25, 2013, airing Fridays at 8/7c on The CW.
(Photo Caption: THE CARRIE DIARIES - Pictured: Lindsey Gort as Samantha Jones - Image Number: CD201a_0511r.jpg - Photo: Patrick Harbron/The CW - (C) 2013 The CW Network, LLC and Warner Bros. Entertainment Inc. All Rights Reserved.)




[02/12/16 - 10:15 AM]
Syfy Greenlights Original Sci-Fi Thriller "Prototype" to Pilot
The project centers on three unlikely cohorts who inadvertently stumble upon an invention that challenges the very nature of quantum physics - a discovery which in turn puts their lives in grave danger.


[02/12/16 - 09:39 AM]
Video: AMC Releases a First-Look Trailer for the Upcoming Mini-Series Event "The Night Manager" Premiering on Tuesday, April 19 at 10 PM ET/PT
Tom Hiddleston, Hugh Laurie, Olivia Colman, Tom Hollander and Elizabeth Debicki star in the project.


[02/12/16 - 09:03 AM]
Showtime(R) Kicks Off Grammy(R) Weekend by Unveiling the Official Trailer for Cameron Crowe's New Music Series "Roadies"
Luke Wilson and Carla Gugino star in the project, premiering Sunday, June 26 at 10:00/9:00c.


[02/12/16 - 09:01 AM]
AMC to Air Live After Show "Talking Saul" Following "Better Call Saul" Season Two Premiere and Finale Episodes
Hosted by comic and super-fan Chris Hardwick, the hour-long talk show will feature series cast, producers, celebrity fans and more reacting to and discussing the twists and turns.


[02/12/16 - 08:01 AM]
"Walk the Prank" Premieres Wednesday, April 6 (8:30-9:00 P.M. EST) on Disney XD
Plus: get your first tease of the new hidden camera series.


[02/12/16 - 07:30 AM]
Viewers Can Stream "The 58th Annual Grammy Awards(R)" Telecast Live Across Platforms Via CBS All Access, Monday, Feb. 15
The CBS All Access live stream will be available in 130 markets across the U.S..


[02/12/16 - 07:03 AM]
TLC's #CupcakeCam Live Invites Viewers to Join in on the Bakery Madness at Georgetown Cupcake, Beginning February 14th
Multiple cameras placed throughout the cupcakery's flagship store will give behind-the-scenes access to six different parts of the bakery, including the decorating, packaging, and frosting stations.


[02/12/16 - 06:31 AM]
Bravo Media's "Top Chef" Rolls the Dice in Las Vegas for the Two-Part Season Finale Airing Thursday, March 10 and 17
Upcoming guest judges this season include: Martin Yan, Adam Fleischman (Thursday, February 25); Traci Des Jardins, Hubert Keller (Thursday, March 3).


[02/12/16 - 06:00 AM]
CBS to Air Three Special Primetime Editions of Network Television's #1 Daytime Series "The Price Is Right"
The themed installments will tie into the Eye's reality franchises "The Amazing Race," "Survivor" and "Big Brother."


[02/11/16 - 03:16 PM]
Iconic NBC Daytime Drama "Days of Our Lives" Renewed for 51st Season
So far this season, "Days of our Lives" is averaging a 0.90 rating, 6 share in women 18-49 and 2.901 million viewers overall in "most current" ratings from Nielsen Media Research.


[02/11/16 - 02:49 PM]
FOX Sports Secures National Television Rights to Titans of Mavericks Big Wave Surfing Event
"This winter has already seen some of the biggest waves ridden around the world," says Melissa Forman.


[02/11/16 - 02:33 PM]
CMT's "Party Down South" Boosts Thursday Night Programming Block with Strong Premiere and Double-Digit Growth in Week 2
CMT further spins the numbers for Thursday, January 28 and Thursday, February 4.


[02/11/16 - 01:51 PM]
AMC Orders New Late-Night Talk Show, "Geeking Out" (Working Title)
The 30-minute show will take a timely look at pop culture through a fanboy lens and feature talk, clips, celebrity interviews and out-of-the-studio segments.


[02/11/16 - 01:46 PM]
Presenters Announced for "The 58th Grammy(R) Awards," Feb. 15
Stephen Colbert, Common, James Corden, Kaley Cuoco, Selena Gomez, Ariana Grande, Ice Cube, O'Shea Jackson, Jr., Anna Kendrick, Seth MacFarlane, Ryan Seacrest, Ed Sheeran and Sam Smith are all on tap.


[02/11/16 - 01:28 PM]
Video: "Silicon Valley" - Season 3 Tease (HBO)
The pay channel releases the first tease for the new season, premiering Sunday, April 24.