AMC MOBS UP WITH EIGHT-WEEK SPECIAL EVENT DOCU-DRAMA "MAKING OF THE MOB: NEW YORK"
Mini-Series Will Trace Rise of American Mafia and The Five Families Who Ruled Over the Organization
MAKING OF THE MOB - FIRST LOOK IMAGE
Photo Credit: Lawrence French/AMC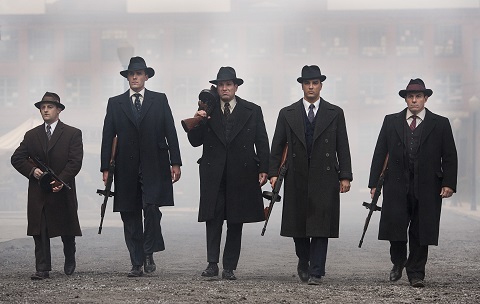 Ian Bell as Meyer Lansky, John Stewart Jr. as Bugsy Siegel, Rich Graff as Lucky Luciano, Anthony DiCarlo as Frank Costello and Craig Rivela as Vito Genovese
PASADENA, CA - January 10, 2015 - AMC announced today that the network will premiere a special event mini-series "Making of The Mob: New York," chronicling the historical roots of the original Five Families that led to the formation of the modern American Mafia. The docu-drama is being produced by Emmy(R) Award-winning Stephen David Entertainment ("The World Wars," "The Men Who Built America") and will consist of eight, one-hour episodes premiering in second quarter 2015.
Utilizing an immersive blend of dramatic scenes, archival footage and groundbreaking VFX, "Making of The Mob: New York" will begin in 1905 and span over 50 years to trace the rise of Charles "Lucky" Luciano, Meyer Lansky, Benjamin "Bugsy" Siegel and other notorious gangsters from their beginnings as a neighborhood gang of teenagers to murderous entrepreneurs and bootleggers who organized the criminal underworld and turned it into an American institution. The series will also feature interviews with historians, authors, actors, law enforcement personnel and family members, including: actors Joe Mantegna and Drea de Matteo; Mob attorney and former Las Vegas mayor Oscar Goodman; author David Pierusza, who is an expert on Lucky Luciano's criminal mentor Arnold Rothstein; and Meyer Lansky's grandson, Meyer Lansky II, among others.
The network will extend the Mafia theme by partnering each episode of "Making of The Mob: New York" with a lead-in from their extensive library of iconic mobster films. Long the cornerstones of the popular annual "Mob Week" programming event, titles include The Godfather, The Godfather Part II, Goodfellas, American Gangster, Donnie Brasco, Scarface, Casino and Carlito's Way.
"We have a long tradition of airing many of the greatest movies about organized crime and have wanted to pair those movies with a piece of original programming for some time," said Joel Stillerman, AMC's executive vice president of original programming, production and digital content. "Stephen David brought us a show that reminded us what an absolutely spectacular story the truth is with respect to the rise of organized crime in America and the formation of the legendary Five Families. 'Making of The Mob: New York' features fantastic, larger-than-life characters and drama that is better than fiction in every way. This is definitely event television."
"I'm fascinated by people and relaying history through the personal stories of what they really did," added Stephen David, executive producer and president, Stephen David Entertainment. "While there have been a number of great films, television shows and books about the Mob in America, the entire story has never been put together like this, and I think viewers will be surprised at the very human story of how these men created their own success and made America their land of opportunity."
"Making of The Mob: New York" is executive produced by Stephen David, with Eliot Goldberg and Marco Bresaz overseeing for the network.
About AMC
Whether commemorating favorite films from every genre and decade, or creating acclaimed original programming, AMC brings to its audience something deeper, something richer, Something More. The network reigns as the only cable network in history ever to win the Emmy(R) Award for Outstanding Drama Series four years in a row with "Mad Men," and six of the last seven with current back-to-back honoree, "Breaking Bad." The network boasts the most-watched drama series in basic cable history and the number one show on television among adults 18-49 for the last two years with "The Walking Dead." AMC's original drama series include "Mad Men," "Breaking Bad," "The Walking Dead," "Hell on Wheels," "TURN: Washington's Spies," "Halt and Catch Fire" and the forthcoming "Breaking Bad" prequel "Better Call Saul," "Humans" and "Badlands." AMC also explores authentic worlds and discussion with original shows like "Talking Dead" and "Comic Book Men." AMC is owned and operated by AMC Networks Inc. and its sister networks include IFC, SundanceTV, BBC America and WE tv. AMC is available across all platforms, including on-air, online, on demand and mobile. AMC: Something More.