SPIKE RELEASES KEY ART FOR "TUT"
Spike Original Limited Series Event Starring Ben Kingsley & Avan Jogia Premieres Sunday, July 19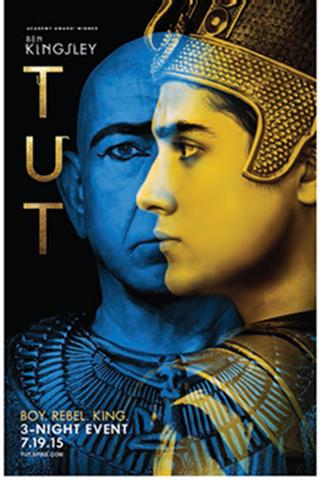 Spike released key art today for the Spike original limited series event Tut, with the tagline - "Boy.Rebel.King." Spike's Tut recounts the astounding saga of one of history's most extraordinary rulers, Tutankhamun aka King Tut, his rise to power and his struggle to lead Egypt to glory, while his closest advisors, friends and lovers scheme for their own nefarious interests. This six hour, three night ambitious original scripted limited series event premieres on Spike Sunday - Tuesday, July 19-21 (9:00 - 11:00 PM, ET/PT).
One of the story's central plot points is the complex relationship of King Tut, played by Avan Jogia, and his closest advisor, Vizer Ay, played by Academy Award(R)-winning actor Ben Kingsley. Using a cross process technique, the key art captures their dynamic, as both characters are merged together, depicting their struggle for power. The effect of the key art create layers of intrigue, that mirror the layers of complexity in the characters. The art features the iconic Egyptian colors of blue and gold that evoke a sense of warmth and coldness, of life and death.
The bold and dramatic composition captures the tone of Tut's epic story, and is a reflection of Spike's new look and brand promise, delivering faces with tremendous star power who truly are "the ones to watch." Created in collaboration with 30Sixty Advertising, the key art was shot on location in Morocco by photographer Mattias Clamer.
Last week, Spike released the first trailer for Tut, which can be seen here:
Thrust into power after the murder of his father, Tut (Jogia) is forced to marry his strong willed, ambitious half-sister (Sibylla Deen) in order to maintain the dynasty. In love with a commoner (Kylie Bunbury), he struggles to protect her from the jealous queen. And although Tut rules as Pharaoh, he is exploited by a shrewd Prime Minister (Kingsley), a ruthless military General (Nonso Anozie) and a scheming High Priest (Alexander Siddig) who look down on him as someone they can control. But through unexpected twists and turns, Tut strives to overcome the odds, rising from a manipulated prince into an unlikely hero who triumphs over his enemies both from within and without leading his kingdom to glory.
Tut is produced for Spike by Muse Entertainment (The Kennedys, Being Human, The Pillars of the Earth, Bomb Girls) with Joel S. Rice and Michael Prupas as Executive Producers from Muse. The project is also executive produced by Greg Gugliotta (The Fosters), Michael Vickerman (Impact), Elice Island Entertainment's Jeremy Elice, Angela Mancuso (Spartacus), and Director/Executive Producer David Von Ancken (Salem, Hell on Wheels) and written by Michael Vickerman, Peter Paige & Bradley Bredeweg (The Fosters). Sharon Levy, Executive Vice President, Original Series, Spike TV also serves as an Executive Producer. Producers are Irene Litinsky (Being Human) and Guy Louthan (The Call) and Vlad Wolynetz is Co-Executive Producer.