HANG ON TIGHT AND MEET THE ROOMMATES OF MTV'S ICONIC SERIES "REAL WORLD: GO BIG OR GO HOME" SET IN DOWNTOWN LAS VEGAS
"Real World: Go Big or Go Home" to Premiere March 17th at 10 PM ET/PT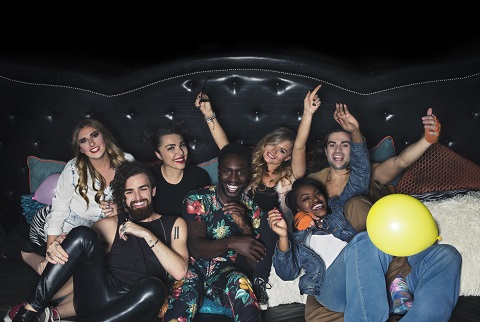 Los Angeles, CA (January 14, 2016) - Today, MTV announced the premiere date, twist and cast of iconic series "Real World: Go Big or Ho Home." This season which premieres on Thursday, March 17th at 10PM ET/PT, seven strangers are brought together in Downtown Las Vegas for a wild, adrenaline-filled season that will confront their hopes, fears, and anxieties. From the moment they first meet, they are thrown into a series of over the top, daring missions - some for the entire group and some designed specifically for each individual - but always with the caveat that if they can't complete the mission, they are sent home and another roommate will take their spot.
Living in a tricked out suite atop the Gold Spike hotel, the diverse roommates must learn to live together not knowing what the next day or next hour will bring. From jumping out of a hot air balloon to performing on stage in a strip club, or meeting the birth mom who placed them for adoption, the roommates are forced to face deeply emotional moments from their past while accomplishing dreams they never thought possible. In typical Vegas style, they always 'go big' - but if they fail, it will be time to go home.
"Real World: Go Big or Go Home" Cast includes:
CEEJAI' - Growing up in East St., Illinois, Ceejai' was faced with many tough obstacles. Not only has she lost several friends to gun violence, but it has also directly impacted her family. Turning a tragedy into social action, Ceejai works to bring awareness to her community about gun violence and domestic abuse. She hopes to eventually pursue a career as an attorney to fight for stronger gun laws and bring promise back to the tough neighborhood in which she was raised. Ceejai', an adrenaline junky and currently single, is hoping that this experience will open up a whole new world for her.
CHRIS - Christopher is a Salt Lake City bred Mormon boy turned liberal New York City hipster. His disassociation from the Mormon Church and recent acceptance of his 'pansexuality' have fueled his fight against religious discrimination, made him an advocate for LGBTQ rights, and put him at odds with his conservative family. Chris is on a journey to find his true self and enter a new chapter of life where he refuses to say "no" to anything. What better place to put that into practice than in the Las Vegas Real World house?
DIONE - Better known as "Jungle Boy", this adrenaline junkie prides himself on living life on the edge without the burden of responsibility. Having fully embraced the Peter Pan lifestyle of never growing up, his biggest fear is having a 9-5 job, or having to work at all for that matter. Dione would much rather find women that will fall to his charm and boyish personality, rather than get into anything serious. His female roommates are sure to lust over this "Jungle Boy", but only time will tell if his roommates can handle his crazy, over-energized antics.
SABRINA - Often viewed as aggressive and vulgar, this Boston bred beauty is not afraid to speak her mind. This aspiring singer/song-writer has a fascination with whip cream and an ability to sexualize any situation. Sabrina was adopted as a baby and her biggest fear is to find and meet her biological mother. She has heard rumors that her mother lives either in Vegas or California but she isn't sure. Sabrina wants to find and hopefully meet her biological mom but is worried about what she will find out if she goes down that road.
JENNA - Don't let this Southern bombshell's looks fool you, this feisty tomboy knows how to get down and dirty - from shooting guns to bow and arrows in her bikini. A proud Southerner, Jenna is very vocal about her beliefs and the traditions she was raised with; and is no doubt the only roommate with a pet pig at home. Jenna was raised by her deer-hunting Mormon father, until she moved in with her mother at the age of 15. Real World will be a chance for Jenna to explore life, culture, and beliefs outside of the tiny bubble of her country town of Easley, South Carolina.
DEAN - This charming hunk is going through a divorce and looking to explore his life as a bachelor. Dean grew up until the age of 5 in Ghana, Africa and then moved to Las Vegas with his father. He attended the University of Nevada, Reno where he wooed the sorority girls with his humor and pretty boy vibes until meeting the woman he had a nightmare relationship with. Dean is coming into the Real World looking for a fresh start and is ready to cut loose in Las Vegas.
KAILAH - This stunning flirt credits her Puerto Rican heritage for her notable eyebrows, impressive derriere, and loud unpredictable personality. Unafraid of the casual hook up, Kailah warns guys not to fall in love with her due to her sexual prowess. A bully and mean girl in high school, Kailah was a cheerleader and was voted "Gossip Queen" by her peers. Though she was popular growing up, Kailah admits to having very few friends due to her mean spirit and still, to this day has trouble maintaining friendships and roommates. While living in the Real World house, Kailah hopes to work on her patience and grow past her drama queen phase.
"Real World" pioneered reality-based television debuting its first season in New York City. Each season, the show brings seven young strangers to live together in a new town and rolls the cameras 24-7, witnessing as their lives intersect, their ideas are challenged, and their passions emerge.
Throughout the 30 seasons of the series, "Real World" has been one of the network's highest rated shows. Last season's "Real World: Skeletons" ranked #1 in its time period across all television among MTV's core P12-34 audience with an average viewership of 1.4 million.
Source: P12-34 and L7 unless noted. Nielsen.
"Real World" was created for MTV by Jonathan Murray and Mary-Ellis Bunim of Bunim/Murray Productions. Jonathan Murray, Gil Goldschein and Jim Johnston serve as Executive Producers of "Real World."
About MTV:
MTV is the world's premier youth entertainment brand. With a global reach of more than a half-billion households, MTV is the cultural home of the millennial generation, music fans and artists, and a pioneer in creating innovative programming for young people. MTV reflects and creates pop culture with its Emmy(R), Grammy(R) and Peabody(R) award-winning content built around compelling storytelling, music discovery and activism across TV, online and mobile. MTV's sibling networks MTV2 and mtvU each deliver unparalleled customized content for young males, music fans and college students, and its online hub MTV.com is the leading destination for music, news and pop culture. MTV is part of MTV Networks, a unit of Viacom (NYSE: VIA, VIA.B), one of the world's leading creators of programming and content across all media platforms.
About Bunim/Murray Productions:
Bunim/Murray Productions is the leading producer of innovative entertainment content. The Emmy Award-winning company is widely credited with creating the reality television genre with its hit series The Real World. BMP continued to innovate with the first reality game show, Road Rules (MTV), in 1995; the first reality sitcom, The Simple Life (E!), in 2003; and the first reality soap opera, Starting Over, in 2003. Bunim-Murray's programming also includes Keeping up with the Kardashians, I am Cait, Stewart & Hamiltons, Dash Dolls and Total Divas (E!), The Challenge (MTV), Project Runway, Project Runway All Stars, and Valerie's Home Cooking (Food) , and Bad Girls Club, and Fix My Mom (Oxygen). Bunim/Murray Productions has also produced films, including Valentine Road (HBO), Pedro (MTV) and the Emmy Award-winning Autism: The Musical (HBO). Bunim/Murray Productions has launched additional entities including BMP Films, BMP Digital and BMP Latin. Based in Van Nuys, CA, Bunim/Murray Productions was founded in 1987 by Jonathan Murray and the late Mary-Ellis Bunim, who were inducted into the Television Academy of Arts & Science's Hall of Fame in 2012. The company joined Banijay Group in 2010.
About Gold Spike:
Gold Spike is a co-working space with bar and restaurant by day, and a giant party by night. Located in the heart of downtown Las Vegas, Gold Spike boasts a bar and cafe, as well as "The Living Room," and "The Backyard," all operating 24 hours a day. The Living Room and Backyard both feature free WiFi and traditional board games as well as giant corn hole, giant Jenga, giant beer pong, and more. Both The Living Room and The Backyard also feature live music every weekend. The Gold Spike hotel tower includes two floors dedicated to residential, and two floors of hotel rooms that are part of sister property Oasis at Gold Spike. Additionally, the seventh floor is home to three suites, includes the Real World Suite. Gold Spike is located at 217 Las Vegas Blvd. North, Las Vegas, NV 89101. For more information, visit goldspike.com.