[12/28/16 - 06:01 AM]
First Look: Robert Redford and Jane Fonda in Our Souls at Night
The film is based on the novel written by Kent Haruf and adapted for the screen by Scott Neustadter and Michael H. Weber.
---
[via press release from Netflix]
FIRST LOOK: ROBERT REDFORD AND JANE FONDA IN OUR SOULS AT NIGHT
Reunited and it feels so good! Netflix releases a first look image of Robert Redford and Jane Fonda from the 2017 Netflix original film, Our Souls at Night.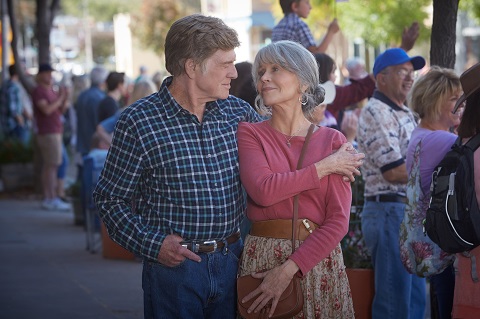 Photo credit: Kerry Brown/Netflix
Film Synopsis:
Based on the novel written by Kent Haruf and adapted for the screen by Scott Neustadter and Michael H. Weber (The Fault in Our Stars), Our Souls at Night is set in Colorado and begins when Addie Moore (Jane Fonda) pays an unexpected visit to a neighbor, Louis Waters (Robert Redford). Her husband died years ago, as did his wife, and in such a small town they'd been neighbors for decades, but had little contact. Their children live far away and they are all alone in their big houses. She seeks to establish a connection, and make the most of the rest of the time they have.
The film is directed by Ritesh Batra (The Lunchbox) and also stars Bruce Dern (Nebraska), Judy Greer (Jurassic World), Matthias Schoenaerts (The Danish Girl), and Iain Armitage (Big Little Lies) will play Jamie, Addie's grandson.




[04/20/21 - 02:04 PM]
CBS Opts for Repeats Tonight; Originals Pushed to Next Tuesday
"NCIS," "FBI" and "FBI: Most Wanted" will be back on April 27.


[04/20/21 - 12:01 PM]
Nathalie Kelley, Colin Donnell and Patti Murin Star in an All New Original Mystery "To Catch a Spy" on Hallmark Movies & Mysteries
The movie, due on June 20, is currently filming on location in Malta.


[04/20/21 - 11:32 AM]
Key Art Debut - A Hulu Original "Marvel's M.O.D.O.K."
"Marvel's M.O.D.O.K" premieres all episodes May 21, only on Hulu.


[04/20/21 - 10:36 AM]
Vice President Kamala Harris Joins discovery+ and NowThis Earth Day Climate Special, "Action Planet: Meeting the Climate Challenge"
The special will premiere on Earth Day, Thursday, April 22, across Discovery's streaming service discovery+, and will then broadcast in primetime that evening on OWN at 9pm EST, Discovery at 10pm EST, and at 11pm EST on Science Channel.


[04/20/21 - 10:25 AM]
Video: Apple Reveals Premiere Date and Teaser Trailer for the Second Season of Its Award-Winning, Comedy Phenomenon "Ted Lasso," Debuting Friday, July 23
The broadly acclaimed, hit series has already been renewed for a third season ahead of its season two premiere.


[04/20/21 - 10:19 AM]
Hulu Announces Original Documentary "Homeroom"
The project is Peter Nicks' final chapter in a trilogy of films examining the relationship between health care, criminal justice, and education in Oakland, CA over the past decade.


[04/20/21 - 10:17 AM]
Launching Only on Hulu, ABC News Originals Examines the Climate Crisis and Potential Solutions with "It's Not Too Late: Earth Day Special," Hosted by ABC News Chief Meteorologist Ginger Zee
Zee will take viewers on a global journey of discovery to showcase the planet's rich biodiversity that's at stake, the scientific link between extreme weather and climate change, and the auto industry's bold plans to become carbon neutral within the next 20 years.


[04/20/21 - 10:04 AM]
YouTube Announces New Slate of Original Content Bringing Together Climate and Sustainability Leaders Including Bill Gates
Highlights include the return of "Create Together" and "BookTube" on April 22.


[04/20/21 - 10:01 AM]
Monday's Broadcast Ratings: FOX Tops Charts with "9-1-1" Return
The network leads the night in both total viewers and adults 18-49.


[04/20/21 - 09:59 AM]
HBO's "The Crime of the Century," A Searing Investigation Revealing the Inner Workings of the Multi-Billion Dollar Industry Behind the Opioid Epidemic, Debuts May 10
Directed by Alex Gibney, the two-part documentary is a searing indictment of Big Pharma and the political operatives and government regulations that enabled over-production, reckless distribution and abuse of synthetic opiates.


[04/20/21 - 09:31 AM]
Video: "Adventure Time: Distant Lands" - Together Again - HBO Max
Will Finn and Jake be best bros forever as they embark on the most important adventure of their lives?


[04/20/21 - 09:31 AM]
Video: "The Upshaws" - Official Trailer - Netflix
A working-class family in Indiana struggles to make it work and make it right without the blueprint to do it.


[04/20/21 - 09:17 AM]
Dakota Johnson to Star in "Persuasion"
The Netflix film takes a modern, witty approach to a beloved story while still remaining true to Jane Austen's classic novel.


[04/20/21 - 08:59 AM]
NBA Legend, Dwyane Wade, Hosts TBS' New High-Stakes Game Show "The Cube" Premiering on Thursday, June 10 at 9 PM ET/PT
"The Cube" features new challenges in every episode to keep the teams on their feet and allow host and executive producer Dwyane to show his own skills.


[04/20/21 - 08:01 AM]
The Remarkable True Crime Docu-Series, "Between Black and Blue," Comes to Sundance Now and AMC+ on Tuesday, May 25
The four-part series uncovers an unbelievable story involving crooked cops, a mafia Godfather, an alleged public poisoning, Elvis Presley, and a cocaine-addicted newspaper editor who printed it all.