[12/28/16 - 06:01 AM]
First Look: Robert Redford and Jane Fonda in Our Souls at Night
The film is based on the novel written by Kent Haruf and adapted for the screen by Scott Neustadter and Michael H. Weber.
---
[via press release from Netflix]
FIRST LOOK: ROBERT REDFORD AND JANE FONDA IN OUR SOULS AT NIGHT
Reunited and it feels so good! Netflix releases a first look image of Robert Redford and Jane Fonda from the 2017 Netflix original film, Our Souls at Night.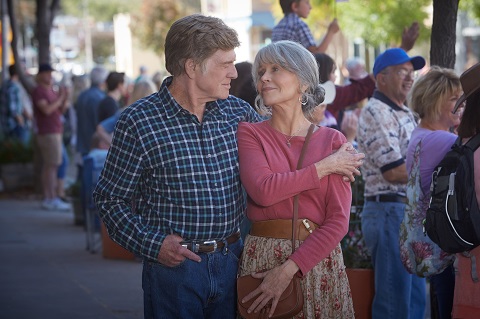 Photo credit: Kerry Brown/Netflix
Film Synopsis:
Based on the novel written by Kent Haruf and adapted for the screen by Scott Neustadter and Michael H. Weber (The Fault in Our Stars), Our Souls at Night is set in Colorado and begins when Addie Moore (Jane Fonda) pays an unexpected visit to a neighbor, Louis Waters (Robert Redford). Her husband died years ago, as did his wife, and in such a small town they'd been neighbors for decades, but had little contact. Their children live far away and they are all alone in their big houses. She seeks to establish a connection, and make the most of the rest of the time they have.
The film is directed by Ritesh Batra (The Lunchbox) and also stars Bruce Dern (Nebraska), Judy Greer (Jurassic World), Matthias Schoenaerts (The Danish Girl), and Iain Armitage (Big Little Lies) will play Jamie, Addie's grandson.




[11/25/20 - 12:13 PM]
"Married at First Sight" Heads Down the Aisle in Atlanta for Season 12 on January 13 with Three Hour Megasized Premiere
Season 12 is set to be the most romantic, diverse, and surprising season yet as ten brave-but-loveless singles meet their new spouse at the altar and enter a legally binding marriage at first sight.


[11/25/20 - 12:06 PM]
NFL Moves Ravens-Steelers Thanksgiving Primetime Game to Sunday, November 29
In its place, NBC will rebroadcast "The National Dog Show" alongside a repeat of "The Wall."


[11/25/20 - 10:47 AM]
Video: HBO Max Debuts Trailer and Key Art for Max Original "House of Ho" Premiering Thursday, Dec. 10
The series follow the lives, loves, and conflicts of the Hos, a wealthy Vietnamese-American family in Houston who've built a multimillion-dollar empire.


[11/25/20 - 10:31 AM]
"Saturday Night Live" Closes Out 2020 with Three Shows in December, Live Coast-to-Coast
Jason Bateman, Timothée Chalamet and Kristen Wiig are on tap to host in the coming weeks.


[11/25/20 - 10:08 AM]
Video: "On Pointe" - Official Trailer - Disney+
Get a glimpse into the students from the School of American Ballet in the series, due on Friday, December 18.


[11/25/20 - 10:00 AM]
An Incredible Lineup of Talent Set to Join the "Christmas Spectacular Starring the Radio City Rockettes - At Home Holiday Special"
NBC News' "Today" co-anchors Savannah Guthrie and Hoda Kotb will host the joyous event.


[11/25/20 - 09:00 AM]
More Performers Announced for the One-Hour Concert Special "Play On: Celebrating The Power of Music to Make Change," on a New Date and Time, Tuesday, Dec. 15
The one-hour special was previously scheduled for Saturday, December 5 at 9:00/8:00c.


[11/25/20 - 08:12 AM]
Tuesday's Broadcast Ratings: "The Bachelorette" Keeps ABC on Top in Demos
The Alphabet takes home the adults 18-49 crown while CBS leads the night in total viewers.


[11/25/20 - 08:00 AM]
HBO Max Highlights - December 2020
Newly announced premieres include "House of Ho" on December 10 and "Homeschool Musical Class of 2020" on December 17.


[11/25/20 - 06:33 AM]
FOX College Hoops Tips Off 2020-21 Season with Thanksgiving Week Feast
Gus Johnson, the most exciting voice in sports, returns as the network's lead play-by-play announcer, with former All-American and NBA veteran Jim Jackson and Emmy Award-winning broadcaster Bill Raftery serving as FOX Sports' lead game analysts.


[11/25/20 - 05:32 AM]
Successful Duo Brings New Danish Series "Chosen" to Netflix
"Chosen" is a coming-of-age sci-fi story about a young girl whose reality is suddenly turned upside down when everything she thought she knew turns out to be wrong, and she realises that the world is not as safe and blissful as she thought.


[11/24/20 - 11:25 PM]
Development Update: Tuesday, November 24
Updates include: Netflix renews "Izzy's Koala World"; Pop cancels "One Day at a Time"; and Amber Riley to star in NBC's "Dream."


[11/24/20 - 12:07 PM]
Lifetime Announces Movie and Documentary Events for Winter 2021
Highlights include two all-new authorized biopics of Salt-N-Pepa and Wendy Williams.


[11/24/20 - 12:00 PM]
CW Seed and "Entertainment Tonight" Reunite the Cast of 90210 for All-New Special
The reunion show will be available to stream on CW Seed, The CW's streaming-only network, free and without subscription or log-in beginning tomorrow, Wednesday, November 25.


[11/24/20 - 11:33 AM]
Bundle Up with New Holiday Specials of Kids and Family Favorites "Looney Tunes Cartoons," "Esme & Roy," and "Sesame Street"
"Bugs Bunny's 24-Carrot Holiday Special" will kick things off on Thursday, December 3.