[03/09/17 - 08:28 AM]
Netflix Debuts Key Art for "Ingobernable" Starring Kate del Castillo
The 15 episode thriller tells the story of a Mexican Presidential family whose lives change in a matter of seconds.
---
[via press release from Netflix]
Netflix debuts key art for "Ingobernable" Starring Kate del Castillo
On March 24, 2017, Netflix will launch the first season of the highly-anticipated Mexican original series, Ingobernable, starring Kate del Castillo. The 15 episode thriller tells the story of a Mexican Presidential family whose lives change in a matter of seconds.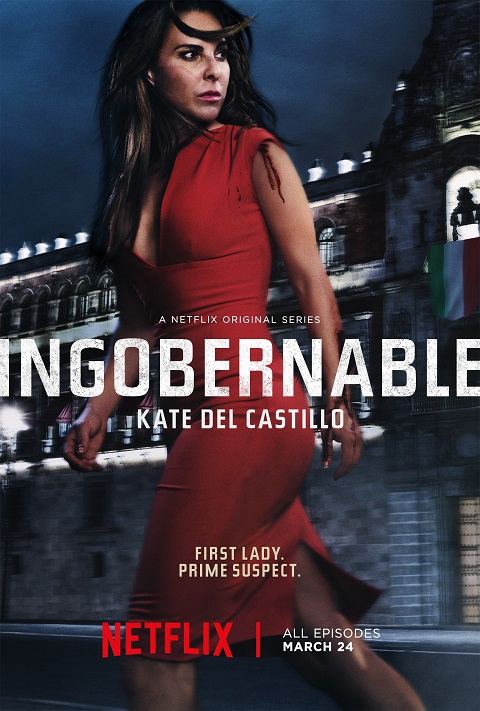 Del Castillo (Emilia Urquiza) and Erik Hayser (Diego Nava) portray the First Lady and President of Mexico. Emilia Urquiza is the First Lady of Mexico with big plans to improve conditions for the country through her commitment to fighting for peace. As Emilia starts to lose faith in her husband, she finds herself at a crossroads where she will need to find a way to deal with a great challenge and uncover the truth. Emilia is a woman with a strong personality, conviction and clear ideas that make her capable of doing anything: making a president, leaving a president and killing a president.
Ingobernable is produced by Argos and created by Epigmenio Ibarra, Veronica Velasco and Natasha Ybarra-Klor. The series is directed by Pedro Pablo Ibarra "Pitipol" and Jose Luis Garcia Agraz.




[04/28/17 - 02:00 PM]
Video: Watch a Behind-the-Scenes First Look at FOX's New Dating Show, "Love Connection," Hosted by Andy Cohen
The unscripted series will now premiere at 9:00/8:00c on Thursday, May 25 following "Beat Shazam."


[04/28/17 - 12:39 PM]
"The President Show" Inaugural Episode Draws Huge Crowd Topping Trump's Actual Inauguration
Comedy Central spins the numbers for Thursday, April 27.


[04/28/17 - 11:25 AM]
WE tv's New Series "Growing Up Hip Hop Atlanta" Premieres Thursday, May 25 at 10pm ET/CT
"Growing Up Hip Hop Atlanta" features a tight-knit crew of friends who reveal the perks and perils of being born into Hip Hop royalty.


[04/28/17 - 10:43 AM]
Netflix Unveils "FYSee" - A Month-Long Celebration Highlighting the Best of Netflix Series
For the first time, Netflix's FYSee will feature a full month of programming designed to connect industry with the shows, creators and talent they love in wholly new and unusual ways.


[04/28/17 - 10:02 AM]
Paramount Television and Anonymous Content Option Rights to Anne Rice's Best-Selling Series, "The Vampire Chronicles"
Christopher Rice, four-time New York Times Bestselling(R) author and recipient of the Lambda Literary Award, will pen the series and serve as executive producer alongside Anne Rice, and Anonymous Content's David Kanter and Steve Golin.


[04/28/17 - 10:02 AM]
"Star Trek: Discovery" Adds to Its Ranks
Shazad Latif, Rekha Sharma, Kenneth Mitchell, Clare McConnell and Damon Runyan are among the latest additions.


[04/28/17 - 09:55 AM]
British Comedic Legend Tommy Maitland Has Been Announced to Host ABC's Irreverent Talent Competition Show "The Gong Show"
A revolving panel of judges featuring Hollywood's hottest stars praise, critique and gong contestants in one of TV's all-time great variety shows.


[04/28/17 - 09:47 AM]
Showtime(R) Sets Summer Premiere Dates for Hit Series "Ray Donovan" and "Episodes"
Look for the new seasons on August 6 and August 20, respectively, with "Twin Peaks" moving to the 8:00/7:00c slot on August 6.


[04/28/17 - 09:40 AM]
Her Story Continues - "Z: The Beginning of Everything" Is Returning for a Second Season
The streaming service formally announced said renewal this morning.


[04/28/17 - 08:30 AM]
Thursday's Broadcast Ratings: ABC Inches Past CBS Among Adults 18-49
The Alphabet wins the night in demos while the Eye is the most-watched broadcaster.


[04/28/17 - 07:56 AM]
ESPN's Round 1 NFL Draft Telecast Delivers 4.8 Overnight Rating
ESPN spins the numbers for Thursday, April 27.


[04/28/17 - 07:32 AM]
Universal Pictures' "Fast & Furious" Franchise to Receive Generation Award at the "2017 MTV Movie & TV Awards"
"We are thrilled to celebrate the 'Fast & Furious' franchise and its global contribution to pop culture," said Amy Doyle, General Manager, MTV, VH1 and Logo.


[04/28/17 - 06:00 AM]
"Ellen"'s Coming-Out Episode, "The Puppy Episode: Parts 1 and 2," Streaming Now on the ABC App
This Sunday, April 30, is the 20th anniversary of the historic coming-out episode of the "Ellen" sitcom on ABC.


[04/27/17 - 03:01 PM]
BET Networks Says YES to Comedy Superstars and Music Legends with Original New Scripted, Late Night and Mini-Series
VH1 imports "Hit the Floor" and "The Breaks" will join fellow returning drama "The Quad."


[04/27/17 - 02:03 PM]
SundanceTV Renews Original Non-Fiction Series "Close Up with The Hollywood Reporter"
The upcoming season will be divided into two parts: the first featuring candid roundtable discussions with notables from the television community, and the second, focusing on some of the most talented actors, actresses, directors, writers and producers from the film industry.