[03/30/17 - 10:12 AM]
"The Ranch: Part 3" Announces Premiere Date/First Look Photos
Look for another 10 episodes beginning Friday, June 16 on Netflix.
---
[via press release from Netflix]
"The Ranch: Part 3" Announces Premiere Date/First Look Photos
Break out the good beer! Today Netflix announced the premiere date for The Ranch: Part 3, with first look photos from the 10-episode season debuting June 16th, only on Netflix.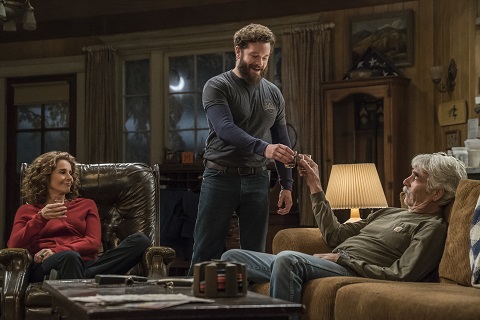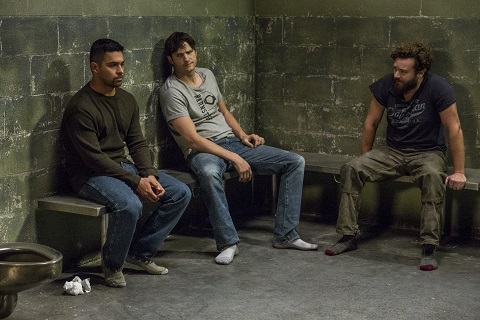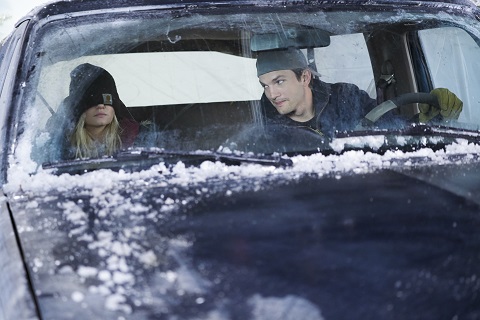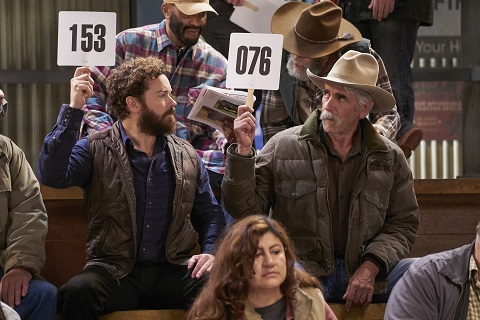 Set in present day on a Colorado ranch, this multi-camera family comedy features returning stars: Ashton Kutcher, Danny Masterson, Sam Elliott and Debra Winger. The show follows Colt's (Kutcher) return home after a brief and failed semi- pro football career to run the family ranching business with his older brother Jameson "Rooster" (Masterson) and father Beau (Elliott), whom he hasn't seen in 15 years. Winger stars as Colt's and Jimmy's mother, Maggie, who runs the local town bar. The series also features Elisha Cuthbert (Abby), and fellow That 70's Show alum Wilmer Valderrama (Umberto).
The Ranch: Part 3 picks up where we left off in winter of last year: Colt is forced to face the new reality of his complicated love triangle with Abby and Heather; Rooster settles into relationship life with Mary after bitterly moving off the ranch; and Maggie and Beau navigate life as divorced friends. Parts 1 and 2 of the series debuted last year on Netflix.
The Ranch is written and executive produced by Jim Patterson and Don Reo (Two and a Half Men).




[06/23/17 - 10:01 AM]
ABC Sends "Still Star-Crossed" to Saturdays; Various Repeats to Fill Monday Slot
Look for "Celebrity Family Feud" this Monday, June 26 and "Battle of the Network Stars" on Monday, July 3.


[06/23/17 - 08:17 AM]
Thursday's Broadcast Ratings: FOX Edges Demo Win Over ABC, NBC Summer Launches
The Alphabet and the Peacock fall just short of FOX's game show duo.


[06/23/17 - 08:03 AM]
Video: Have You Met the Incredible Jessica James? Get Your Chance July 28!
Jessica Williams stars in the latest Netflix original film.


[06/23/17 - 07:42 AM]
ESPN's NBA Draft Ratings Up 13 Percent
ESPN spins the numbers for Thursday, June 22.


[06/23/17 - 07:32 AM]
"Vice Special Report: A World in Disarray," Examining the Past, Present and Future of American Foreign Policy, Debuts July 21, Exclusively on HBO
The exclusive HBO presentation features interviews with Condoleezza Rice, Tony Blair, Samantha Power, Ash Carter and others.


[06/23/17 - 07:27 AM]
Lifetime Moves Up "A Midsummer's Nightmare" Pilot Premiere to Friday, July 14
Said offering was previously scheduled for Friday, July 28.


[06/23/17 - 07:01 AM]
Conan O'Brien Returns to Comic-Con(R) International with All New Pop! Vinyl Figures from TBS and Funko
During the week of Comic-Con(R) International, "Conan" will be taped at San Diego's historic Spreckels Theatre on Wednesday, July 19 - Saturday, July 22.


[06/22/17 - 02:31 PM]
Sharon Leal Joins the Cast of New Drama Series "Instinct"
Leal will portray a friend of Lizzie's (Bojana Novakovic) who has recently been promoted to be their boss in the NYPD.


[06/22/17 - 01:43 PM]
TV Land's "Younger" Simulcasts Coast-to-Coast on June 28th and Launches Live Digital Aftershow
"Getting Younger," hosted by Taylor Strecker, will continue the enthusiastic fan conversation that occurs on social media every week and encourage viewers to submit questions and interact with other superfans and stars alike.


[06/22/17 - 01:23 PM]
HBO Partners with TRAP Karaoke to Promote "Insecure" and "Ballers"
Fans in Cincinnati, Charlotte and Houston will join cast members from both series for an advance double feature screening of the shows' season premieres.


[06/22/17 - 11:45 AM]
Hannah Hart Hits the Road for a Tasty Cross-Country Trip in New Food Network Series "I Hart Food"
The six-episode series launches Monday, August 14 at 10:00/9:00c on the cable channel.


[06/22/17 - 11:06 AM]
Spike Announces New Docuseries "Gone: The Forgotten Women of Ohio," Premiering July 22 at 9pm ET/PT
The series is the tragic saga of these young women shrouded in a mystery that includes a dark underbelly of a struggling Midwest region plagued by drug and sex trafficking, and a system that seems to have failed to protect these women.


[06/22/17 - 11:00 AM]
FOX Announces Fall Premiere Dates for the 2017-2018 Season
Newcomer "The Orville" will kick things off with two special post-NFL airings on Sunday, September 10 and 17.


[06/22/17 - 10:57 AM]
TV One Announces 11th Season of "Unsung" Featuring Wyclef, Jagged Edge and Ice-T Among Others!
TV One's signature series weaves a tale of the highs and lows of a life in the limelight.


[06/22/17 - 10:13 AM]
ID Premieres Timely Special "Black and Blue" on Saturday Against Background of Controversial Decisions Involving Police Shootings
The special will be available on Investigation Discovery's TV Everywhere app, ID GO, beginning Sunday, June 25.