[02/15/18 - 08:03 AM]
Netflix Announces New Original Series "The Innocents" and Confirms Cast in First Teaser Video
The series stars Sorcha Groundsell as June, Percelle Ascott as Harry and Guy Pearce as Halvorson.
---
[via press release from Netflix]
Netflix announces new original series "The Innocents" and confirms cast in first teaser video
Click HERE to check out the announcement video for new Netflix original series The Innocents, launching exclusively on Netflix in 2018.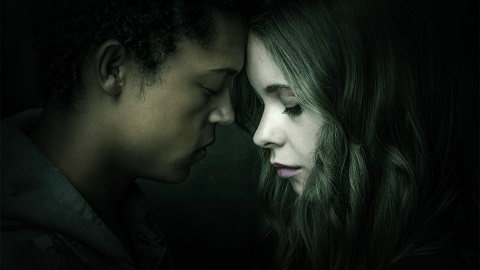 When teenagers Harry and June run away from their repressive family lives to be together, they are thrown into an extraordinary journey of self-discovery that derails their innocent dream. Secrets kept from them by their respective parents test their love to breaking point; and the extraordinary gift they possess unleashes powerful forces intent on dividing them forever.
The series stars Sorcha Groundsell (Clique, Iona, Sleeping Lions) as June, Percelle Ascott (Wizard vs. Aliens, The Weekend Movie) as Harry and Guy Pearce (L.A. Confidential, Memento, The King's Speech) as Halvorson.
The Innocents is produced by UK-based New Pictures, led by Charlie Pattinson, Elaine Pyke and Willow Grylls. The series is created by Hania Elkington and Simon Duric. Chris Croucher serves as producer. Farren Blackburn is executive producer of the series (alongside Charlie Pattinson, Elaine Pyke and Willow Grylls) and director of 6 of the 8 episodes.
For more information in the coming months please visit www.netflix.com/theinnocents




[03/21/18 - 03:35 PM]
Hallmark Channel Announces Season Two of "Meet the Peetes"
"Viewers have welcomed the Peete family into their homes and have fallen in love with their heartfelt and touching narratives that families everywhere can relate to," said Michelle Vicary.


[03/21/18 - 03:34 PM]
Hallmark Expands Pet Adoption Initiative, Adoption Ever After, with New, Original Special "Cat Bowl"
"Cat Bowl" will feature adult cats and seniors playing a feline Hall of Fame game, Saturday, February 2, 2019.


[03/21/18 - 03:33 PM]
Hallmark Channel to Launch First Ever Interactive "Home & Family" Dream Holiday Home Contest
The contest offers the chance for one lucky viewer to win a holiday-themed home redecoration that will turn heads and be the envy of decorators across the country.


[03/21/18 - 03:32 PM]
Hallmark Channel Announces Season Six of "When Calls the Heart"
Currently in its fifth season, "When Calls the Heart's" ratings momentum has carried over from season four.


[03/21/18 - 03:31 PM]
Hallmark Movies & Mysteries Adds Three All-New, Original Movie Franchises to Lineup
"The Chronicle Mysteries" will join the previously announced "Picture Perfect" and "Crossword Mysteries."


[03/21/18 - 12:56 PM]
Jay Ali Joins the Cast for Season Three of the Netflix Original Series, "Marvel's Daredevil"
He will portray Rahul "Ray" Nadeem, an honest, but ambitious FBI agent willing to go to any length for his family.


[03/21/18 - 12:15 PM]
An All-New Supersized "Jay Leno's Garage" Premieres Thursday, April 19 at 10PM ET/PT
Celebrity guests this season include Jamie Foxx, Billy Crystal, Terry Crews, Tyler Perry, Mitt Romney, Trevor Noah, James Taylor, "Weird Al" Yankovic, Martha Reeves, Guy Fieri, Chris Hardwick, and more.


[03/21/18 - 11:02 AM]
Video: First-Look and New Promo Available from NBC's "Jesus Christ Superstar Live in Concert"
The production will air live Easter Sunday, April 1 at 8:00/7:00c in front of a large audience at the Marcy Armory in Williamsburg, Brooklyn.


[03/21/18 - 10:53 AM]
Video: Go Inside FX's "Legion" with 360 Video Experience
The video culminates with an exclusive look at the first two and half minutes of the Season 2 premiere.


[03/21/18 - 10:36 AM]
TV Land's Hit Series "Younger" Returns for Season Five on Tuesday, June 5 at 10PM ET/PT
This season, series star Miriam Shor will make her television directorial debut with an episode to air in July.


[03/21/18 - 10:30 AM]
"Queen Sugar" Season Three Debuts with Two-Night Premiere Event Tuesday, May 29 and Wednesday, May 30 on OWN
Continuing a creative initiative established in the show's first season, series creator/executive producer Ava DuVernay has once again assembled an all-female directing team for the third consecutive season.


[03/21/18 - 10:00 AM]
USA Network Unveils Spring Schedule
Newly announced return dates include "Colony" (Wednesday, May 2), "Queen of the South" (Thursday, June 21) and "Shooter" (also Thursday, June 21).


[03/21/18 - 09:30 AM]
NFL Expanding Coverage of the 2018 NFL Draft to Include Two Broadcast and Four Cable Television Networks
NFL Network and FOX will team up to simulcast live coverage of Rounds 1-3 of the 2018 NFL Draft.


[03/21/18 - 09:15 AM]
Viceland Lights Up Its Second Annual "Weed Week"
To mark the occasion, the network adds a healthy dose of smoke to its air with sneak previews of new seasons of two of its most popular shows.


[03/21/18 - 09:00 AM]
Video: Trailer for Netflix Film "Come Sunday" - Starring Chiwetel Ejiofor
Martin Sheen, Jason Segel, Condola Rashad, Lakeith Stanfield and Danny Glover also star in the Joshua Marston film.