[07/23/18 - 07:01 AM]
"The After Party" - A Netflix Film - Launches Globally on Netflix on August 24, 2018
The cast includes Kyle Harvey, Harrison Holzer, Shelley Hennig, Teyana Taylor, Jordan Rock, Amin Joseph, Andy Buckley and Blair Underwood.
---
[via press release from Netflix]
THE AFTER PARTY A NETFLIX FILM Launches Globally on Netflix on August 24, 2018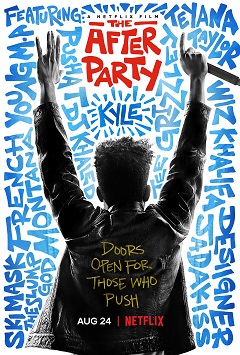 Synopsis
When an aspiring rapper goes viral for all the wrong reasons, he thinks his career is over. But when his best friend gets them into a wild NYC after party, he gets one more chance to make the impossible happen.
About The After Party
The After Party is directed and written by Ian Edelman, with Q, Jamie Patricof, Katie McNeill, Douglas Banker, Trevor Engelson, Jake Stein and Heather Parry serving as producers. The cast includes Kyle Harvey, Harrison Holzer, Shelley Hennig, Teyana Taylor, Jordan Rock, Amin Joseph, Andy Buckley and Blair Underwood.
The After Party also features cameos from Wiz Khalifa, French Montana, DJ Khaled, Ski Mask the Slump God, Desiigner, Pusha T, Jadakiss, Tee Grizzley, Young M.A, and more.
Visit netflix.com/theafterparty




[03/18/19 - 10:14 AM]
With New Lives Come New Struggles When "The Real Housewives of Potomac" Returns on Sunday, May 5 at 9PM ET/PT
The new season features Gizelle Bryant, Karen Huger, Ashley Darby, Robyn Dixon, Monique Samuels, and Candiace Dillard Bassett.


[03/18/19 - 09:39 AM]
New CNN Original Series, "Chasing Life with Dr. Sanjay Gupta," Premieres Saturday, April 13
The six-part docuseries takes Gupta to Japan, India, Bolivia, Norway, Italy and Turkey to explore the unusual traditions and modern practices that constitute a healthy and meaningful life.


[03/18/19 - 09:31 AM]
Disney Channel Fan Fest Returns to Disneyland Resort on Saturday, April 27
Fan Fest main stage events and the cavalcade will be live-streamed in DisneyNOW and Disney Channel Facebook.


[03/18/19 - 09:01 AM]
The Jim Henson Company's Hit Sci-Fi Series "Farscape" Comes to Amazon Prime Video on Tuesday, March 19th
All four seasons in HD, plus the Emmy(R)-nominated mini-series finale - also newly remastered in HD - will be available.


[03/18/19 - 09:01 AM]
ABC Reveals "American Idol" Live Show Rollout and Announces Momentous Coast-to-Coast Simul-Vote
Viewers at home will yet again be able to help determine the fate of this season's "Idol" hopefuls via the coast-to-coast simul-vote.


[03/18/19 - 08:17 AM]
Sunday's Broadcast Ratings: "American Idol" Powers ABC to Demo Victory
The Alphabet claims top adults 18-49 honors while CBS is the most-watched broadcaster.


[03/18/19 - 07:30 AM]
Video: The Witch Is Back - The "Chilling Adventures of Sabrina" Part 2 Trailer Is Here
The series re-imagines the origin and adventures of Sabrina the Teenage Witch as a dark coming-of-age story that traffics in horror, the occult and, of course, witchcraft.


[03/18/19 - 05:35 AM]
ABC's "Good Morning America" Co-Anchor Robin Roberts to Host The ABC Television Network's First-Ever Coverage of the NFL Draft, Live, April 25 from Nashville
Roberts will host the prime-time broadcast of Round 1, joined on a separate set by co-host Rece Davis and the crew from "College GameDay Built by The Home Depot."


[03/17/19 - 08:41 AM]
Saturday's Broadcast Ratings: ABC, NBC Share Demo Honors
"NBA Saturday Primetime on ABC" helps the Alphabet split the adults 18-49 crown.


[03/16/19 - 08:31 AM]
Friday's Broadcast Ratings: CBS Tops Viewers, Shares Demo Honors with ABC
The Eye's mainstay "Blue Bloods" is the night's most-watched program.


[03/15/19 - 11:17 PM]
Development Update: Friday, March 15
Updates include: Neil deGrasse Tyson's "Cosmos," "StarTalk" to return to FOX, National Geographic; Ben Lawson set as new lead on ABC's "Nana"; and Hunter Parrish to star in The CW's "Jane the Novela."


[03/15/19 - 03:19 PM]
Starz Grants Wish for Third Season of "American Gods"
The pay channel broke the news via social media this afternoon.


[03/15/19 - 11:32 AM]
Video: Showtime(R) Releases the Official Trailer and Key Art for "Action"
Directed by Luke Korem, the four-part series explores the legalization of sports gambling and its evolving impact on the industry following the landmark 2018 Supreme Court decision to lift a ban on sports betting.


[03/15/19 - 11:24 AM]
The Hollywood Foreign Press Association, dick clark productions and NBC Will Bring the 77th Annual Golden Globe(R) Awards Live Coast to Coast on January 5, 2020
Produced by dcp in association with the HFPA, the Golden Globe Awards are viewed in more than 220 countries and territories worldwide and are one of the few awards ceremonies to include both motion picture and television achievements.


[03/15/19 - 09:02 AM]
Video: "The Legend of Cocaine Island" - Official Trailer - Netflix
The documentary premieres Friday, March 29 on the streaming service.