[07/31/18 - 07:02 AM]
Key Art Debut - "Apostle," The New Netflix Film from Gareth Evans, Director of "The Raid"
Dan Stevens, Lucy Boynton, Mark Lewis Jones, Bill Milner, Kristine Froseth, Paul Higgins and Michael Sheen star in the film, due on October 12.
---
[via press release from Netflix]
APOSTLE
A NETFLIX FILM
Premieres Globally on Netflix on October 12, 2018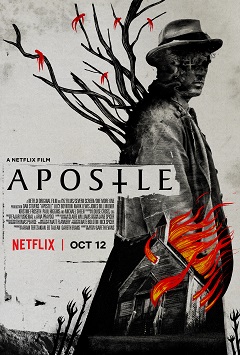 WRITTEN AND DIRECTED BY | Gareth Evans
CAST | Dan Stevens, Lucy Boynton, Mark Lewis Jones, Bill Milner, Kristine Froseth, Paul Higgins and Michael Sheen
PRODUCERS | Aram Tertzakian, Ed Talfan
SYNOPSIS | London, 1905. Prodigal son Thomas Richardson (Dan Stevens) has returned home, only to learn that his sister is being held for ransom by a religious cult. Determined to get her back at any cost, Thomas travels to the idyllic island where the cult lives under the leadership of the charismatic Prophet Malcolm (Michael Sheen). As Thomas infiltrates the island's community, he learns that the corruption of mainland society that they claim to reject has infested the cult's ranks nonetheless - and uncovers a secret far more evil than he could have imagined. Written and directed by Gareth Evans (THE RAID), APOSTLE is a harrowing occult fable where the only thing more horrifying than madness is the sinister reality behind it.
Visit netflix.com/apostle




[12/11/18 - 03:01 PM]
Ted Bundy Is the Subject of Netflix's Next Documentary Series
"Conversations with a Killer: The Ted Bundy Tapes," from director Joe Berlinger, premieres January 24.


[12/11/18 - 01:00 PM]
Monday's Broadcast Ratings: NBC, "The Voice" Top Viewers, Demos
The Peacock narrowly holds off CBS in both categories.


[12/11/18 - 12:29 PM]
Official First Look: Hulu Original "Shrill"
Aidy Bryant, Lolly Adefope, Luka Jones, Ian Owens and John Cameron Mitchell star in the series, due on Friday, March 15.


[12/11/18 - 12:21 PM]
Brenda Song, Mike Vogel & Dennis Haysbert Star in Netflix's "Secret Obsession"
The film follows a young woman who suffers amnesia after a violent attack, but when her memories start coming back, she no longer knows who to trust.


[12/11/18 - 12:08 PM]
Video: In 10 Days the Journey Begins - A New "Bird Box" Trailer Has Just Debuted!
The film will be released globally on Netflix on December 21 and will have an expanded theatrical release in additional theaters in the U.S., and throughout Europe.


[12/11/18 - 12:05 PM]
The ABC Television Network Picks Up "Bless This Mess," New Single-Camera Comedy Starring Lake Bell and Dax Shepard, to Series
The project was originally shot as a pilot for FOX earlier this year.


[12/11/18 - 12:01 PM]
truTV's Emmy(R)-Nominated Comedy "At Home with Amy Sedaris" Returns for Season 2 on Tuesday, February 19
Guest stars include Matthew Broderick, Justin Theroux, Susan Sarandon, Fred Armisen, Rose Byrne and more.


[12/11/18 - 11:17 AM]
EPIX(R) Dark Comedy "Get Shorty," From MGM Television, Renewed for Season Three with Premiere Slated for 2019
In season three, Miles (Chris O'Dowd) embraces more ruthless methods as he settles scores and attempts to climb the Hollywood ladder.


[12/11/18 - 11:12 AM]
Video: "Struggle: The Life and Lost Art of Szukalski" - Netflix Trailer Debut
The Leonardo DiCaprio-produced documentary launches Friday, December 21.


[12/11/18 - 10:55 AM]
Whitney Thore Questions Career and Life Choices on a New Season of TLC's "My Big Fat Fabulous Life"
Thore isn't holding anything back for the fifth season, premiering Tuesday, January 1 at 8:00/7:00c.


[12/11/18 - 10:30 AM]
Discovery Family Introduces Young Viewers to a New Generation of Heroes in "Transformers: Rescue Bots Academy" Beginning Saturday, January 5
Additionally, beginning Saturday, December 29, viewers can catch a special two-part pre-premiere on Discovery Family GO.


[12/11/18 - 10:01 AM]
Bidi Bidi Bom Bom! Selena's Incredible Life Story Is Coming to Netflix as a Scripted Series!
"Selena: The Series" was developed alongside, and will be executive produced by, The Quintanilla family.


[12/11/18 - 09:50 AM]
Smithsonian Channel(TM) Investigates the Everyday Threat of Disastrous Bird Strikes in "Bird vs. Plane: Miracle on the Hudson"
The special premieres Tuesday, January 15 at 9:00/8:00c on Smithsonian Channel.


[12/11/18 - 07:03 AM]
Video: "Siempre Bruja: Always a Witch" - Date Announcement - Netflix
The series, due on February 1, will follow 18 year old Carmen, a Colombian slave and witch from the 17th century who, in a desperate attempt to save her loved one, travels in time to present day Cartagena.


[12/11/18 - 07:01 AM]
Michaela Coel and John Goodman Star in "Black Earth Rising," An Intricate Thriller from the Creator of "The Honourable Woman"
All eight episodes of the gripping political thriller premiere January 25 on Netflix.