[11/02/18 - 06:00 AM]
Find Out Who You Are and Do It on Purpose - "Dumplin'" Key Art Debut
Danielle MacDonald and Jennifer Aniston star in the Netflix film, from director Anne Fletcher.
---
[via press release from Netflix]
DUMPLIN'
A NETFLIX FILM
Launching in select theaters and on Netflix on December 7, 2018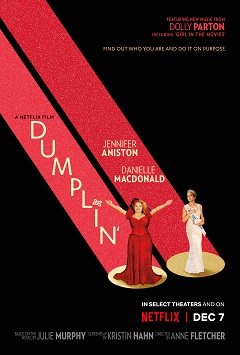 netflix.com/dumplin
Dumplin' Original Motion Picture Soundtrack is now available for pre-order which will instantly include Dolly Parton's "Girl In The Movies" and her previously-released collaboration with Sia, "Here I Am." The Dumplin' Original Motion Picture Soundtrack will release on November 30.
Synopsis
Dumplin' (Danielle Macdonald) is the plus-size, teenage daughter of a former beauty queen (Jennifer Aniston), who signs up for her mom's pageant as a protest that escalates when other contestants follow her footsteps, revolutionizing the pageant and their small Texas town.
About Dumplin'
Directed by Anne Fletcher (The Proposal, 27 Dresses), Dumplin' stars Danielle MacDonald (Bird Box, Patti Cake$), Jennifer Aniston (Upcoming Murder Mystery, Horrible Bosses, Marley and Me), Odeya Rush (Lady Bird, Goosebumps), Dove Cameron (Agents of S.H.I.E.L.D., Liv and Maddie, Descendants), Harold Perrineau (Claws, Lost). Dumplin' is an adapted screenplay by Kristin Hahn based on Julie Murphy's #1 New York Times bestselling novel of the same name. A Cota Films and 50 Degrees Entertainment Presentation, Michael Costigan (American Gangster, A Bigger Splash, Brokeback Mountain, Ghost in the Shell), Mohamed AlRafi (Above Suspicion, Lying and Stealing), Kristin Hahn (The Switch, Cake) and Trish Hofmann (Gringo, Get On Up) serve as producers, with Jennifer Aniston and Danny Nozell serving as executive producers.




[10/17/19 - 11:07 AM]
ABC News, in Partnership with ITN Productions and ITV News, Presents Special Prime-Time Documentary "Harry & Meghan: An African Journey," Airing Wednesday, Oct. 23
The world's most talked-about couple - the Duke and Duchess of Sussex - speak exclusively with ITV News at Ten anchor Tom Bradby and candidly address the pressures and challenges they face as a young family living in the glare of the world's media.


[10/17/19 - 10:41 AM]
HBO Max to Premiere Melissa McCarthy Comedy Film "Superintelligence"
Bobby Cannavale, Brian Tyree Henry, Jean Smart and James Corden also star in the film.


[10/17/19 - 10:27 AM]
Smithsonian Channel(TM) Expands Epic in Color Programming
Look for the return of "America in Color" on Sunday, November 17 followed by the debut of "Britain in Color."


[10/17/19 - 10:09 AM]
New HBO Drama Series "The Outsider" Debuts January 12, 2020, Exclusively on HBO
Based on Stephen King's bestselling novel of the same name, the drama series explores the investigation into the gruesome murder of a local boy and the mysterious force surrounding the case.


[10/17/19 - 10:00 AM]
Greg Kinnear Joins CBS All Access' "The Stand" as Glen Bateman
Kinnear joins previously announced cast members James Marsden, Amber Heard, Heather Graham, Odessa Young, Jovan Adepo, Owen Teague, Henry Zaga, Brad William Henke, Eion Bailey, Katherine McNamara, Hamish Linklater, Alexander Skarsgård and Whoopi Goldberg.


[10/17/19 - 09:33 AM]
CBS Announces Contract Extension with Stephen Colbert
Colbert, who was originally signed through August 2020, will now be locked in through August 2023.


[10/17/19 - 09:31 AM]
HBO Max Acquires US Streaming Rights to Studio Ghibli Films
Available at launch of the service will be the Academy Award(R)-winning Spirited Away, My Neighbor Totoro, Princess Mononoke, Howl's Moving Castle, Kiki's Delivery Service, Ponyo, Castle in the Sky, The Tale of The Princess Kaguya and more.


[10/17/19 - 09:06 AM]
Award-Winning "The SpongeBob Musical: Live on Stage!" to Debut on Nickelodeon December 2019
The live television production will capture all-new depths of theatrical innovation where the power of optimism really can save the world.


[10/17/19 - 08:31 AM]
Showtime(R) Documentary Films Announces New Docu-Series "SuperVillain" Profiling Tekashi 6ix9ine
The three-part series will trace how a New York City deli clerk named Daniel Hernandez exploded into Tekashi 6ix9ine, the tattooed face of Gen Z and hip hop's prince of trolls, boasting 2.6 billion streams and 15 hits on the Billboard charts.


[10/17/19 - 08:17 AM]
Video: YouTube Debuts Official Trailer for All-New "Mind Field" Special That Explores the Science of Fear
Michael Stevens asks where fear comes from and uncovers why fear is such a fundamental and important part of being human.


[10/17/19 - 08:13 AM]
Wednesday's Broadcast Ratings: "Chicago" Crossover Puts NBC on Top
The Peacock wins the night in total viewers, shares the adults 18-49 crown with FOX.


[10/17/19 - 07:01 AM]
Quibi Teams Up with E! and Rotten Tomatoes to Create Two Daily Entertainment Shows
As part of the new agreement, two daily shows will be developed and produced in collaboration with the NBCUniversal Digital Lab for Quibi's curated news and information programming, Daily Essentials.


[10/16/19 - 03:41 PM]
Torrey DeVitto, Chad Michael Murray, Lolita Davidovich, Grant Show and Drew Seeley Star in "Write Before Christmas," A New, Original Movie Premiering November 17, on Hallmark Channel
When Jessica (DeVitto) is dumped by her boyfriend right before Christmas, she sends the five cards meant for him to five people who changed her life and somehow sets off a chain reaction of love.


[10/16/19 - 03:40 PM]
HBO Max Bolsters Premium Original Drama Team
"The premium drama bar is set high, and I have no doubt this talented team will deliver and be great creative partners to great creators," said Kevin Reilly.


[10/16/19 - 03:40 PM]
Kristin Chenoweth and Scott Wolf Discover Love at the Holidays in "A Christmas Love Story," A Hallmark Hall of Fame Presentation Premiering December 7, on Hallmark Channel
Youth choir director Katherine Clark (Chenoweth) is preparing her students for their annual Christmas Eve show and discovers a new teen volunteer, Danny (Kevin Quinn), has an incredible voice.