CBS ALL ACCESS' NEW UNSCRIPTED SERIES "THE THOMAS JOHN EXPERIENCE" TO PREMIERE ON THURSDAY, JUNE 4
Featuring The World-Renowned Psychic Medium Thomas John
All Eight Episodes Will Be Available to Binge Exclusively On CBS All Access
Official Trailer and Key Art Also Revealed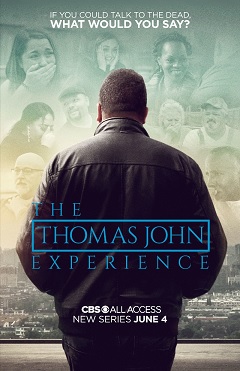 NEW YORK, N.Y. - May 28, 2020 - CBS All Access, CBS' digital subscription video on-demand and live streaming service, today announced that its new unscripted series THE THOMAS JOHN EXPERIENCE, featuring the world-renowned psychic medium, will launch on Thursday, June 4. The eight-episode season will be available to binge, exclusively for CBS All Access subscribers. The series' official trailer and key art was also revealed.
Throughout the season, Thomas journeys across America using his ability to connect unsuspecting everyday people with those on the other side. Whether he's behind the wheel of a rideshare in Chicago or grabbing a bite to eat in Los Angeles, Thomas's powerful readings offer insight and closure, resulting in emotional and heartwarming reunions between the living and the dead.
THE THOMAS JOHN EXPERIENCE is produced by CBS Television Studios and Fulwell 73. Ben Winston, Emma Conway, Sarah Happel Jackson and Zeberiah Newman serve as executive producers, with Meredith Fox as the executive in charge of production.
About CBS All Access:
CBS All Access is CBS' direct-to-consumer digital subscription video on-demand and live streaming service. CBS All Access gives subscribers the ability to watch more than 15,000 episodes on demand - spanning exclusive original series, CBS Television Network's primetime, daytime and late night shows, plus classic TV hits - as well as the ability to stream local CBS stations live across the U.S. CBS All Access' original series include THE GOOD FIGHT, THE TWILIGHT ZONE, TELL ME A STORY, NO ACTIVITY, WHY WOMEN KILL, INTERROGATION and TOONING OUT THE NEWS, as well as the upcoming THE THOMAS JOHN EXPERIENCE, THE STAND, THE MAN WHO FELL TO EARTH and THE HARPER HOUSE. CBS All Access is also the exclusive domestic home to STAR TREK: DISCOVERY, STAR TREK: PICARD and the upcoming animated series STAR TREK: LOWER DECKS. CBS All Access also includes the ability to stream CBS Interactive's other live channels, CBSN for 24/7 news, CBS Sports HQ for sports news and analysis, and ET Live for entertainment coverage.
The service is currently available online at CBS.com, on mobile devices via the CBS app for iOS and Android, and on Roku Players, Apple TV, Chromecast, Android TV, Xbox One, PlayStation 4, Fire TV, Samsung Smart TVs, Vizio Smartcast TVs, LG Smart TVs, Amazon Prime Video Channels and Apple TV channels. Versions of CBS All Access have now launched internationally in Canada and Australia (10 All Access), with unique but similar content and pricing plans. For more details on CBS All Access, please visit https://www.cbs.com/all-access.
About CBS Television Studios:
CBS Television Studios is one of the industry's leading suppliers of programming with more than 70 series currently in production across broadcast and cable networks, streaming services and other emerging platforms. The Studio's expansive portfolio spans a diverse slate of commercially successful and critically acclaimed scripted programming, genre-defining franchises including the ever-growing "Star Trek" universe, award-winning late night and daytime talk shows, and an extensive library of iconic intellectual property.
About Fulwell 73 Productions:
Fulwell 73, is a television and film production company, set up in 2005 by lifelong friends Ben Winston, Leo Pearlman, Ben Turner and Gabe Turner. In March 2017 James Corden joined the company as a fifth full partner.
Fulwell 73's television slate is extensive. They are the producer of multi-Emmy Award-winning, "THE LATE LATE SHOW WITH JAMES CORDEN," which currently has over 8 billion views online. Their other productions include, "Drop the Mic" for TBS, "GAME ON!" for CBS, "Carpool Karaoke: The Series" for Apple, "Sunderland Til' I Die" for Netflix, "Stand Up To Cancer," and "Gavin and Stacey" for BBC1 this Christmas. They were recently unveiled as the producers behind the new "Friends" reunion for HBO Max. Their shows were nominated for 13 Emmy Awards in total last year, with partners Ben Winston and James Corden gaining the most nominations of any individuals.
The company first came to the public's attention in September 2007 with the release of its debut feature In the Hands of the Gods (Lionsgate). The film received great critical acclaim, opened on more screens than any other UK-made documentary and appeared in cinemas around the world. Since then Fulwell's theatrical film releases include: the most successful sports documentary of all time, The Class of 92 (Universal Pictures); the huge box office hits One Direction 3D: This is Us (Sony/Columbia) and I Am Bolt (Universal). They were also behind the recent documentary feature on Showtime "Hitsville: The Making of Motown" and are currently in production on "Cinderella" for Sony Pictures.
Fulwell 73 prides itself in making shows with some of the top music and sports talent in the world, making broadcast specials for artists, including Bruno Mars, Harry Styles, Sam Smith, Shawn Mendes, Kacey Musgraves. They recently produced the live Global Citizens event from South Africa to honor Mandela's 100th birthday, with artists including Beyoncé, Jay Z and Oprah.