[05/28/20 - 10:04 AM]
HBO Max Reveals "Doom Patrol" Season Two Key Art
Season two premieres Thursday, June 25 on HBO Max and DC Universe.
---
[via press release from WarnerMedia]
HBO Max Reveals "Doom Patrol" Season Two Key Art
HBO Max's Key Art for season two of the fan-favorite, critically acclaimed DC UNIVERSE series Doom Patrol has been revealed. Doom Patrol season one is currently available to stream in its entirety on HBO Max and DC UNIVERSE. Season two premieres Thursday, June 25 on HBO Max and DC UNIVERSE.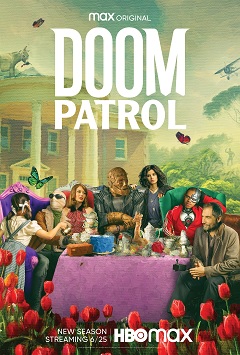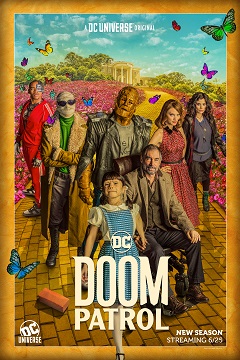 About Doom Patrol Season Two:
DC's strangest group of heroes - Cliff Steele aka Robotman (Brendan Fraser), Larry Trainor aka Negative Man (Matt Bomer), Rita Farr aka Elasti-Woman (April Bowlby), Jane aka Crazy Jane (Diane Guerrero), and Victor Stone aka Cyborg (Joivan Wade) - are back again to save the world. That is, if they can find a way to grow up... both figuratively and literally. Following the defeat of Mr. Nobody, the members of the Doom Patrol now find themselves mini-sized and stranded on Cliff's toy race car track. Here they begin to deal with their feelings of betrayal by Niles Caulder aka The Chief (Timothy Dalton), while confronting their own personal baggage. And as each member faces the challenge of growing beyond their own past traumatic experiences, they must come together to embrace and protect the newest member of the family: Dorothy Spinner (Abigail Shapiro), Niles' daughter, whose powers remain a mysterious but real threat to bringing on the end of the world.
Doom Patrol is produced by Berlanti Productions in association with Warner Bros. Television with Jeremy Carver, Geoff Johns, Greg Berlanti, Sarah Schechter and Chris Dingess serving as executive producers. With episodes debuting simultaneously on DC UNIVERSE, the series is based on characters created for DC by Arnold Drake, Bob Haney and Bruno Premiani.




[07/02/20 - 09:11 AM]
MTV Studios Re-Unites with Academy Award(R) Winners Phil Lord and Chris Miller to Re-Imagine "Clone High" with Emmy(R)-Nominated Co-Creator Bill Lawrence
Together with MTV and Erica Rivinoja, the trio will reunite to develop and produce new episodes of the animated series, which was widely regarded as a time capsule of the early 2000s with its loving satire and wry parody of emo culture.


[07/02/20 - 09:11 AM]
Hulu Renews "The Great" for a Second Season
The satirical, comedic drama is about the rise of Catherine the Great from outsider to the longest-reigning female ruler in Russia's history.


[07/02/20 - 08:47 AM]
"Conan" to Move Production to Historic Los Angeles Comedy & Music Venue Largo at the Coronet Beginning Monday, July 6
O'Brien will continue interviewing guests via Zoom, without an audience, and will only have a limited staff and crew on site, following government and industry health and safety protocols.


[07/02/20 - 08:38 AM]
Wednesday's Broadcast Ratings: NBC Repeats Top Viewers; Share Demo Crown
CBS and FOX split the adults 18-49 honors with the network last night.


[07/02/20 - 08:09 AM]
Quirky, Spooky and Hilarious World of "DeadEndia" Comes to Netflix in a New Animated Series
The series follows the adventures of Barney, Norma and magical-talking-dog Pugsley, as they balance their summer jobs at the local theme park haunted house while battling the totally real supernatural forces that dwell within it.


[07/02/20 - 07:05 AM]
Oxygen's "License to Kill" Hosted by Dr. Terry Dubrow Returns for Season Two on Saturday, August 8 at 6PM ET/PT
Each one-hour episode is told from the perspective of victims, families, colleagues, and law enforcement, and exposes what happens when the hands that should heal are used to cause harm on vulnerable patients seeking medical attention.


[07/02/20 - 01:02 AM]
Netflix Confirms Casting for Korean High School Zombie Series, "All of Us Are Dead"
The series follows a group of students trapped in a high school who find themselves in dire situations as they seek to be rescued from a zombie invasion of their school.


[07/02/20 - 01:01 AM]
Lesley Manville to Play Princess Margaret in the Fifth Season of "The Crown"
Netflix revealed the news on social media this morning.


[07/02/20 - 12:46 AM]
Netflix Announces Production of Korean Original Series "D.P.," Adapting from Popular Webtoon
D.P. stands for "Deserter Pursuit," a unit within the Army's Military Police that chases down AWOL soldiers.


[07/01/20 - 01:01 PM]
"Never Have I Ever" Renewed by Netflix for Season 2
The streaming service revealed the news on its social media this afternoon.


[07/01/20 - 12:05 PM]
Science Channel to Celebrate America's Most Impressive Monuments in Premiere Episode of "Unearthed: Seven Wonders" Airing Sunday, July 5
In the first episode, airing over Independence Day weekend, viewers will get an inside look at the incredible engineering behind America's most notable structures including the Washington Monument, Golden Gate Bridge, Empire State Building, Mount Rushmore and others.


[07/01/20 - 12:00 PM]
CBS Program Advisory - "Tough as Nails" Will Now Have a Two-Hour Series Premiere on Wednesday, July 8
The new episode of "Game On!" originally scheduled for July 8 will now air Wednesday, July 15.


[07/01/20 - 11:01 AM]
"The Dick Van Dyke Show - Now in Living Color! A Special Tribute to Carl Reiner," A One-Hour Special Featuring Two Beloved Episodes, to Be Broadcast Friday, July 3
The special features "Coast to Coast Big Mouth," which ranked #8 on TV Guide's list of the "100 Greatest TV Episodes of All-Time," and "October Eve," which Mr. Reiner considered to be one of the series' funniest episodes.


[07/01/20 - 10:35 AM]
FX Networks' Critically Acclaimed Comedies, "Archer" and "What We Do in the Shadows," Coming to San Diego Comic-Con@Home
Each show will stream a virtual panel session featuring series stars and producers.


[07/01/20 - 10:18 AM]
HGTV Greenlights New Series "Rehab Addict Rescue" Starring Fan-Favorite Home Renovator Nicole Curtis
A self-taught home rehabber, real estate expert and designer, Nicole spent eight seasons rebuilding neighborhoods in Detroit and Minneapolis in the DIY Network and HGTV hit series "Rehab Addict."