"AMERICAN BORN CHINESE" GOES STRAIGHT TO SERIES FOR DISNEY+
Kelvin Yu, Melvin Mar, Jake Kasdan & Destin Daniel Cretton Lead Creative Team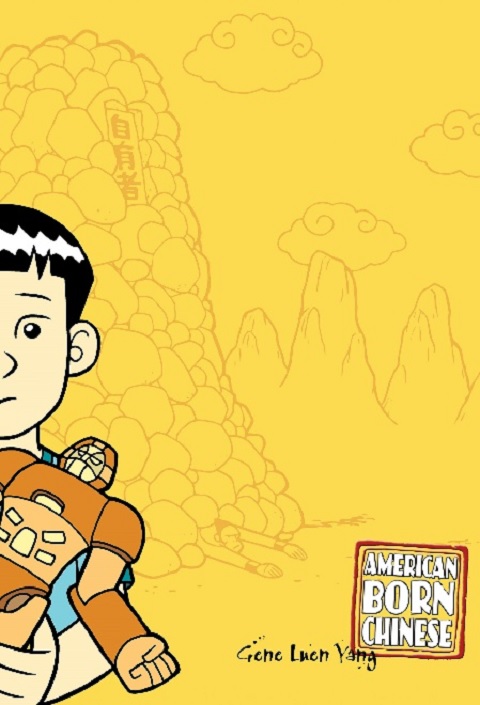 Art by Gene Luen Yang, Color by Lark Pien*
BURBANK, Calif. (Oct. 4, 2021) - Disney+ has greenlit "American Born Chinese," a genre-hopping action-comedy series, based on the graphic novel of the same name by Gene Luen Yang. The Disney Branded Television series is produced by 20th Television.
Destin Daniel Cretton (Marvel's "Shang-Chi and the Legend of the Ten Rings," "Short Term 12") is set to direct and executive-produce.
Written and executive-produced by Emmy(R) Award-winning Kelvin Yu ("Bob's Burgers") and Charles Yu ("Legion," "Westworld"), the series is also executive-produced by Melvin Mar and Jake Kasdan (both of "Doogie Kamealoha, M.D." for Disney+, "Fresh Off the Boat" for ABC, and "Jumanji: Welcome to the Jungle" and "Jumanji: The Next Level" feature films). Asher Goldstein ("Short Term 12," "Just Mercy") and Gene Luen Yang are also executive producers. Kelvin Yu serves as showrunner.
"American Born Chinese" tells the story of Jin Wang, an average teenager juggling his high school social life with his immigrant home life. When he meets a new foreign student on the first day of the school year, even more worlds collide as Jin is unwittingly entangled in a battle of Chinese mythological gods. The show is a genre-hopping action-comedy that explores issues of identity, culture, and family.
"We are delighted to continue our relationship with Melvin Mar and Jake Kasdan and thrilled that Destin Daniel Cretton is set to direct," said Ayo Davis, president, Disney Branded Television. "The team are visionaries in bringing character-driven adventures to life, and we cannot wait for our audience to experience this fantastically memorable and imaginative adaptation of the graphic novel. This is a great universal story that moves between worlds and explores the impact of culture, identity, and acceptance through the lens of adolescence."
Added 20th Television President Karey Burke, "This has been a labor of love for Melvin Mar, and like the force of nature he is, the team he has assembled in Kelvin, Destin and Jake is as inspired and otherworldly as Gene's beautiful graphic novel. We are so proud to be their studio and grateful to Ayo and everyone at Disney Branded Television and Disney+ for their belief in this series."
Commented executive producer and writer Kelvin Yu, "Gene Luen Yang's book is a staple in American literature, and deeply important to a whole generation of readers. Destin and Melvin are storytellers working at the highest level imaginable. It's all so exciting and so humbling to be a part of."
Director and executive producer Destin Daniel Cretton said, "Reading Kelvin's riveting adaptation of Gene's incredible novel had me laughing and crying and jumping out of my chair on every page. I feel deeply connected to the characters in this story and the brilliant team bringing it to life. This show is going to be unlike anything we've experienced on TV, and I can't wait for the world to see what we're cooking up."
Remarked Gene Luen Yang, who created the graphic novel, "I feel so lucky to be working with this team. Melvin Mar is a man with a vision, and I'm deeply grateful that he took this project under his wing. Kelvin Yu is a phenomenal talent. His script brings to television everything I wanted to get across in my book. And Destin Cretton... who in America isn't a fan of Destin Cretton right now? I can't wait for him to bring his signature blend of action and heart to the show. When I was in high school, I was such a big Disney fan that I had at least one Mickey Mouse item on me at all times: a wallet, a watch, a belt buckle, a t-shirt, something. Being a part of Disney+ is a dream come true."
About Disney+
Disney+ is the dedicated streaming home for movies and shows from Disney, Pixar, Marvel, Star Wars, and National Geographic, along with The Simpsons and much more. In select international markets, it also includes the new general entertainment content brand, Star. The flagship direct-to-consumer streaming service from The Walt Disney Company, Disney+ is part of the Disney Media & Entertainment Distribution segment. The service offers commercial-free streaming alongside an ever-growing collection of exclusive originals, including feature-length films, documentaries, live-action and animated series, and short-form content. With unprecedented access to Disney's long history of incredible film and television entertainment, Disney+ is also the exclusive streaming home for the newest releases from The Walt Disney Studios. Disney+ is available as a standalone streaming service or as part of The Disney Bundle that gives subscribers access to Disney+, Hulu, and ESPN+. For more, visit disneyplus.com, or find the Disney+ app on most mobile and connected TV devices.
About Disney Branded Television
Disney Branded Television encompasses the creative storytellers and production and content marketing teams responsible for Disney-branded television series, movies and other programming spanning live-action, animated and unscripted formats. The group fuels the Disney+ streaming platform and Disney Channel, Disney XD and Disney Junior linear networks with content geared toward kids, tweens, teens and families, with stories that are imaginative, aspirational and reflective of their world and experiences. Recent projects include "High School Musical: The Musical: The Series," "Monsters at Work," "The Mysterious Benedict Society" and "Marvel's Spidey and his Amazing Friends." Disney Branded Television has created some of the most iconic and award-winning properties and franchises, including Peabody Award winners "Doc McStuffins" and "The Owl House"; Emmy Award winners "Big City Greens" and "Elena of Avalor"; the beloved "Mickey Mouse" cartoon shorts plus the Disney Channel Original Movie (DCOM) franchise, comprised of more than 100 titles.
About 20th Television:
One of the Disney Television Studios, 20th Television is a prolific supplier of entertainment programming, including the NBC's top series THIS IS US from Dan Fogelman; Nat Geo's critically hailed and No. 1 series GENIUS: ARETHA; Fox's No. 1 drama, 9-1-1 and its spinoff 9-1-1: LONE STAR from Ryan Murphy, Brad Falchuk and Tim Minear, its No. 1 comedy LAST MAN STANDING starring Tim Allen; Hulu's recent hit LOVE, VICTOR from Isaac Aptaker, Elizabeth Berger and Brian Tanen; FX's No. 1 series AMERICAN HORROR STORY from Ryan Murphy and Brad Falchuk and ABC's new hit BIG SKY from David E. Kelley, in addition to dozens of others. 20th Television shows have amassed a collective 1867 Emmy nominations and 214 wins, as well as multiple Golden Globes, Humanitas Prizes and Peabody Awards. The studio's landmark series from its 70-year library include such classics as BATMAN, MODERN FAMILY, M*A*S*H, GLEE, HOW I MET YOUR MOTHER, BONES, EMPIRE, FRESH OFF THE BOAT, 24, BUFFY THE VAMPIRE SLAYER, NEW GIRL and THE X-FILES.