LIFETIME PARTNERS WITH THE ART OF ELYSIUM AND ARTIST COLETTE MILLER FOR SEVEN CITY GLOBAL ANGEL WINGS PROJECT ART INSTALLATION IN CELEBRATION OF "HIGHWAY TO HEAVEN," STARRING JILL SCOTT AND BARRY WATSON PREMIERING NOVEMBER 6
Angel Wings Will Appear in New York City, Los Angeles, Atlanta, Nashville, Chicago, Fort Worth and White Plains from October 18 - November 9
Los Angeles, CA (October 18, 2021) - Lifetime is proud to partner with national arts organization The Art of Elysium and artist Colette Miller for a seven-city interactive installation of Colette's Global Angel Wings Project in celebration of the premiere of Lifetime's new Highway to Heaven movie. The angel wings will inspire people be part of the art installation and become angels on earth themselves. Starring Jill Scott and Barry Watson, Highway to Heaven debuts on November 6th at 8pm ET/PT.
Initially created as interactive street art in Los Angeles 2012, the life-sized angel wings were painted throughout the city to remind humanity that we are the Angels of this Earth, much like Angela (Jill Scott) in Highway to Heaven who is an angel sent to help those in need. Colette has created seven new angel wing designs, and for the first time, they will be printed on oversized vinyl decals and installed in seven cities throughout the country. The wings will be installed beginning October 18 and be on display through November 9th.
The cities and locations where the angel wings will be exhibited are: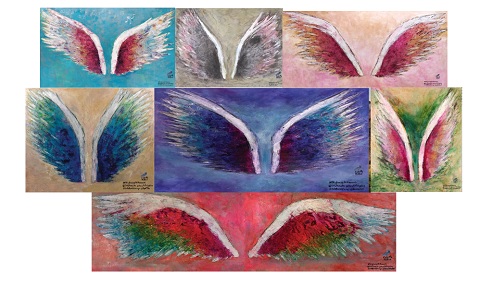 "I am thrilled to partner with Lifetime for this Highway to Heaven collaboration, as my mother is a fan of the original show, and of course The Art of Elysium, an organization that has been doing such wonderful things for artists and people going through a tough time for almost 25 years," said artist, Colette Miller.
"We are honored to be partnering with Lifetime and Colette Miller on this special art installation for Highway to Heaven," said Jennifer Howell, founder, The Art of Elysium. "Colette's angel wings remind each of us that within us we have love, kindness and the ever-present moment to be of service to others. The Art of Elysium's mission strives to remind our artists and those we serve that we can bring heaven to earth through creativity, transcendence and serving those in need. During the past two years, I believe the world has shown us that each of us is in need and we hope this project inspires people to recognize ourselves in others and work together to pave our individual highways to heaven."
Additionally, Lifetime is donating $25,000 to The Art of Elysium to further their work supporting artists like Colette. The Art of Elysium is an artist organization built on the idea that through service, art becomes a catalyst for social change. The Art of Elysium rewards altruistic creativity by giving back to artists who share their gifts with those in need.
WCPG is the cause-based agency partnering with Lifetime for the collaboration between The Art of Elysium and Colette Miller.
###
ABOUT HIGHWAY TO HEAVEN
A contemporary take on Michael Landon's iconic 80s television series Highway to Heaven, Lifetime's new original movie series follows Angela Stewart (Jill Scott), an angel who is sent back to earth to help others in need. In the premiere movie, Angela takes on the role of a temporary school counselor and finds herself working alongside junior high school principal Bruce Banks (Barry Watson) as she intervenes in the lives of a troubled student Cody Grier (Ben Daon), his father Jeff (Robert Moloney) and his aunt Vanessa (Victoria Bidewell), who are grieving the tragic loss of Cody's mother, Melissa (Ashley Ross). As Angela seemingly works miracles with Cody, Bruce is stunned when he learns of the divine nature of Angela's work.
ABOUT COLETTE MILLER & THE GLOBAL ANGEL WINGS PROJECT
Colette Miller is a visual artist and performer originally from Richmond, Virginia but calls the City of Angels her home. Colette started the Global Angel Wings Project in Los Angeles in 2012, as street art to lift the spirits of the people and remind us of our higher natures. Since then, Colette has painted wings globally in Kenya, Australia, England, China, France, Cuba, Mexico, Dubai, Taiwan and all throughout the United States.
ABOUT THE ART OF ELYSIUM
The Art of Elysium was founded in 1997 to support artists working for the benefit of others. For over twenty-four years, we've paired volunteer artists with communities in Los Angeles to support individuals during difficult emotional life challenges like illness, hospitalization, displacement, confinement, and/or crisis. We serve medically fragile children, teens, adults, seniors, those dealing with social, emotional, and mental health issues, and the homeless. Team members at The Art of Elysium work with volunteer artists to craft creative, tailor-made programs for the populations we serve. We currently offer 110 community programs a month, serving over 30,000 individuals a year. Volunteer artists are then eligible for support services, ranging from artist salons and networking events to showcases and distribution opportunities. They currently serve 2,510 artists a year in Los Angeles.
ABOUT LIFETIME
Celebrating 35 years of entertaining audiences, Lifetime is a premier entertainment destination for women dedicated to offering the highest quality original programming spanning award-winning movies, high-quality scripted series and breakout non-fiction series. Lifetime has an impressive legacy in public affairs, bringing attention to social issues that women care about with initiatives such as the long running Stop Breast Cancer for Life now in its 25th year, Stop Violence Against Women which relaunched in 2018, and Broader Focus, a major global initiative dedicated to supporting and hiring female directors, writers and producers, including women of color, to make its content. Lifetime Television(R), LMN(R), Lifetime Real Women(R) and Lifetime Digital(TM) are part of Lifetime Entertainment Services, LLC, a subsidiary of A+E Networks. A+E Networks is a joint venture of the Disney-ABC Television Group and Hearst Corporation.