[01/19/22 - 10:01 AM]
"Griselda" - Sofia Vergara First Look and Additional Cast Announcement
"Griselda" is inspired by the savvy and ambitious Colombian businesswoman, Griselda Blanco, who created one of the most profitable cartels in history.
---
[via press release from Netflix]
OFFICIAL FIRST LOOK AND ADDITIONAL CAST ANNOUNCEMENT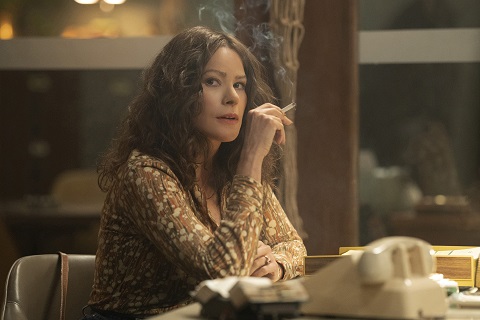 Griselda
Format: Limited Series
Executive Produced and Starring: Sofia Vergara
Executive Producers: Eric Newman, Ingrid Escajeda, Luis Balaguer, Doug Miro, Andrés Baiz and Carlo Bernard
Co-Showrunners: Ingrid Escajeda and Doug Miro
Director: Andrés Baiz
New Cast Includes: Alberto Guerra, Vanessa Ferlito, Alberto Ammann, Christian Tappan, Diego Trujillo, Paulina Davila, Gabriel Sloyer, Juliana Aidén Martinez, Martin Rodriguez, José Zúñiga
Logline:
Griselda is inspired by the savvy and ambitious Colombian businesswoman, Griselda Blanco, who created one of the most profitable cartels in history. A devoted mother, Blanco's lethal blend of charm and unsuspected savagery helped her expertly navigate between family and business leading her to become widely known as the "Godmother".
www.netflix.com/Griselda




[05/20/22 - 11:30 PM]
Development Update: Friday, May 20
Updates include: Sarah Wayne Callies among latest cast in ABC's "The Company You Keep"; Lupita Nyong'o departs Apple's "Lady in the Lake"; and Kate McKinnon, Aidy Bryant, Kyle Mooney and Pete Davidson expected to exit "SNL."


[05/20/22 - 05:51 PM]
Disney+ Odds & Ends from National Streaming Day
"Alias," "Eight Simple Rules" and "The Finder" now available; "Glee" coming to Disney+ and Hulu on June 1; "America the Beautiful" to drop on July 4; Josh Duhamel and Lauren Graham to direct "The Mighty Ducks: Game Changers"; and more!


[05/20/22 - 03:29 PM]
ESPN's PGA Championship First Round Telecast Earns Largest Viewership in 20 Years
The telecast, which aired from 2-8 p.m. ET, peaked at 1.7 million viewers at 4:45 p.m.


[05/20/22 - 03:06 PM]
NBA on ESPN: Most-Watched Eastern Conference Finals Game 2 Since 2018
The ESPN telecast averaged 6,049,000 viewers, peaking with 6,878,000 viewers at 9:30 p.m. ET.


[05/20/22 - 03:01 PM]
Disney+ Orders a Fourth Season of "High School Musical: The Musical: The Series" Ahead of the Season 3 Premiere on July 27, 2022
Each of the eight episodes of the third season will stream weekly on Wednesdays, exclusively on Disney+.


[05/20/22 - 12:32 PM]
Peacock Announces Alanna Ubach to Round Out Series Regulars in Seth MacFarlane's Highly Anticipated Comedy Series "Ted"
Ubach will play Susan Bennett, who is kind, selfless, and almost pathologically sweet when it comes to caring for her family, and sees the world through naive, rose-colored glasses.


[05/20/22 - 10:00 AM]
"Zombies 3," The Intergalactic Third Installment of Disney's Hit Franchise, Lands July 15, Exclusively on Disney+
The trequel, which introduces a new group of mysterious outer space aliens to the diverse student body of zombies, cheerleaders and werewolves at Seabrook High, will make its Disney Channel debut on Friday, August 12.


[05/20/22 - 09:33 AM]
Neve Campbell Set to Recur as Guest Star in New Peacock Comedy Series "Twisted Metal," A Live-Action Adaptation of the Global Video Game Phenomenon
Anthony Mackie, Stephanie Beatriz and Thomas Haden Church also star in the project.


[05/20/22 - 09:30 AM]
Prime Video Series "Night Sky" Reaches for the Stars with First-Ever Intergalactic Premiere
Intelsat and SES leveraged AWS modernized cloud infrastructures to securely receive a pre-release of the first episode and their vast ground stations and geostationary satellite fleets to do a 360-degree broadcast of the show's first episode into space.


[05/20/22 - 09:20 AM]
Production Team and Executive Producers Announced for the 74th Emmy Awards
A host and venue will be announced at a later date.


[05/20/22 - 08:31 AM]
Video: Trailer & Key Art Debut - "Love, Victor" Season Three
The new season premieres with all eight episodes on Hulu and Disney+ on June 15.


[05/20/22 - 08:01 AM]
Video: Netflix's "Stranger Things 4" - Volume Split Announced & First 8 Minutes Released
Volume 1 on May 27 will feature seven episodes with the concluding two due on July 1.


[05/20/22 - 07:10 AM]
Disney+ to Debut Walt Disney Animation Studios' New Series "Baymax!" on June 29
The all-new series of healthcare capers returns to the fantastical city of San Fransokyo where the affable, inflatable, inimitable healthcare companion robot, Baymax, sets out to do what he was programmed to do: help others.


[05/20/22 - 07:00 AM]
HBO Documentary Films Acquires Sundance Grand Jury Prize Winner, "All That Breathes," from Director Shaunak Sen
The film follows two brothers who run a bird hospital dedicated to rescuing injured black kites, a staple in the skies of New Delhi, India.


[05/20/22 - 06:01 AM]
"Heartstopper" Will Return to Netflix with a Second and Third Season
The graphic novel author and illustrator Alice Oseman returns as writer and creator.