[05/23/22 - 09:40 AM]
First Look Photo with Real-Life Siblings Miya and Kai Cech from the Set of "American Girl: Corinne Tan"
The special is scheduled to premiere this December on Cartoon Network, available on HBO Max the next day.
---
[via press release from Warner Bros. Discovery]
First Look Photo with Real-Life Siblings Miya and Kai Cech From the Set of "American Girl: Corinne Tan"
The Sisters Hit the Slopes with their American Girl Dolls on the Set of the Live-Action Special Coming to HBO Max and Cartoon Network this December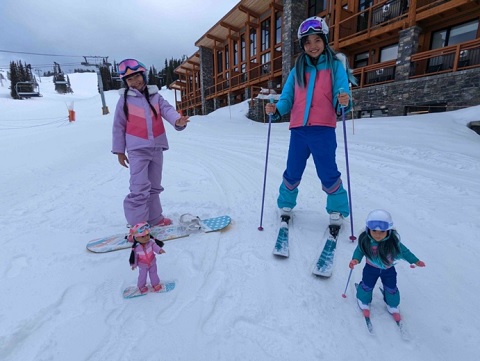 HBO Max and Cartoon Network revealed today the first image from the set of American Girl: Corinne Tan (working title), the upcoming special based on the beloved Mattel doll franchise. The special is scheduled to premiere this December on CN, available on the streamer the next day. Filmed in Calgary, AB, Canada, real-life sisters Miya and Kai Cech were surprised with their very own American Girl dolls based on their characters, Corinne and her little sister, Gwynn. Corinne Tan is the 2022 Girl of the Year, and first of Chinese descent.
Announced last week, American Girl: Corinne Tan stars Miya Cech (Corinne), from the upcoming indie film, Marvelous and the Black Hole, and her sister Kai Cech (Gwynn), in a story about sisterhood, perseverance, and self-acceptance as they adjust to life as part of a blended family after their parents' divorce. Corinne finds new purpose along the way when she rescues a dog named Flurry that, in a way, rescues her right back.
The image was recently taken on-set in matching outfits with their Corinne and Gwynn American Girl dolls. Also in the link is an image of Flurry on-set (played by adorable pup, Fish).




[06/24/22 - 01:05 PM]
Tubi's New Original Suspense Thriller "Tow" Premieres Today!
Maddie and Abi (Caitlin Gerard) are twin sisters, and famously the only victims to ever escape the notorious serial killer known as The Mechanic (Kane Hodder).


[06/24/22 - 01:01 PM]
ABC to Air UFC 276 Prelims Saturday, July 2, at 8 P.M. EDT
"UFC 276: Adesanya vs. Cannonier presented by Modelo (Prelims)" is part a stacked card capping UFC International Fight Week 2022.


[06/24/22 - 10:11 AM]
discovery+ and ID Highlights - Weeks of July 4 and July 11
This July 4th, true crime fans will get a special gift from ID to celebrate our nation's birthday with jam-packed Lt. Joe Kenda, all day long with ID's special stunt, Kenda-pendence Day.


[06/24/22 - 08:00 AM]
AXS TV & Fight Network Set to Broadcast MMA Event, Invicta FC 48, Live on July 20 from Denver
Broadcast live from the ReelWorks venue in Denver, Invicta FC 48 puts the spotlight on world-class female athletes, local stars, and talented up-and-comers, alike, in seven hard-hitting matchups.


[06/24/22 - 07:01 AM]
Video: "Apache Junction" - Official Trailer - The Roku Channel
Apache Junction is an Old West outpost of lawlessness, a haven for thieves and cold-blooded killers. When big-city reporter Annabelle Angel arrives in town and becomes a target, notorious gunslinger Jericho Ford comes to her aid.


[06/24/22 - 07:00 AM]
Video: Nickelodeon Reveals Teaser and Premiere Date for "Are You Afraid of the Dark?: Ghost Island," Third Chapter of Beloved Horror Anthology Miniseries
The latest installment follows an all-new Midnight Society as they go on what they thought would be a fun summer vacation on a resort island, until they learn about something sinister haunting the guests.


[06/24/22 - 06:15 AM]
Free Streaming Service Crackle Announces New Originals, Exclusives, for July
Highlights include the premiere of "Funny Girls" and episode two of "Life in 10 Pictures."


[06/24/22 - 06:01 AM]
Video: "Hunting Ava Bravo" - Official Trailer - The Roku Channel
Billionaire sportsman Buddy King unwinds by hunting human captives on his remote mountain estate. But his latest victim, Ava Bravo (Kate del Castillo), is no easy target.


[06/24/22 - 06:00 AM]
From Paws to Claws! "Cat Pack: A PAW Patrol Exclusive Event" Is Now Available to Stream Exclusively on Paramount+
Dreaming of being as powerful and heroic as their feline idols (the big cats - the lions, tigers, cheetahs and jaguars), four brave kittens are out to show that little cats can be big heroes!


[06/24/22 - 01:01 AM]
Video: "The Girl in the Mirror" - Date Announcement - Netflix
After losing her memory in a bizarre accident that kills most of her classmates, Alma tries to unravel what happened that day - and regain her identity.


[06/23/22 - 11:31 PM]
Video: "Modern Love: Hyderabad" - Official Teaser - Amazon Prime Video
The anthology series is equal parts a study on modern relationships as it is a love letter to the deliciously diverse city of Hyderabad.


[06/23/22 - 07:01 PM]
Video: "Extraordinary Attorney Woo" - Official Trailer - Netflix
Brilliant attorney Woo Young-woo tackles challenges in the courtroom and beyond as a newbie at a top law firm and a woman on the autism spectrum.


[06/23/22 - 03:25 PM]
Emmy Nominated Actress Moses Ingram Joins Apple Limited Series "Lady in the Lake," from Creator and Director Alma Har'el
Ingram will play the role of Cleo Sherwood, and joins an expanding ensemble cast which also includes Y'Lan Noel, Mikey Madison and Brett Gelman.


[06/23/22 - 02:20 PM]
Video: The Wait Is Almost Over! New Season of "WOW - Women of Wrestling" Debuts This Fall
After a two-year hiatus, the premier all-female sports entertainment property, owned by Jeanie Buss and David McLane, kicks off a new season this fall.


[06/23/22 - 12:30 PM]
Rina Mimoun Joins "Girls on the Bus" Creative Team
Mimoun will serve as showrunner and an executive producer on the show, working alongside executive producers Amy Chozick, Julie Plec, Greg Berlanti, and Sarah Schechter.