MALIN PERSSON GIOLITO'S BEST-SELLING NOVEL DELIVER ME BECOMES NETFLIX SERIES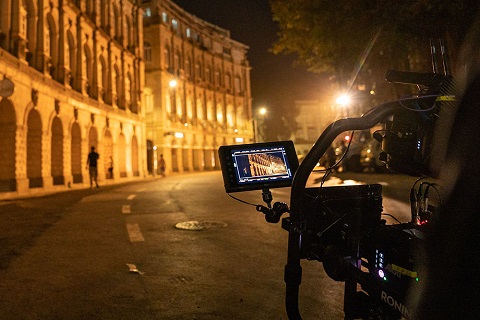 June 2, 2022 - Netflix today announced Deliver Me, a new Swedish suspense drama based on Malin Persson Giolito's best-selling novel by the same name. The series will launch globally on Netflix in 2024.
Deliver Me is at once a poignant portrayal of the power of childhood friendship and a shattering depiction of what happens when a society fails to protect those that need it most. In the end, what does justice mean - and is the law capable of delivering it?
The series will reunite the producer/author team behind Quicksand; producer duo Frida Asp and Fatima Varhos - through their newly formed production company Asp Varhos - and award-winning author Malin Persson Giolito who will make her screenwriting debut with the series, working alongside head writer Alex Haridi (Love & Anarchy) and episode writer Amanda Högberg. Deliver Me will be directed by Anna Zackrisson (Snow Angels).
"Netflix takes stories about young people seriously and is not afraid of portraying difficult issues. That is why Netflix was my number one choice for adapting Deliver Me to screen and I am so proud that this will also be my debut as a screenwriter. I thought Netflix's adaption of Quicksand was the best thing that would ever happen to me professionally. But I am beginning to think that this is even bigger", says Malin Persson Giolito.
About Deliver Me
Synopsis: Snow falls softly over a desolate playground. A fourteen-year-old boy lays face down in front of a swing-set as his life drains out of the gaping wound in his head. Behind him stands his best friend, a warm gun in his trembling hand.
When children commit horrible crimes, who bears responsibility? And what does it do to us all when we allow ourselves to view children as monsters? At the center of this gut-wrenching story are the lost children: those we fail to catch before they fall between the cracks - whether due to negligence, poverty, or social alienation. The single mothers, the grocer in the town square, the local cop - no one is left untouched in a society where the escalating violence is taking over struggling fringe communities.
Writers: Alex Haridi & Malin Persson Giolito
Director: Anna Zackrisson
Producers: Frida Asp & Fatima Varhos
Production company: Asp Varhos
Genre: Suspense drama
Launch: 2024 on Netflix