Apple TV+ unveils premiere date and cast for new original series "Jane," inspired by the mission of Dr. Jane Goodall
"Jane" will make its global debut Friday, April 14, 2023 on Apple TV+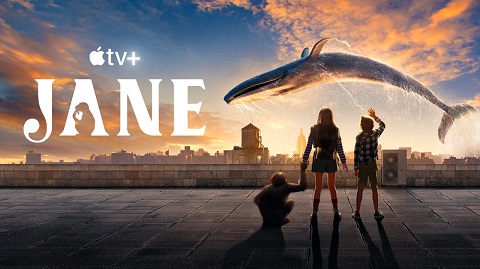 Apple TV+ today unveiled the launch date and cast for "Jane," a new 10-episode mission-driven series for kids and families inspired by the work of Dr. Jane Goodall. From Emmy Award winner J.J. Johnson ("Dino Dana", "Endlings," "Ghostwriter"), Sinking Ship Entertainment and the Jane Goodall Institute, "Jane" premieres globally on Friday, April 14 on Apple TV+.
Ava Louise Murchison ("Reacher") stars as Jane Garcia, a 9-year-old budding environmentalist on a quest to save endangered animals. Using her powerful imagination, Jane takes her best friends David, played by Mason Blomberg ("Shameless"), and Greybeard the chimpanzee on epic adventures to help protect wild animals all around the world because, according to her idol Dr. Jane Goodall: "Only if we understand, will we care. Only if we care, will we help. Only if we help, can they be saved."
Cast also includes Tamara Almeida ("Secrets at the Inn"), Dan Abramovici ("Wayne"), newcomer Jazz Allen and Sam Marra ("Stumptown").
"I'm excited about this opportunity and relationship with Apple and Sinking Ship. The program 'Jane' spreads a message of hope and reminds children that the environment is something that we all have to be concerned about while also inspiring them and their parents to make a difference," said Dr. Jane Goodall.
From Sinking Ship Entertainment, "Jane," a live-action/CGI-blended series, is created by company partner J.J. Johnson who executive produces alongside Christin Simms, Blair Powers, Matt Bishop and the Jane Goodall Institute's Andria Teather.
"Jane" marks the second Apple Original series produced by Sinking Ship Entertainment, joining acclaimed, Daytime Emmy Award-winning series "Ghostwriter."
The award-winning slate of original series and film for kids and families on Apple TV+ includes impressive all-ages offerings such as the critically-acclaimed properties BAFTA Award-winning "El Deafo," "Lovely Little Farm," "Duck & Goose," "Pinecone & Pony," Emmy Award-winning "Fraggle Rock: Back to the Rock" and "Harriet the Spy" from The Jim Henson Company, Peabody and Emmy Award-winning series "Stillwater," "Helpsters" from Sesame Workshop, "Wolfboy and the Everything Factory" from Joseph Gordon-Levitt, HITRECORD and Bento Box Entertainment, "Sago Mini Friends," "Hello, Jack! The Kindness Show" from Jack McBrayer and Angela C. Santomero, "Snoopy in Space," "The Snoopy Show" and "Get Rolling with Otis." Live-action offerings include Bonnie Hunt's "Amber Brown," "Best Foot Forward," "Surfside Girls," "Life By Ella," Daytime Emmy Award-winning "Ghostwriter" from Sesame Workshop and "Puppy Place."
Also included are specials from Peanuts and WildBrain including "It's the Small Things, Charlie Brown," "Lucy's School," "To Mom (and Dad), With Love," Emmy Award-winning "Who Are You, Charlie Brown?" and "For Auld Lang Syne," and "Here We Are: Notes for Living on Planet Earth," the Daytime Emmy Award-winning television event based on the New York Times bestselling book and TIME Best Book of the Year by Oliver Jeffers.
The kids and family film offerings include star-studded animated adventure film "Luck" from Apple Original Films and Skydance Animation which premiered this year and Academy Award-nominated animated film "Wolfwalkers."
Apple TV+ offers premium, compelling drama and comedy series, feature films, groundbreaking documentaries, and kids and family entertainment, and is available to watch across all your favorite screens. After its launch on November 1, 2019, Apple TV+ became the first all-original streaming service to launch around the world, and has premiered more original hits and received more award recognitions faster than any other streaming service in its debut. To date, Apple Original films, documentaries, and series have earned 310 wins and 1,329 award nominations and counting, including multi-Emmy Award-winning comedy "Ted Lasso" and Oscar Best Picture winner "CODA."
About Apple TV+
Apple TV+ is available on the Apple TV app in over 100 countries and regions, on over 1 billion screens, including iPhone, iPad, Apple TV, Mac, popular smart TVs from Samsung, LG, Sony, VIZIO, TCL and others, Roku and Amazon Fire TV devices, Chromecast with Google TV, PlayStation and Xbox gaming consoles, and at tv.apple.com, for $6.99 per month with a seven-day free trial. For a limited time, customers who purchase and activate a new iPhone, iPad, Apple TV, Mac or iPod touch can enjoy three months of Apple TV+ for free.*
For more information, visit apple.com/tvpr and see the full list of supported devices.
*Special offer is good for three months after the first activation of the eligible device. One offer per Family Sharing group. Plans automatically renew until cancelled. Other restrictions and terms apply; visit apple.com/promo for more information.