Sofia Helin, Shelley Conn, Kevin McNally, and Jason Wong Join the Third Season of "Alex Rider" on Amazon Freevee
Season Three of spy-thriller series now in production in the UK and Malta, with the return of series stars Otto Farrant, Stephen Dillane, Vicky McClure, Brenock O'Connor, Ronkẹ Adékọluẹ́jọ́, and Marli Siu
First-look images from set were also released today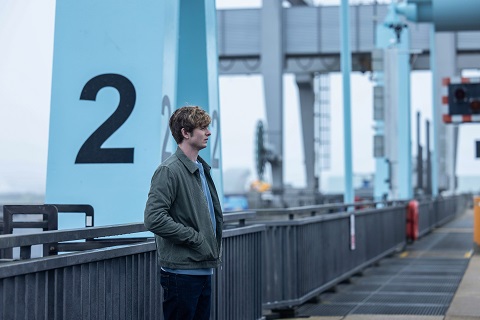 Photo Credit: Rekha Garton/Eleventh Hour Films/Sony Pictures Television
CULVER CITY, California - January 19, 2023 - Today, Amazon Freevee announced that the third season of Alex Rider is in production in the UK and Malta with the return of cast members Otto Farrant, Stephen Dillane, Vicky McClure, Brenock O'Connor, Ronkẹ Adékọluẹ́jọ́, and Marli Siu. It was also revealed that Sofia Helin (The Bridge, Atlantic Crossing, The Same Sky, Mystery Road), Shelley Conn (Bridgerton, Good Omens, Gen V), Kevin McNally (The Crown, Das Boot, the Pirates of the Caribbean film series), and Jason Wong (Strangers, The Gentlemen, the upcoming Dungeons & Dragons: Honor Among Thieves) have joined the fan-favorite spy series.
Produced by Eleventh Hour Films and distributed worldwide by Sony Pictures Television, Alex Rider is a spy-thriller series based on the best-selling book franchise written by Anthony Horowitz, which has sold more than 20 million copies worldwide. The series follows Alex, a teenager who has unknowingly been trained since childhood for the dangerous world of espionage.
The third season of Alex Rider features the return of series stars Otto Farrant as Alex Rider, Stephen Dillane as Alan Blunt, Vicky McClure as Mrs. Jones, Brenock O'Connor as Tom Harris, Ronkẹ Adékọluẹ́jọ́ as Jack Starbright, and Marli Siu as Kyra Vashenko-Chao. Joining the cast this season is Sofia Helin as Julia Rothman, an enigmatic, rich widow who, unbeknownst to the world, is a highly secretive agent with Scorpia, the criminal organization behind Alex Rider's deadliest encounters; Shelley Conn as Laura Kellner, a ruthless and reckless politician who challenges the Department's authority; Kevin McNally as Max Grendel, a shrewd and calm senior council for Scorpia, with the outward appearance of a kind, European gentleman; and Jason Wong as Nile, a dangerous Scorpia assassin, devoted to Rothman.
Adapted by Guy Burt from Scorpia, the fifth Alex Rider novel, Season Three sets the teenage spy on the trail of his greatest enemy: the elusive criminal network known as Scorpia. Finally free of the manipulative Alan Blunt and his Department, Alex embarks on a personal mission to destroy Scorpia once and for all, little realizing the journey will reveal his ties to both organizations run deeper than he ever thought possible.
Anthony Horowitz serves as an executive producer alongside Eleventh Hour's Jill Green and Eve Gutierrez, series writer Guy Burt, director Andreas Prochaska, and actor Otto Farrant. The series is distributed worldwide by Sony Pictures Television.
Follow Amazon Freevee, formerly IMDb TV: Social TWITTER | INSTAGRAM | FACEBOOK
ABOUT
Amazon Freevee, formerly IMDb TV
Amazon Freevee is a streaming video service with thousands of premium movies and TV shows, including Originals and FAST channels, available anytime, for free.
· Expansive Catalog: Amazon Freevee offers viewers ambitious Originals, including Bosch: Legacy; Emmy-winning court program Judy Justice; coming-of-age drama High School; reality design series Hollywood Houselift with Jeff Lewis; comedy series Sprung; music documentary Post Malone: Runaway; heist drama Leverage: Redemption; spy thriller Alex Rider; and the sports docuseries UNINTERRUPTED's Top Class: The Life and Times of the Sierra Canyon Trailblazers. Combined with an always updating library of broadly appealing hit movies and TV shows across a wide selection of genres, and a catalog of more than 200 FAST channels, including Judy Justice and Crime 360; Amazon Freevee delivers customers the content they would expect to see on a paid service.
· Free: The entire catalog of content on the service is free. No paid subscriptions necessary.
· Limited Ads: Freevee provides customers highly sought content supported by limited advertising.
· Instant Access: Freevee is available as an app on Fire TV, Fire Tablets, and within the Prime Video app. Freevee is available as an app on third party devices including Roku, Samsung smart TVs (2017-2021 models), Apple TV 4K, Apple TV HD, Comcast's Xfinity Flex, Xfinity X1, Chromecast with Google TV, NVIDIA SHIELD and other Android TV devices, Xbox One, Xbox Series X|S, PlayStation 4 and PlayStation 5 consoles, as well as LG Smart TVs (2018-2021 models). The app is also available on iPhone, iPad, and Android mobile devices.
To learn more about Amazon Freevee, visit www.amazon.com/freevee and follow @AmazonFreevee.
About Eleventh Hour Films
Established in 2010, Eleventh Hour Films is an independent scripted production company which focuses on producing drama of the highest quality, both in the UK and internationally. Most recently EHF has announced Moonflower Murders starring Lesley Manville for PBS Masterpiece and the BBC, a follow-up to EHF's critically acclaimed 2021 adaptation of Anthony Horowitz's best-selling novel Magpie Murders, as well as The Killing Kind for Paramount+, and a major new reimagining of Ian Rankin's Rebus novels for Viaplay. Together with Boatrocker and Luti Media, EHF is in post-production on Robyn Hood, a Canadian-set contemporary reimagining of the British legend for Corus. In 2020 EHF launched the globally successful Alex Rider spy series, a thrilling adaptation of the best-selling coming-of-age novels which has sold in over 100 territories worldwide. The company's other productions include Foyle's War, Safe House and Collision.
About Sony Pictures Television
Sony Pictures Television (SPT) is one of the television industry's leading content providers, producing, distributing and carrying programming worldwide in every genre and for every platform. In addition to managing one of the industry's largest libraries of award-winning feature films, television shows and formats, SPT is home to a thriving global content business, operating a robust portfolio of wholly-owned and joint-venture production companies across the U.S., Europe, Latin America, and Asia Pacific, as well as linear and digital channels around the world. SPT is a Sony Pictures Entertainment Company, a subsidiary of Tokyo-based Sony Group Corporation.