"SUPER BOWL GREATEST COMMERCIALS: BATTLE OF THE DECADES" TO AIR WEDNESDAY, FEB. 8 ON CBS
Hosted by CBS Sports' Boomer Esiason and Daniela Ruah, Star of "NCIS: Los Angeles"
Esiason and Ruah Select Their Favorite Commercials from the Past Four Decades, Then Viewers Vote LIVE to Crown the Greatest Super Bowl Commercial
"Entertainment Tonight" Co-Host Kevin Frazier and "The Talk" Co-Host Akbar Gbajabiamila Join to Provide Sideline Commentary
Special Includes an Exclusive Interview with Rob Gronkowski, Star of FanDuel's Live Super Bowl LVII Commercial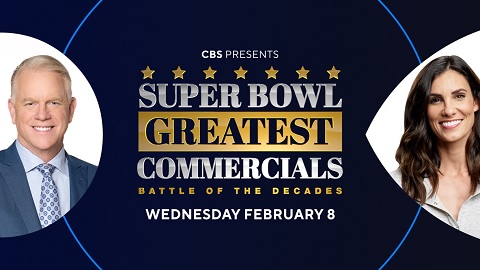 SUPER BOWL GREATEST COMMERCIALS: BATTLE OF THE DECADES, an interactive special where viewers will vote LIVE to crown the ultimate Super Bowl commercial from the last four decades, will be broadcast Wednesday, Feb. 8 (8:00 PM, ET/PT) on the CBS Television Network, and available to stream live and on demand on Paramount+*. Hosted by Boomer Esiason, analyst for CBS Sports' THE NFL TODAY, and Daniela Ruah, star of CBS' NCIS: LOS ANGELES, the special airs from SoFi Stadium in Los Angeles and State Farm Stadium, site of Super Bowl LVII in Arizona.
In the special, now in its 22nd year, Esiason and Ruah will spotlight their all-time favorite commercials in each decade before selecting their individual picks for the greatest Super Bowl commercial in the last four decades. Then, America will crown the winner, chosen from the top two finalists in the LIVE vote, which will be revealed at the end of the show.
SUPER BOWL GREATEST COMMERCIALS: BATTLE OF THE DECADES features exclusive behind-the-scenes looks at the most classic and memorable Super Bowl commercials from the last 40 years, and will include iconic commercials from Budweiser, Coke, Pepsi and Doritos. Kevin Frazier, co-host of ENTERTAINMENT TONIGHT, will report on the new commercials that will air during this year's Super Bowl, highlighted by an exclusive interview with four-time Super Bowl Champion and five-time NFL Pro-Bowler Rob Gronkowski, who will attempt to kick a field goal during a live Super Bowl LVII commercial from FanDuel, the premier online gaming company in North America. Also, THE TALK's Akbar Gbajabiamila joins to provide his sideline commentary on his favorite spots.
SUPER BOWL GREATEST COMMERCIALS: BATTLE OF THE DECADES is produced by Film 45 and JUMA Entertainment. Robert Horowitz is executive producer for JUMA Entertainment, and Michael Antinoro and Tony Lanni are executive producers for Film 45. Robert Dalrymple, Eric Smith and Dino Shorte are the producers.
*Paramount+ Premium subscribers will have access to stream live via the live feed of their local CBS affiliate on the service as well as on demand. Essential-tier subscribers will have access to on demand the day after the episode airs.