[09/21/23 - 08:02 AM]
Disney+ Reveals November 8 Premiere Date for Season Two of "The Santa Clauses," Starring Tim Allen
In the series' sophomore season, the Calvin family is back at the North Pole, as Scott Calvin (Tim Allen) continues his role as Santa Claus after his retirement plans were thwarted when he failed to find a worthy successor in season one.
---
[via press release from Disney+]
DISNEY+ REVEALS NOVEMBER 8 PREMIERE DATE FOR SEASON TWO OF "THE SANTA CLAUSES," STARRING TIM ALLEN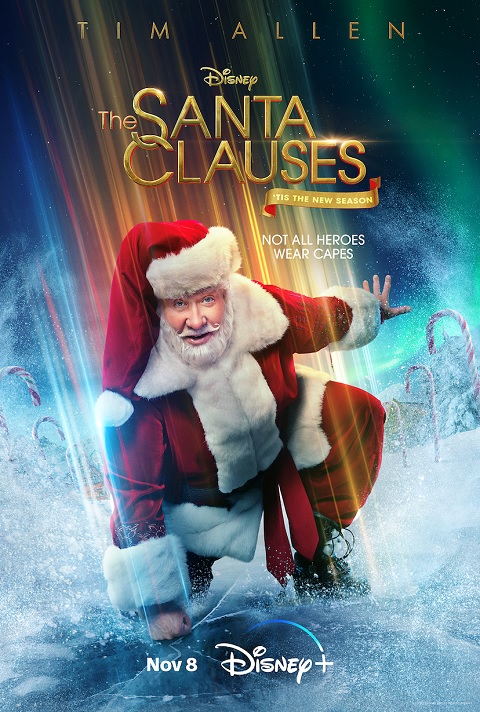 · Season two of the Disney+ Original series, "The Santa Clauses," from Disney Branded Television and 20th Television, will debut with a two-episode premiere on Wednesday, November 8, followed by new episodes weekly.
· In the series' sophomore season, the Calvin family is back at the North Pole, as Scott Calvin (Tim Allen) continues his role as Santa Claus after his retirement plans were thwarted when he failed to find a worthy successor in season one. Now that Scott and his family have successfully saved Christmas, Scott turns his focus towards training his son Cal (Austin Kane) to eventually take over the "family business" as Santa Claus.
· In addition to Tim Allen, who will executive produce and reprise the beloved role of Santa/Scott Calvin, season two stars Elizabeth Mitchell as Mrs. Claus/Carol, Austin Kane as Cal Calvin Claus, Elizabeth Allen-Dick as Sandra Calvin Claus, Devin Bright as Noel, Gabriel "Fluffy" Iglesias as Kris Kringle, and Eric Stonestreet as Magnus Antas, aka The Mad Santa. Matilda Lawler will also reprise her role of Santa's chief of staff, Betty, as a recurring guest star along with Marta Kessler as Olga, Liam Kyle as Gary, Isabella Bennett as Edie, Sasha Knight as Crouton, Ruby Jay as Riley, Mia Lynn Bangunan as Pontoon, and Laura San Giacomo as La Befana, the Christmas Witch.
· Alongside Allen, award-winning Jack Burditt ("30 Rock," "Modern Family," "Frasier," "Unbreakable Kimmy Schmidt") will continue as executive producer and showrunner. Kevin Hench ("Last Man Standing"), Richard Baker ("Last Man Standing," "The Santa Clause," "The Santa Clause 2") and Rick Messina ("Last Man Standing," "The Santa Clause," "The Santa Clause 2") will serve as executive producers along with Jason Winer and Jon Radler for Small Dog Picture Company.
· Season one of "The Santa Clauses," which debuted last holiday season, was a top 5 most-watched original series on Disney+ by hours streamed (Nov. 3-Dec. 31, 2022).




[12/06/23 - 03:12 PM]
ESPN Platforms Boast Banner Year for College Football, as ABC Leads the Way with Most Total Minutes Watched and ESPN+ Streams the Platform's Most-Watched Season Ever
ABC led the way across all networks and media companies with more total minutes watched than any other individual network, as 24% of the sport's viewers tuned in to ABC.


[12/06/23 - 03:01 PM]
New TBS Series Hosted by Sarah Silverman, "Stupid Pet Tricks," Premieres with Multi-Network Sneak Peek Across TBS, Discovery, truTV and Animal Planet on Sunday, February 11, 2024
New episodes will debut on TBS every Monday at 9:00/8:00c beginning February 12.


[12/06/23 - 01:00 PM]
Broadcast Networks to Jointly Honor the Late Norman Lear at Start of Primetime Tonight
In recognition of Norman Lear's vast accomplishments and influence across television, CBS, ABC, NBC, Fox and The CW will simulcast an on-air in memoriam card tonight at 8:00 PM, ET/PT honoring the late legendary TV writer and producer.


[12/06/23 - 12:20 PM]
"25 Days of Christmas" Delivers Freeform's Most-Watched Week of the Year
Friday's opening night run of "Home Alone" (7 p.m.) was cable's No. 1 movie of the week among Adults 18-49 and Men 18-49.


[12/06/23 - 11:08 AM]
Lifetime Sets January and February Movie Slate Featuring Kenya Moore, Cush Jumbo, Tamar Braxton and More
First up: "Girl in the Video," a film inspired by real events exploring the dark underworld of catfishing and exploitive videos on the dark web starring Cush Jumbo, set to premiere Saturday, January 13.


[12/06/23 - 11:00 AM]
Video: Max Releases Brand Spot Showcasing New Footage from Expansive 2024 HBO and Max Original Programming Lineup
"The Sympathizer," "Curb Your Enthusiasm," "Industry," "Jerrod Carmichael: Reality Show," "The Jinx - Part Two," "My Brilliant Friend," "Elizabeth," "The Franchise," "The Penguin," "Pretty Little Liars: Summer School," "Tokyo Vice," and "Hacks" are among the showcased projects.


[12/06/23 - 11:00 AM]
Video: ALLBLK Releases Trailer for Highly Anticipated Fifth Season of Fan-Favorite Series "Double Cross," Premiering January 18
Special guest stars this season include Academy Award nominee Eric Roberts and Zimzon Zion.


[12/06/23 - 11:00 AM]
"Harlem" Will Return to Prime Video for a Third Season!
"The only thing more fun than making season 2 of Harlem was getting to travel across the country and watch it with our fans!" said Tracy Oliver.


[12/06/23 - 10:00 AM]
Max Original Comedy Special "Gary Gulman: Born on 3rd Base" Debuts December 21
Comedian, actor, and best-selling author Gary Gulman offers up his hilarious insights on a range of topics - from growing up poor to pretentious suffixes - all with a generous helping of his inventive humor and absurdism.


[12/06/23 - 10:00 AM]
TLC's Brand New Relationship Series "Love & Translation" Premieres Sunday, January 21, 2024, at 10PM ET/PT
In TLC's brand-new relationship series, three American bachelors travel to paradise where they will be joined by twelve women from nine different countries, who don't speak any English.


[12/06/23 - 10:00 AM]
FOX to Air Two-Hour Special "M*A*S*H: The Comedy That Changed Television"
Premiering Monday, January 1, join the men and women who made "M*A*S*H" as they celebrate one of the most beloved, enduringly popular, often quoted and influential comedies ever created.


[12/06/23 - 09:19 AM]
STX Entertainment to Bring the Pussy Riot Story to Screen wWith a Limited Series Adaptation of Memoir by Nadya Tolokonnikova
The series represents the first scripted project of Pussy Riot with the full support of the creator of the movement, Nadya Tolokonnikova, with all preceding projects being documentaries.


[12/06/23 - 09:15 AM]
"Candy Cane Lane" Becomes Prime Video's Most-Watched Amazon MGM Studios-Produced Movie Debut Ever in the U.S.
Additionally, according to titles tracked by Screen Engine/ASI, "Candy Cane Lane" debuted with the highest reported viewership among streaming (PVOD & SVOD) movie releases for the weekend ending December 3.


[12/06/23 - 09:01 AM]
Video: "The Underdoggs" - Official Trailer - Prime Video
When Jaycen "Two Js" Jennings, a washed-up former pro football star hits rock bottom, he is sentenced to community service coaching an unruly pee-wee football team in his hometown, he just may turn his life around and reclaim his love of the game.


[12/06/23 - 09:00 AM]
HBO and Max Brands Ink Exclusive Multiyear Pay-1 Output Agreement with A24
Among the films to be available under the new deal are Sofia Coppola's award-winning Priscilla starring Jacob Elordi and Cailee Spaeny, Kristoffer Borgli's Nicolas Cage starrer Dream Scenario and Sean Durkin's upcoming release The Iron Claw starring Zac Efron and Jeremy Allen White.